Clint Searcy home rebuilding project after Cumberland River flood, May 1 & 2, 2010
Clint Searcy - 05/07/2010.08:02:23
MIMForum Staff, Nashville
I want to thank those who have helped out already. There is a lot to be done here and it's a bit dizzying to know where to start. My wife Alicia and I are planing to stay here at the house while we rebuild. We are still looking for a camper to borrow or rent which would make things easier. I'm currently pulling all the carpet out and trying to limit the damage. Next will be the dry wall and them the floor sheeting. The insurance guy said it was OK so long as I saved some of the carpet and took lots of pictures. I'll post a few pictures later to better illustrate what the damage is.
I want to thank you all. The MIMF is the best! It's a community that does as much doing as talking. I don't know of anything else like it.
I'll try to keep everyone updated. And again... THANK YOU!
---
Alicia Searcy - 05/07/2010.17:25:42

Alicia Searcy here. I wanted to take a moment out of this insanity to thank all of you for your generosity and for antying up when it really counts. I'm acquainted with some of you MIMFers but most of you are strangers so I'm quite overwhelmed by all of this.
To see our world swallowed up by water is indescribable. To even attempt it would be cliche. It's not a video event or a soundbyte. I would imagine that Amy Hopkins knows exactly what I'm talking about - I've heard about the great work she's done in the Big Easy post-Katrina. I don't have much, but what I have I'll fight to restore, and I am responsible for the care of two wonderful dogs whom I will not abandon for more comfortable, wheelchair accessible surroundings. I thank all of you for your help.
There is a crew from Clint's work coming tomorrow to help pack up and empty the house. They are bringing packing materials as there are none to be had locally. Amy, I know Clint has questions for you, and I think once e get everything boxed up and these floors fully dried out he'll feel better about stopping work long enough to ask them.
I'll try to post pictures here but I know there are restrictions and I don't want to unintentionally tread on them.
---
sysop - 05/09/2010.09:25:44
Deb Suran
Here's a first look at what they've been dealing with.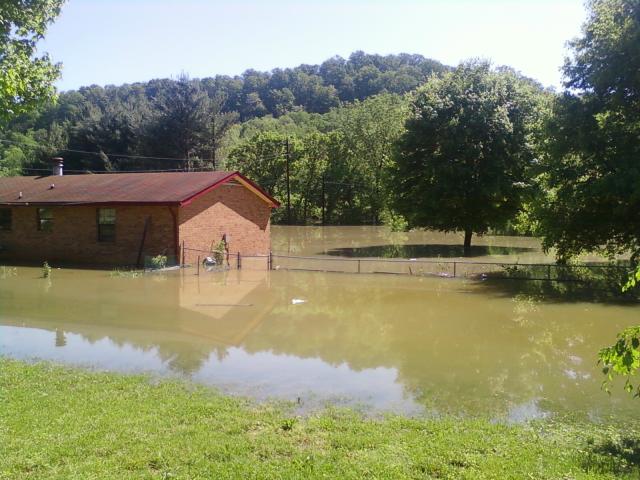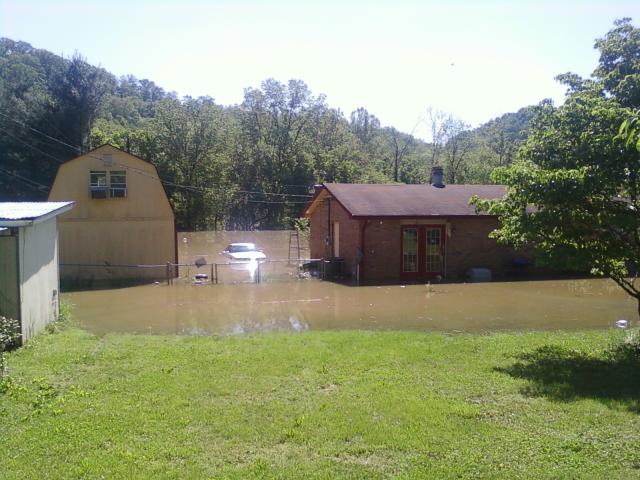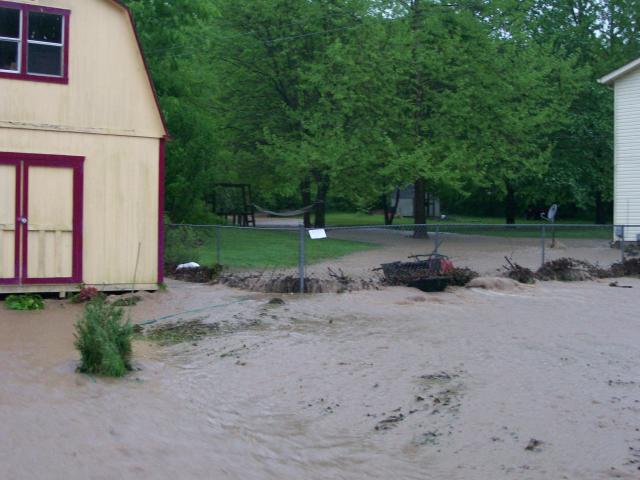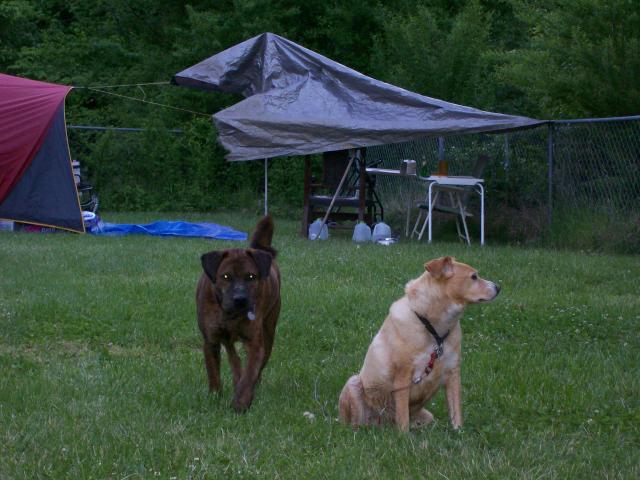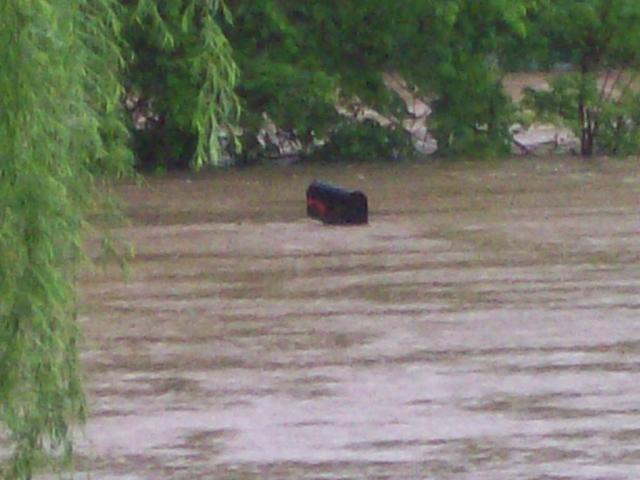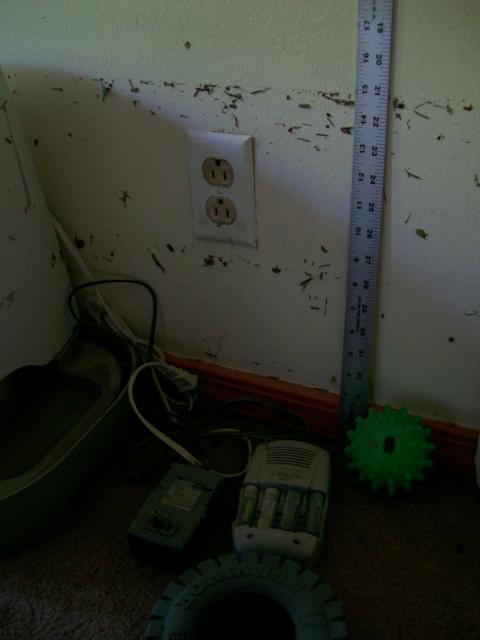 ---
sysop - 05/09/2010.16:16:34
Deb Suran
More, from today.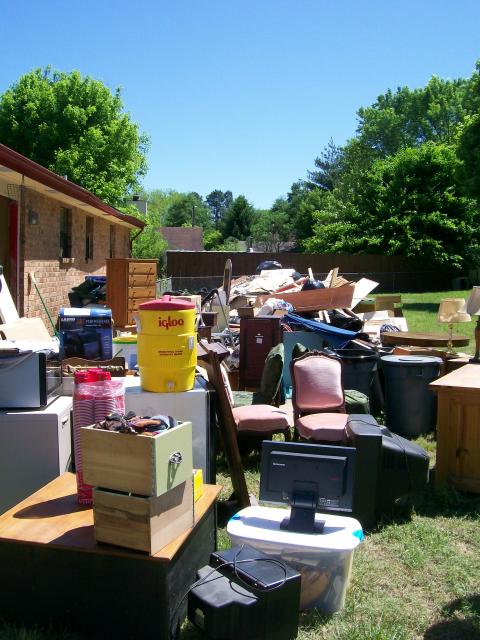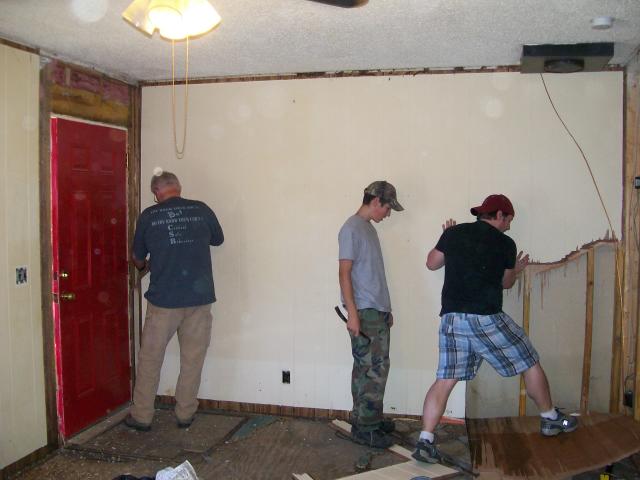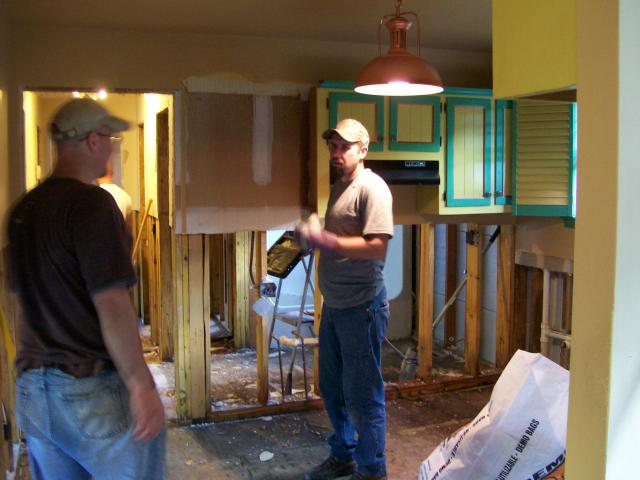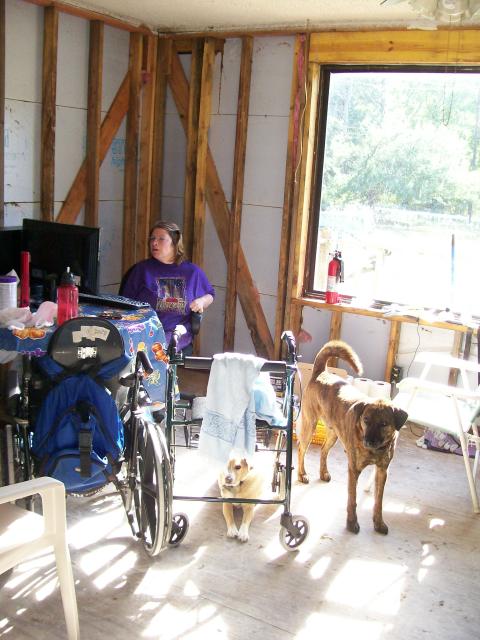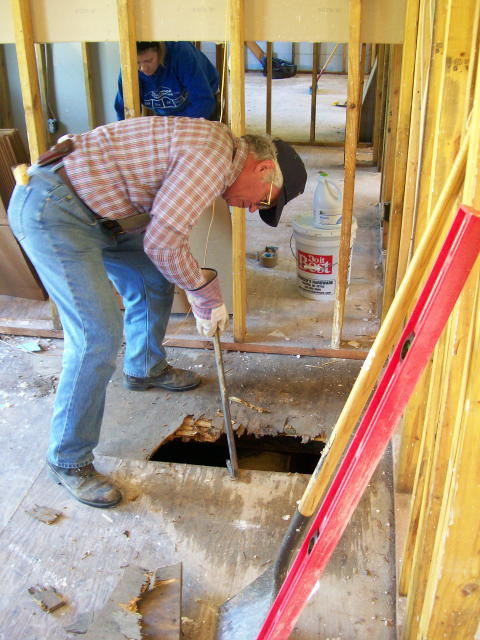 ---
Clint Searcy - 05/09/2010.16:19:36
MIMForum Staff, Nashville
We're proud to have Amy coming down. I feel much better knowing that help is coming from folks who have done this already. I'm currently taking measurements with a broken 25' tape to see how much sheet rock I need.
Yesterday a bunch of friends and guys from FedEx (my day job) came over and helped rip out the dry wall and soggy insulation. We pulled most of it out at the 4' mark. This insures that the wet part is dealt with and makes installing the new drywall more straight forward I'm told. The living room was crappy...er...um... vintage 1979 wood paneling. All of that went and will be replaced with drywall. The bathroom was done in a type of plaster finish that could never be matched so all of that went also.
We found a few soft spots in the floor once they were clear of carpet and whatnot. So it looks like there are a few blessings in this mess. We will get those floor repair out of the way now instead of a few years down the road and Alicia will finally get the paneling in the living room replaced like she's been wanting.
Again I want to thank everyone who has donated. The money is being well spent.
Ok.... back to counting plywood...
---
Clint Searcy - 05/10/2010.22:14:15
MIMForum Staff, Nashville
Rented a big dog dehumidifier today. It's $59 a day and should help us get a jump on drying out those floor joists and wall studs. It's been running half a day and already feel dryer in here. I rented another blower fan for the crawl space too. $60 for a week. Then I went and ordered a wood moister meter from Grainger. I'll pick that up tomorrow.
There is a 7PM to 6AM curfew around here right now and a heavy police presence. But folks around here are well armed... Looters would do well to look elsewhere.
---
sysop - 05/11/2010.07:18:49
Deb Suran
OK, here's the preliminary estimate of just materials, the same one that went out in the newsletter. They've been spending additional money on tools, renting fans, etc.
$125 = 1 exterior door
$400 = 4 bi-fold closet doors
$462 = 6 interior doors
$222 = 480' of 16" wide pink roll fiberglass insulation
$350 = 420' of 1/2" drywall
$1050 = 1200' of 3/4" plywood for the floor
$10,000 = wheelchair accessible kitchen cabinets, counter tops
$1000 = new kitchen range
$3650 = cork floor
$16,797 = TOTAL
Frankly they're probably not getting out of this for less than $20,000. I'd like to see us raise as much of that as possible, although I know we're not going to raise all of it. Maybe some of you would like to buy one item for them outright - a door, or a roll of fiberglass, or a few sheets of plywood, or even replace their kitchen range, which survived the flood only to meet its sad end at the hands of a clumsy tear-out crew. Let us know that here.
I also have one report of the e-mail address searcystringworks@gmail.com being rejected by PayPal. I just sent them a dollar through PayPal to test and it went through but please report here if you have any problems.
And we're going to keep a running tally of monetary donations here so you know how well we're doing. I'll let Clint and Alicia post what's come directly to them via PayPal and e-Gift cards. We've gotten $310 through the MIMF online form.
---
Clint Searcy - 05/11/2010.09:57:44
MIMForum Staff, Nashville
Alicia here - We ventured out yesterday for the first time post-flood so I'm playing catch-up this morning. I surveyed the surrounding damage and am still shaken by what I saw. I'll post some photos and explanations later today. Let me say again how grateful we are for the continuing generosity and goodwill of the MIMF community. I have a hard-head and hate to ask for help so it's rather amazing to me that so many people have stepped up already. I will not forget this!
Mike, I have no doubt that everything that needs to be done will not get done that first weekend so we will do a "second wave" if you will, to try to tie up loose ends, if things are that far along, or at least get to that stage. As I said, at this point I will accept any help that's offered with my sincerest thanks. When this is all said and done Clint and I will pay it back, or pay it forward. We are by no means alone in need in this area. I think it bears repeating that starting two houses down from ours the homes has been condemned.
Clint's a bit crestfallen this morning because he can't seem to revive our car - never mind that it was flooded up to the side mirrors LOL!
More later :-)
---
Clint Searcy - 05/11/2010.20:56:39
MIMForum Staff, Nashville
There is a little house just up the road that has the coolest Halloween display every year. It's a huge haunted ship with pirates and zombies. For Thanks Giving they redress the figures, change the flags and it becomes the May Flower. Then for Christmas the break out the animals two by two and it becomes the ark. They got hit much worse than we did. No displays this year. If you look you can see the mud line in the trees across the field. That's how high the water was at their house. River mud is everywhere...
---
Clint Searcy - 05/11/2010.21:05:27
MIMForum Staff, Nashville
It was hard telling the FedEx guys how to get here the other day because so many roads were still closed even after the water went down. Mud slides were every where. They either blocked the roads or undercut them like this one did.
---
Clint Searcy - 05/11/2010.21:20:20
MIMForum Staff, Nashville
"Norms" is the local beer joint. Think of "Bobs Country Bunker" from the Blues Brothers. It's entire contents was pulled up around back including a 16 channel mixer, piano and a full drum kit.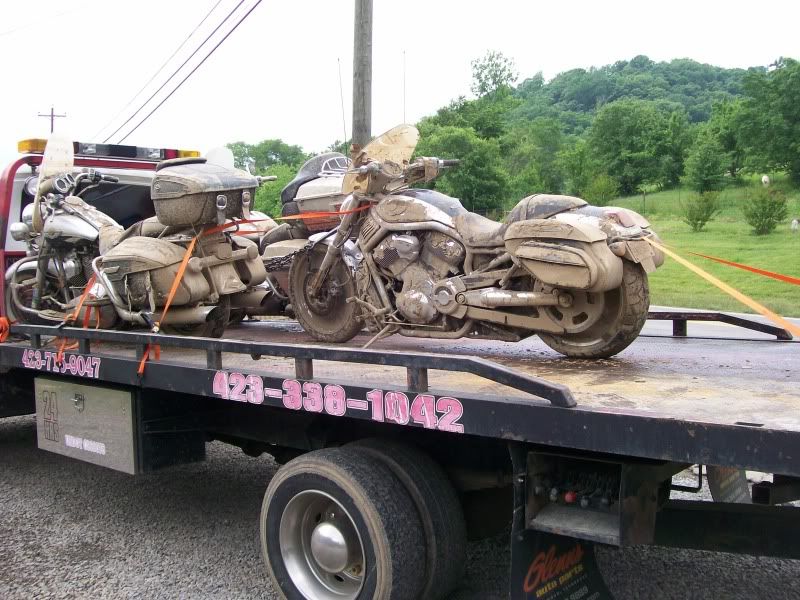 I can't count the number of tow trucks I have seen hauling off all my neighbors cars. and other toys. I guess they will come for the Olds 88 before long.
---
Clint Searcy - 05/11/2010.21:30:17
MIMForum Staff, Nashville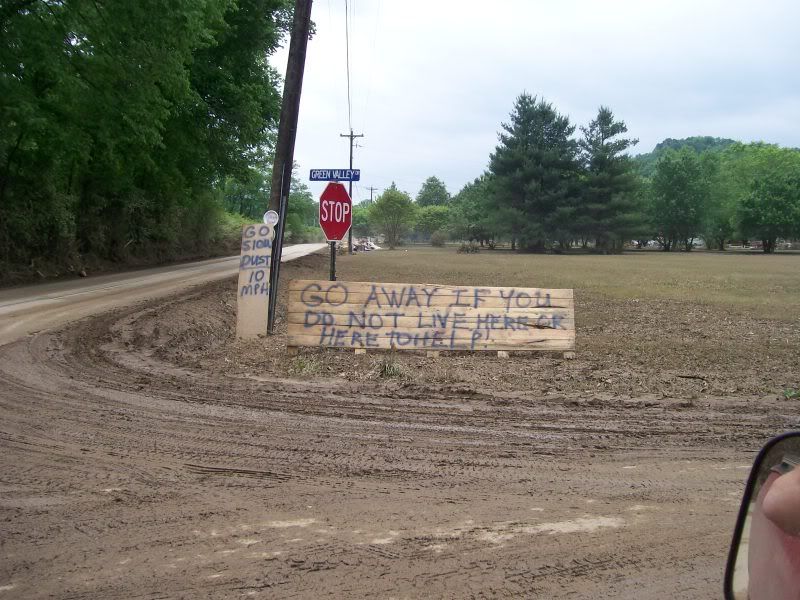 River Mud.... It's every where and in everything. It's slicker than snail snot and hard to drive on in my little Toyota pickup. When it drys out it blows across the landscape and make the clean up even more unpleasant. Some of my neighbors are tired of gawkers. I don't mind them too much but I ask a lot of questions if I see them parked.
---
Clint Searcy - 05/11/2010.21:44:17
MIMForum Staff, Nashville
After I got back home with the new meter I set about ripping out some more floor boards. Then I used the shop vac to suck out any more standing water that was sitting in the vapor barrier. Once the plastic was about dry I pulled it and tossed it out of the house. Finally I set a space heater in the crawl space and set up the huge dehumidifier and a fan above to help dry things out. We'll test it in the morning and see where we stand.
Dinner was on the Red Cross which was fine by me. No one felt like cooking tonight.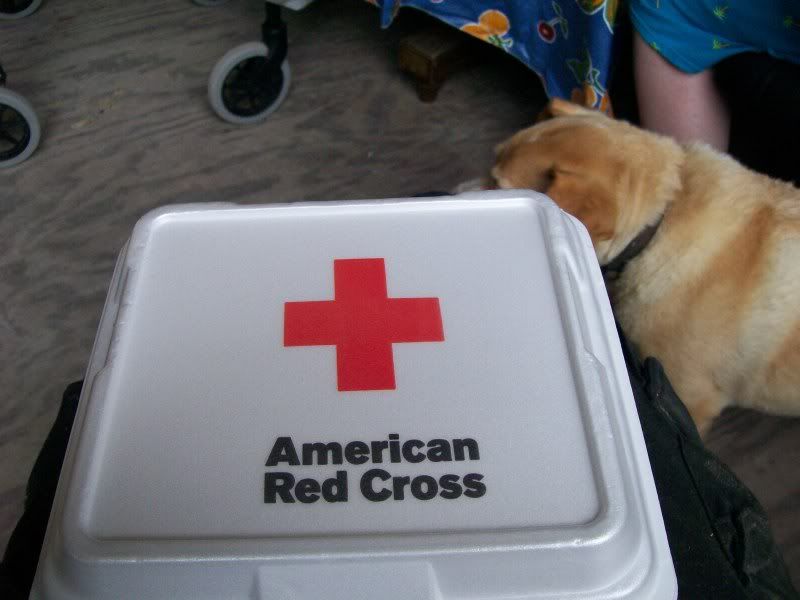 ---
Clint Searcy - 05/11/2010.22:00:07
MIMForum Staff, Nashville
Alicia here - God bless The Red Cross. That's the worst food I've tasted in years. I do appreciate the intent, though.
I tried to personally thank each and every one of you who have donated towards our rebuild. If I overlooked you please know that it was not intentional. So many of you have been generous that I may have accidentally skipped someone as I went down the list.
So far our total stands at $1,235 - incredible - thank you all!
---
sysop - 05/11/2010.22:07:42
Deb Suran
So far our total stands at $1,235
Plus $325 in donations to me makes a total of $1,560.
---
Clint Searcy - 05/13/2010.07:02:35
MIMForum Staff, Nashville
Everyday something gets better.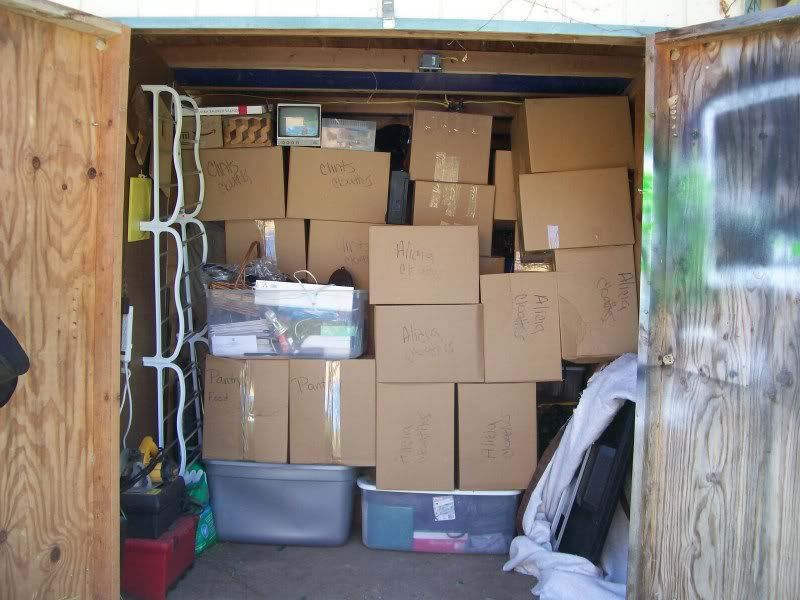 The gang from FedEx did a great job in packing up our stuff and storing it. Of the things that didn't get destroyed, half went into a storage trailer and the other half went into a little shed behind our house.
Maybe they were a little too good at it because they ended up packing away some things that Alicia wanted them to leave out. She has been stressing over some of these things but hasn't wanted to ask me to look for them because I'm just so swamped with things to do.
Yesterday was Alicia's Birthday. I was feeling mighty low about that because I had to drive out and talk to the FEMA folks and see if we could get any assistance. There's just no way to make the day special.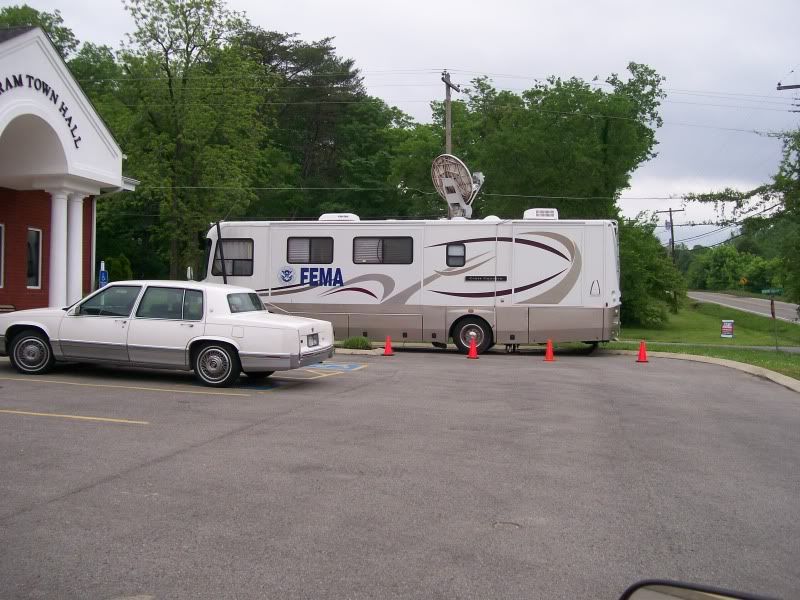 Just as I got back home a lady named Verina from Hands On Nashville pulled up in our drive way and asked if we needed her to do anything. Alicia said "Yes!" and they spent a few hours rearranging the shed so Alicia would know where everything was and could get to it.
http://www.hon.org/HomePage/index.php/home.html
I took my girl out to dinner at Logan's Road House to get her out of this mess for a little bit. When we got home last night the crew had finished fixing the high speed cell tower up to road so now we can connect at speeds faster than dial up.
So Happy Birthday Baby. Looks like you got at least three gifts you didn't see coming.
---
Clint Searcy - 05/13/2010.11:18:44
MIMForum Staff, Nashville
Alicia here. I thought I'd take a moment in all of this chaos and introduce (or reintroduce, as the case may be) you to my two babies, Sasha and Jack.
I snatched Sasha up days before she was going to be euthanized. She was only 5 weeks old and no bigger than my foot. She was also riddled with worms and weighed a whopping two pounds. But even then she had tons of personality.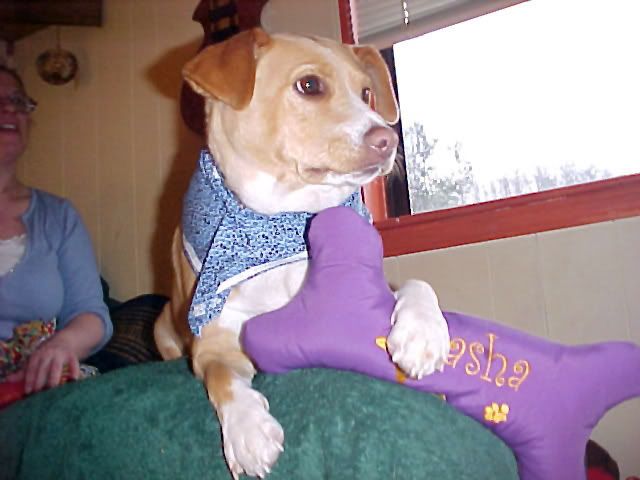 She is by far the most eccentric dog I've ever owned. We call here a "dat" because some of her behavior is decidedly feline. She enjoys rubbing up against our legs and often steps away and just looks at us if we try and pet her. I'm fairly certain she's some sort of blue-blood reincarnate; if I could hear her thoughts I'm sure she'd be referring to herself in the royal "we" person!
A year ago Sasha was diagnosed with "a textbook case of hypothyroidism" and is on daily medication to control it. Since the flood her personality is very altered. She will not leave my side and get very stressed out if we start moving things around.
Most of you already know Jack's story but for those of you that don't here's a synopsis. Clint and I found Jack in a ditch - literally - nearly dead from Demodex mange, infected joints, and starvation. We thought him beyond hope and intended to take him to the shelter to be euthanized. It was a Sunday; the shelter was closed.
Most vets wouldn't even see him. The one that did gave him antibiotics, Ivermectin and a 10% chance of survival. His condition began to improve within 24 hours and after 8 months of medication he has fully recovered. The Animal Clinic call him a miracle dog. He's a goofy little momma's boy, and as sweet as he can be unless he thinks you're threatening Clint or me. He can be vicious then.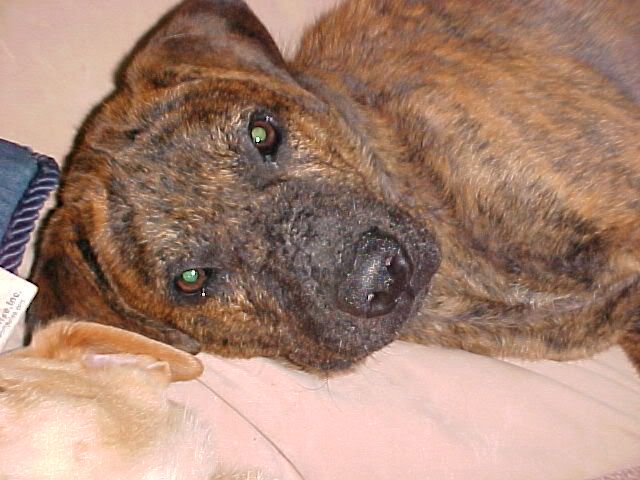 Sasha and Jack are why I'm still here. I've had offers of an apartment to stay in while my house gets worked on. I'm hot, dirty, frustrated, and exhausted so the offer is very tempting but they can't come with me and I will not leave them. They are more then my pets; they are my family. They lost every cushion, toy, blanket, and bone they had, too. The last thing they need now is to be abandoned.
---
Clint Searcy - 05/14/2010.08:52:15
MIMForum Staff, Nashville
Yesterday was utterly exhausting. With temps around the 90 degree mark it felt like an effort just to sit still. We did a lot of laundry yesterday, and we still have about 10 more loads to do.
I fell into bed without remembering to thank you all for your efforts on our behalf, which raised an additional $100.
As I write this one of Clint's coworkers is delivering a camper she's letting us use. They are attempting to pull it into the backyard. I'm staying out of their way LOL.
---
Amy Hopkins - 05/14/2010.22:16:57
MIMForum Staff and Poet Laureate
Dave and I are putting an axle in the Honda on Sunday for the trip. I'm cranking to get all the repairs done in the shop and we are sure looking forward to being down there. Take a few seconds to catch your breath, this is a long haul for you guys but it will get done and no good to anyone if you collapse from exhaustion and stress. We all love ya and are sending our prayers and thoughts (and hopefully spackle and insulation) your way. Next week this time we will be camped out down there. Lots of Love, Amy
---
Clint Searcy - 05/15/2010.06:00:13
MIMForum Staff, Nashville
I can't tell you how much this effort means to us folks. From Deb moving and shaking to Amy and Jim and crew and their magic hammers and all of you who have bid on items and made donation or just wished us well. It's enough to restore any lost faith one might have with their fellow humans.
Today we have a crew of volunteers showing up to rip out the AC duct work. My boss is gong to help me figure out if the AC unit itself can be saved (it's cooling but not blowing). My Uncle is bringing a flat trailer to load trash on and last night this beautiful lady came riding in on a black Chevy one ton to deliver her 30' camper. This is Kimla, my friend , coworker and sometimes partner in crime. She was trying to restore it and sell it but decided we could barrow it for a while.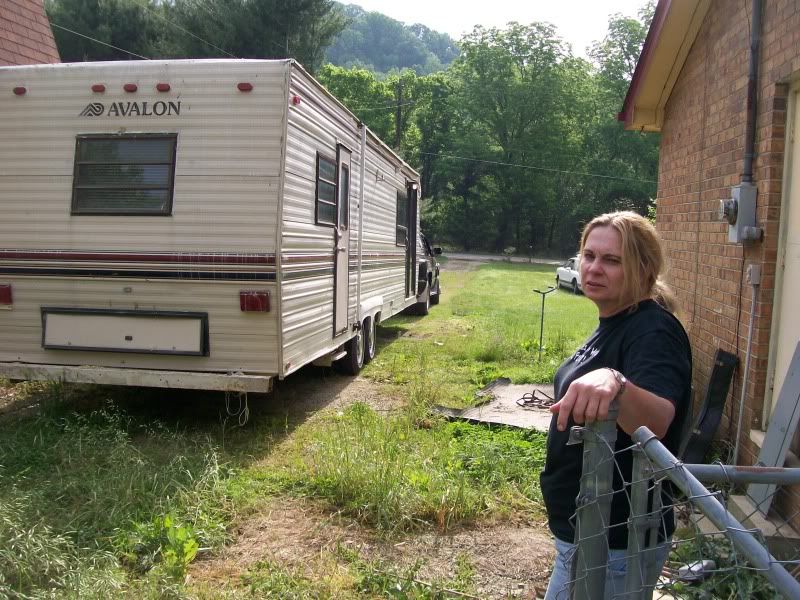 ---
Clint Searcy - 05/15/2010.10:27:33
MIMForum Staff, Nashville
Currently we have about 10 volunteers from the city of Kingston Springs hauling off the trash pile. Intellectually I know it's all trash; emotionally it's my life being carted off - Alicia
---
Clint Searcy - 05/16/2010.07:14:47
MIMForum Staff, Nashville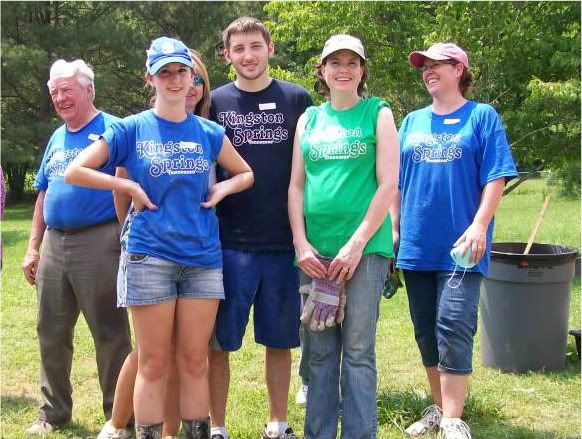 So get this... The next town over is called Kingston Springs. Yesterday an army of volunteers showed up from there and started hauling off our massive debris pile. There was about 14 all together and most of them were little kids.
I wasn't sure how much actual work would get done with this group but they worked like Longshoremen. They got there at 9AM and by noon the piles was almost gone.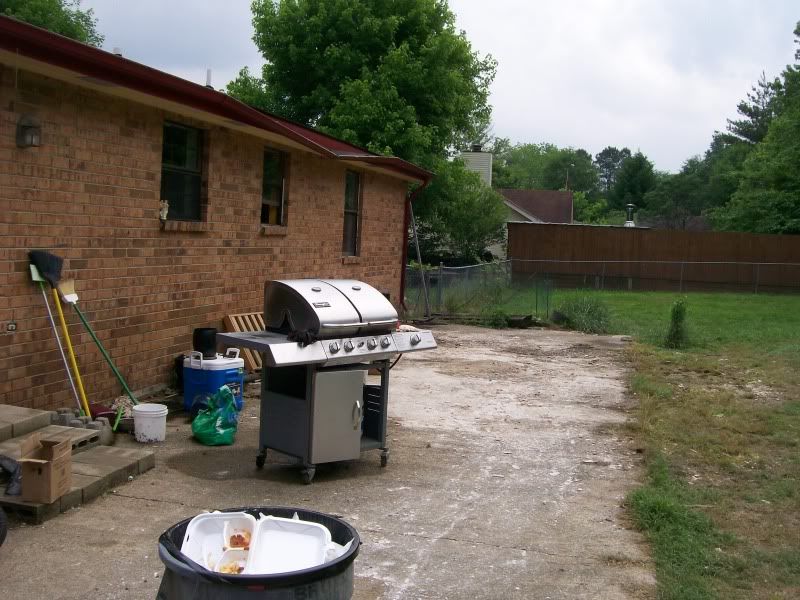 Now... you might think a group like that was put together by a church or a local charity but it wasn't. Someone hung a paper at the Red Tree Coffee House in Kingston Springs.
http://www.facebook.com/pages/Kingston-Springs-TN/Kingston-Springs-Tennessee/327937953973
It asked for volunteers to sign up. Then they divided them into groups and gave them areas and told them to go help.
P.T. from Six String Bliss showed up to help too.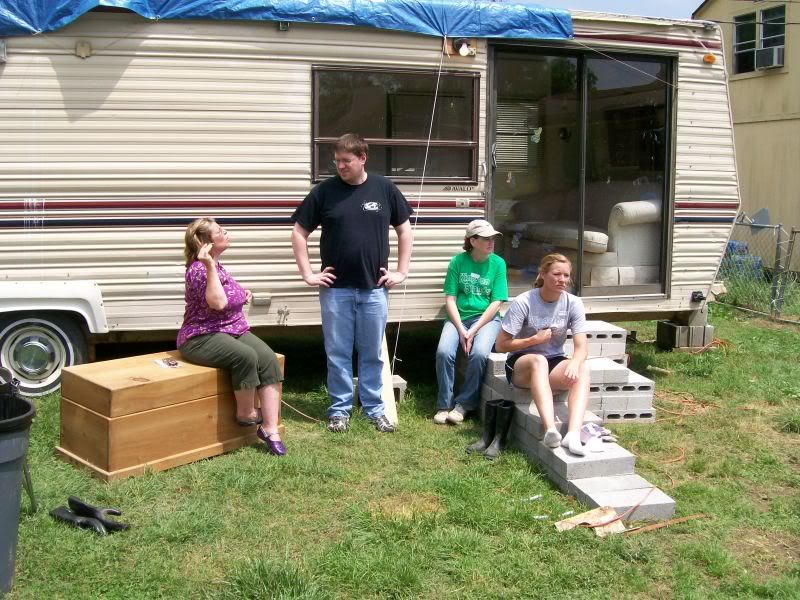 After the trash was gone and the kids had moved on to the next house Alicia and P.T. and me took a break to unwind a little bit with my EllieCaster. P.T. now wants one.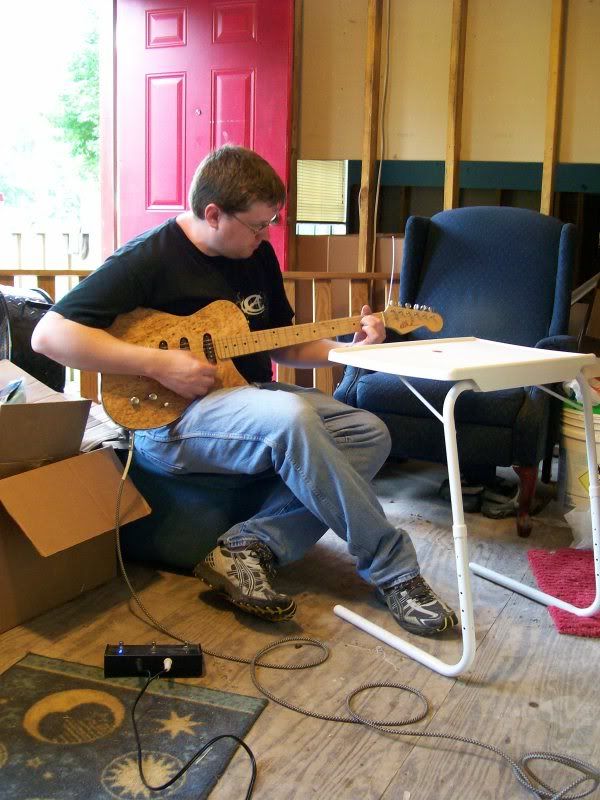 ---
Clint Searcy - 05/17/2010.06:16:58
MIMForum Staff, Nashville
It's been raining here almost nonstop since the kids from Kingston Springs left. Some low areas are getting flash flood warnings. But the Cumberland seemed to be doing her job yesterday.
They finally opened Highway 70 which runs from Ashland City through Newsoms Station and into Nashville. There were massive mud slides all down that road that devastated the highway. Here you can see the start of the new black top where a section of the road had to be rebuilt.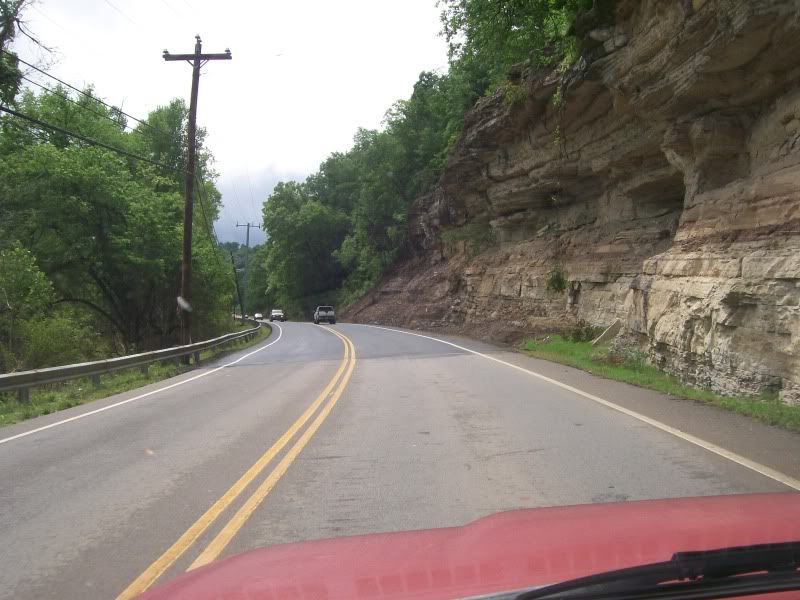 The destruction down this road was staggering...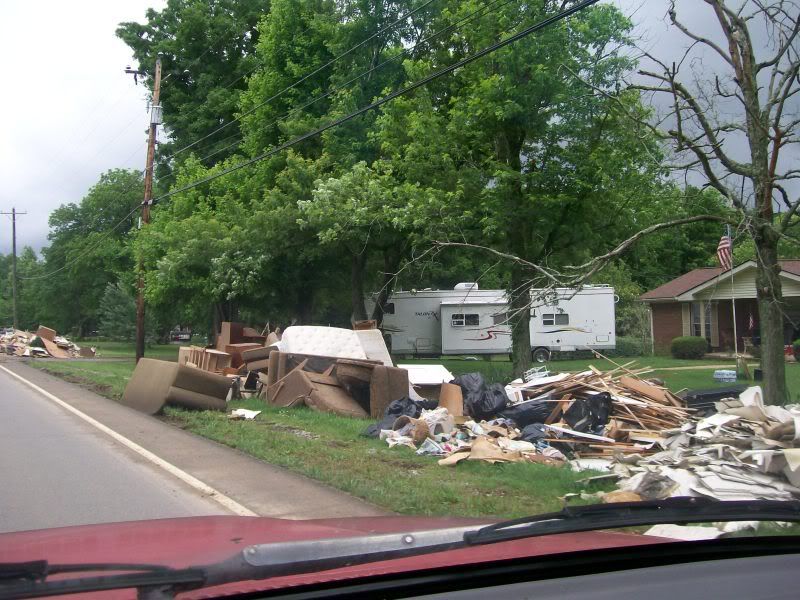 Trains run all over this county. I have been told that 300 miles of train tracks were lost on the raging river waters. Here is a train bridge that runs along Highway 70 that was totally ripped apart.
A new strip mall was built in Ashland City just a few years ago. In this struggling economy it has had a hard time filling all the stores and competing for the local customers against the Super Wal-Mart just across the parking lot. The flood knocked them all out. Most of them have said they won't try to re-open in our town.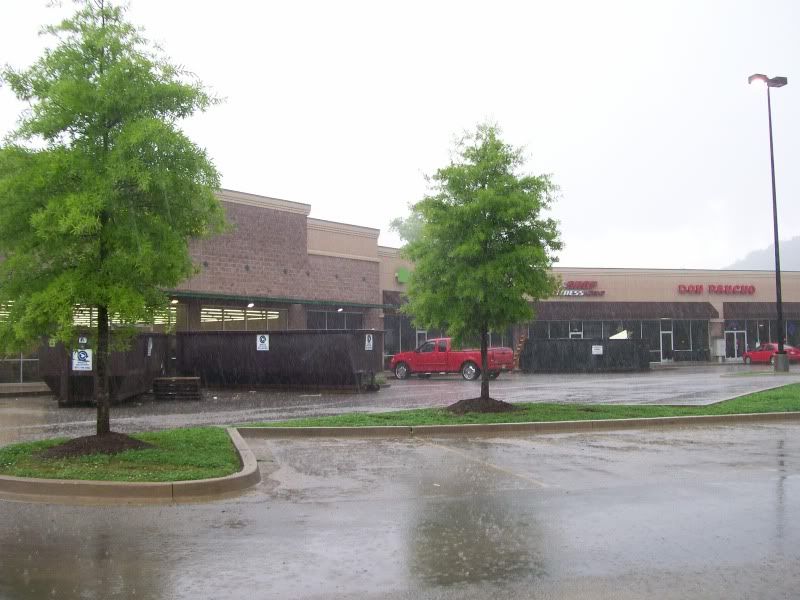 I hope I don't sound too whinny here. I know how lucky I am. Here is my neighbors home after ripping out all the water damaged materials this week.
This was just 4 houses down from mine.
---
Clint Searcy - 05/17/2010.06:30:38
MIMForum Staff, Nashville
It looks like the entire heat and air system will have to be replaced. It's going to cost as much to fix it as a new one would I think.
The FEMA inspector came by yesterday. He flew in from NOLA. He was surprised to see all the drywall, insulation and huge sections of the floor gone. "What happened to the floor?" he asked.
"I cut it out so we could get air under the floor and reduce the risk of mold growth."
"Have you done this before?"
"No.... I just knew who to ask..."
This little sign popped up just up the street from my house. I think I'll call them later today.
---
sysop - 05/17/2010.07:16:30
Deb Suran
Our next newsletter announcing the current auctions, and a couple more I still need to get up, will go out later today. We only have enough loot for one small round of auctions after this. I'm very pleased to see all the items that have been offered by MIMForum participants - you guys are AWESOME!
---
Clint Searcy - 05/17/2010.11:32:35
MIMForum Staff, Nashville
Deb, I second your "AWESOME"! At the risk of sounding like a broken record I just can't thank all of you enough for what you're doing for my family. Sasha and Jack actually rough-housed with each other this morning. That's the first time I've seen them playing since the flood. They must be sensing that we are less panicked because their surroundings are still chaotic. - Alicia
---
Clint Searcy - 05/18/2010.10:46:45
MIMForum Staff, Nashville
Good news, bad news morning here at DamFlood HQ (no, I didn't misspell that!).
The good news is the volunteers from Red Tree Coffee in Kingston Springs are donating some food for the DamCrew. We have hot dogs, hamburger, bbq, buns, chips, and sweets coming to us on Friday! So I'd like to know from those of you that are coming if you have any dietary restrictions? I can hear some of you chuckling at the question, but I do want to try to make this as pleasant as it can be for all of us.
Bad news; SBA won't even look at our application for another three weeks. It seems they're a bit backlogged! :-(. I'm hoping that will go the same route as everything else we've needed and materialize within days of me wishing I had it. - Alicia
---
Clint Searcy - 05/19/2010.11:44:52
MIMForum Staff, Nashville
We're gearing up here for the arrival of the DamCrew!
We had a close call yesterday that nearly derailed our momentum. We haven't had TV since the flood so I was checking the local news via internet. I ran across a "story" featuring Cheatham county's latest City Council meeting. The reporter claimed that the meeting had been mobbed by angry residents who had been told they weren't allowed to so much as touch their homes without a building permit, and the county would only be issuing 10 per day and not until May 24th.
Naturally I freaked out, so I called my hairdresser, who also does the county permit girl's hair. She had already left work but would get back to me in the morning. Clint decided to go down there first thing today and talk to her in person. Here's the REAL story...
If your house is not in a flood plane and it hasn't sustained any structural damage you can get a building permit immediately. If your house is in a flood plane, or it sustained structural damage, you must make an appointment to have it inspected before they will issue you a permit.
I have a real pet peeve about biased reporting. It assumes stupidity and gullibility on the part of the viewer and is the ultimate in smug, self-righteous arrogance. Just tell me the facts; I can make up my mind as to who is responsible or what needs to be done. SHAME on the media for this!
PS We now have a building permit. Our subfloor will be delivered tomorrow. Clint went with the Advantek tongue-and-groove because it's moisture resistant. - Alicia
---
Clint Searcy - 05/19/2010.12:28:05
MIMForum Staff, Nashville
Ok... We averted the permit drama and we're all legal now.
The floor is on it's way. It was $1315.22 to go with the tongue and groove Advantech flooring which is more water resistant. They say if I use some glue and some screws it will never squeak.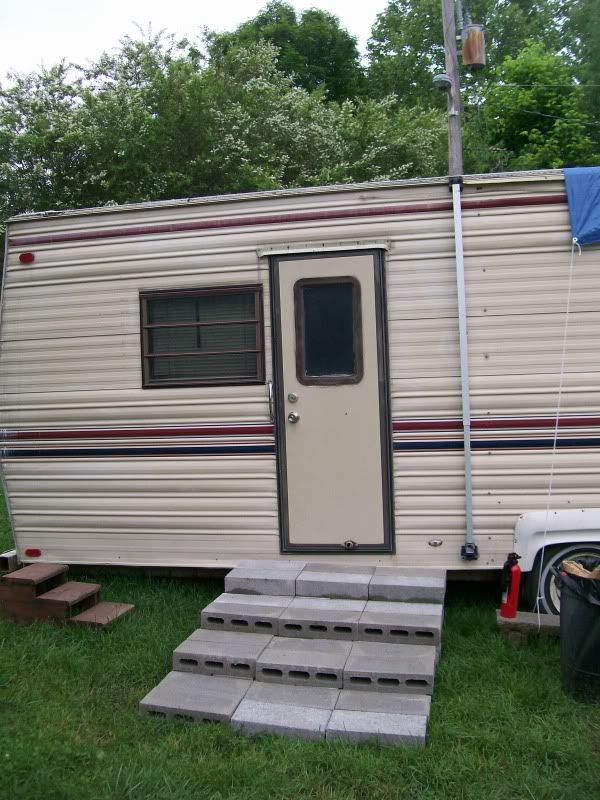 I spent most of yesterday fixing on the camper. It's rough! But I got the lights working. I wired the little water heater up to a pigtail and plugged it into a drop cord It worked fine but there's a leak in the wall behind the shower and I don't have time to find it so I'll leave the water off till we really need it.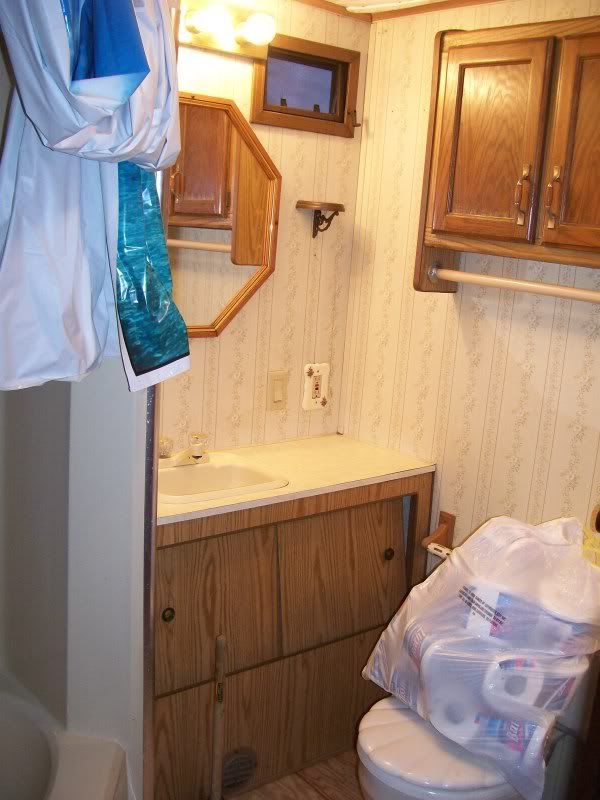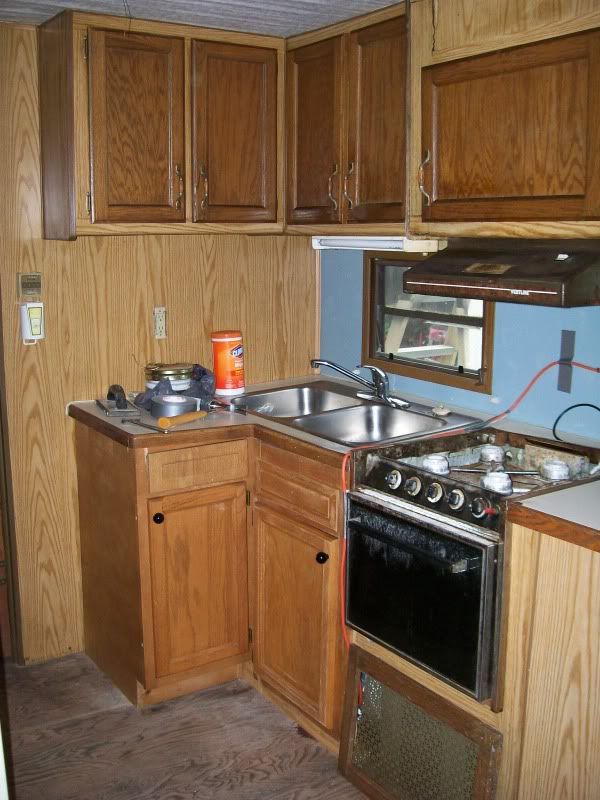 The roof AC unit sounds like it has a bowling ball in it and every time it rains water runs in through it. I tossed a donated big blue tarp over the whole rig to stop the rain. Then I pulled one of the AC units from my shop and built a frame so it would sit in a back window of the camper. Works OK.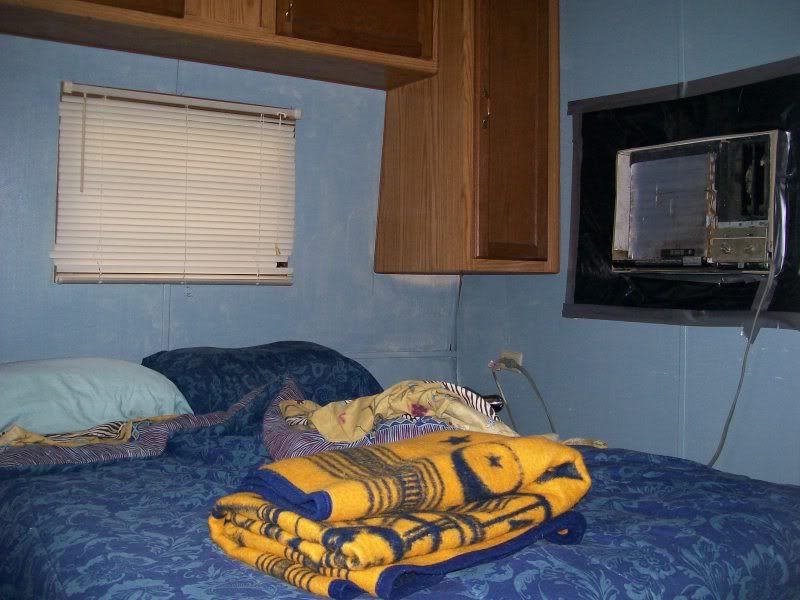 My day job has been very cool about letting me take off when I need to. I decided to go back to work this week so I don't abuse the generosity. Plus... it seems I need to money!
I have to be at work by 3pm so right now I'm waiting on a guy to come out and give an estimate on replacing the entire AC system. It's going to take about $800 to fix the old unit and a new one can be had for about $1200 so there's just no point in trying to save the thing.
---
Clint Searcy - 05/19/2010.12:40:08
MIMForum Staff, Nashville
Here's one of the local gas stations...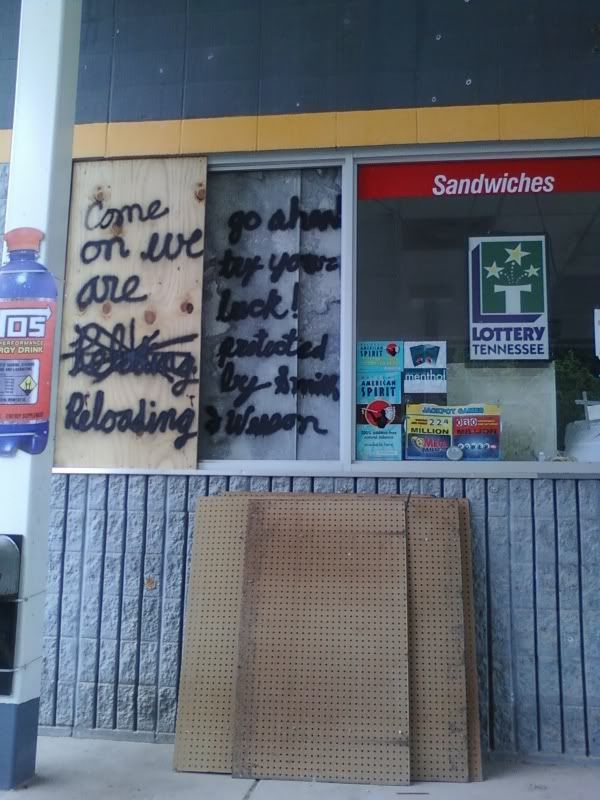 ---
Clint Searcy - 05/20/2010.06:25:54
MIMForum Staff, Nashville
This amp, along with several others, was sunk up to the knobs in river water. I figured it was toast but I put in it the String Works shop and just let it dry out. I tried it out the other night and it worked! Perfectly!
That's just freaky!
---
Clint Searcy - 05/21/2010.09:53:38
MIMForum Staff, Nashville
Day One of DamFlood restoration!!!
Amy is pleased at Clint's voracious demo work and told him it basically saved the floors in some spots. There's plenty of floor that needs to be replaced but it's not a total gutting as was originally thought. First order of business will be to install a kitchen floor.
Amy and Dave are a symphony of opposites. Whereas Amy is a human dynamo Dave is more deliberate. They are both incredibly personable and put me at ease moments after they arrived. Amy is so genuine and Dave is quaintly entertaining. She's a dynamo and he's contemplative so there's a real sense of symmetry in their relationship. Jack and Sasha took to both of them immediately. I think Amy wants to adopt Jack; sorry, Amy, he's mine!
By the end of today I won't need to teeter down the hall precariously close to a 3-foot drop in the floor :-)
---
Ellie Erickson - 05/21/2010.10:04:32

Amy looks like Rosie the Riveter with that saw in her hands. It's totally kick ass.
---
Mike Dotson - 05/21/2010.11:28:30
New and Improved. Same Low Price.
Suzy the Sawz-All'er.
---
Amy Hopkins - 05/22/2010.07:23:48
MIMForum Staff and Poet Laureate
Hey guys, we are getting ready to start the day and on the third cup of coffee. Yesterday we laid the kitchen floor and the back room floor, there is still a lot of dampness but we sprayed the joists with bleach (yuck!) and are keeping fans going. Hoping to get some kind of dehumidifier to put under the floor. Clint picked up the drywall, we found out just how low the springs of a little Toyota truck will settle! And we found out that those cheap sawhorse frames do not hold up to twenty sheets of drywall. The floor under the tub was wet and buckled so we pulled the tub out. We were hoping to save it but that didn't work so we cut it up just to get it out the door. Clint did a second run for insulation and then had to go to work. I don't know how he is functioning on any level!! Dave pulled out some small walls and nailed off the flooring, last thing at night, I built a small extension wall between the front room and the kitchen. We were hoping to get more help today and a fellow named Ryan Foust may come to give a hand. Clint and Alicia are going to hunt down a tub so that we can have a way to get clean!! Dave can hook it up the second it gets here, meantime I'll tear up and replace the bathroom floor today. The amount of work involved here is pretty overwhelming but we are attacking it one room at a time!
---
Clint Searcy - 05/23/2010.06:54:40
MIMForum Staff, Nashville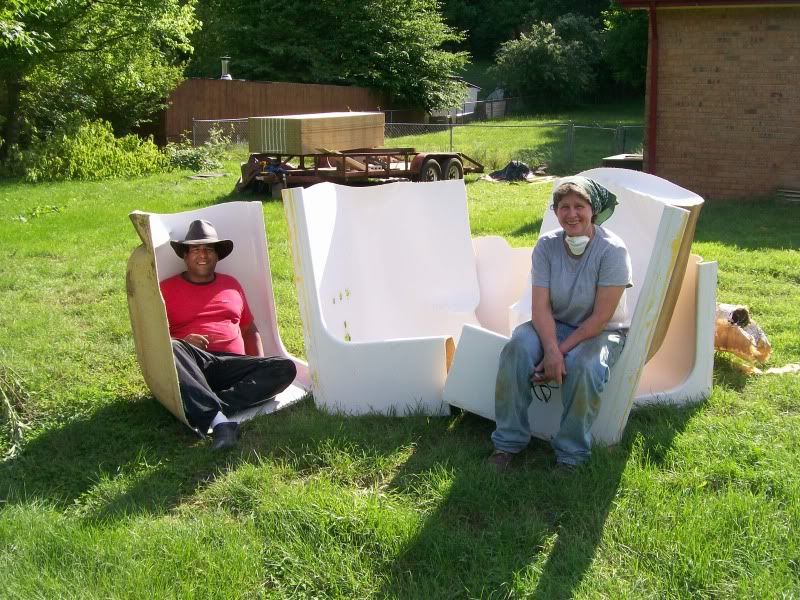 ---
Clint Searcy - 05/23/2010.07:32:45
MIMForum Staff, Nashville
We tried and tried to save the tub shower unit. Not because we loved it but because they ain't cheap and we didn't want to add a ton to the work load. In the end it was chopped up and tossed so Dave and Amy could get at the wet sub floor in the bathroom.
We started off yesterday thinking we had only one person coming to help. It was looking like a long day and Alicia and I had to run out and find a new tub as well as picking up the county damage assessment. We were so busy I haven't has time to go over that just yet.
As Alicia and I were driving home from finding out new tub I got a phone call from Corey who told me he would show up to do some dry wall work. Great!! Corey's whole family are home builders and having someone with some experience other than Dave and Amy would be great. By the time we pulled up in the drive way there were two more cars at the house. We also knew that MIMF member Ryan Foust would be there. Ryan contacted me a few week ago and stated that he didn't have more know how but would show up if we wanted him. I think he might have been pulling my leg because he rode in like a hero and after a quick lesson from Amy he set about doing the entire insulation job by him self and it was done like an expert!
The other car belonged to Brent Bivins. A good old boy I have worked with for 12 years and one of the most stand up guys I have even known. He's deer hunter and marathon runner and knows his way around a dry wall knife too. He stayed here hanging sheet rock till 10pm last night. I think we also made a deal for me to buy his 200,000 mile 97 Honda in exchange for a little money and a old guitar.
My day was spent running for parts from Lowes and hanging the vapor plastic over the new insulation.
My neighbor Ronnie lives two houses up from me and didn't get any water in his home. At one point he came down and mowed my lawn so it wouldn't look like a jungle.
Mike Pearson is another MIMFer that drove all the way from Cincinnati Ohio to drop off a cool pop up camper. He got there, set up the camper and then he was gone. I didn't get to talk much to him or get a picture.
More later!
---
Clint Searcy - 05/23/2010.09:04:10
MIMForum Staff, Nashville
Alicia here. Ryan also brought enough dog treats and goodies to ensure that Jack and Sasha have a little something for weeks to come. On a personal note he's one of the sweetest people I've ever met. His love for his own dogs made me like him even more.
I did get to talk to Mike Pearson and he seemed genuinely remiss that he couldn't do more - which is nonsense. He's going to leave us the camper until Labor Day so that anyone who wants to help has a comfy place to sleep. Like Ryan he was very personable and I'm sorry we could not have talked longer or met under more pleasant circumstances.
MIMF'ers are great people! :-)
---
Clint Searcy - 05/24/2010.10:33:06
MIMForum Staff, Nashville
Lots to do today. Ellie's on her way, and Jim and Jen arrived last night with their adorable puppy Zooey.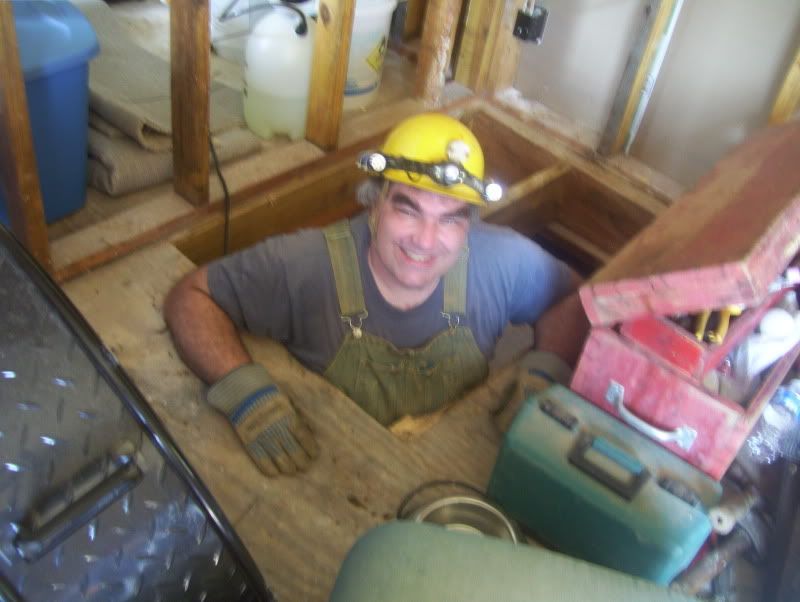 Jim is pulling the old air conditioning ducts as we speak. Amy is putting up drywall and Dave is still trying to get the bathtub finished - I'd kill for a bath right now! - Alicia
---
Jim McConkey - 05/24/2010.23:10:10
MIMForum Staff, Baltimore
It was amazing how much Amy, Dave, and the others did over the weekend.
Dave got the bathtub finished today, and we were all extremely grateful for a shower after a long day ("only" 13 hours today!) of building sawhorses, creeping in a an 18" crawlspace pulling fouled ductwork, sheet rocking three complete rooms, and fixing the roof where a former wood stove chimney was leaking like a sieve. Alicia got her wish for her first bath since the flood.
We will probably sheet rock another three rooms tomorrow, repair the last bits of floor, and mow the lawn.
I did a quick estimate of time being donated by the MIMF staff here this week it is over $10,000 at modest carpentry rates. We're working 10-14 hour days, getting an enormous amount of work done, and having a blast doing it. Despite our efforts, the house won't be nearly done, but it will at least be habitable while the finishing touches are applied.
---
sysop - 05/26/2010.12:14:37
Deb Suran
Hi Everyone! In case you were wondering what happened to me, to your contributions, and to your auctions, I brought everything to a screaming halt on Friday when Clint and Alicia got a check from FEMA for $22,000. YAY!!! But - oh no! It looked like not only had we been fundraising under false pretenses, however unwittingly, but it also looked like Clint and Alicia would be making a profit off the fund drive - I'd have to start returning everyone's money! Whoa there, just hold your horses, said our wise Amy. Clint's estimate was woefully incomplete, inaccurate, and low overall - he didn't even notice the damage to the deck and rail, to say nothing of the bathroom re-build. Let's get a professional local contractor in here to give us a real estimate.
We got it yesterday. These figures do not include labor for any installation, or the 9.25% sales tax on materials. Clint and Alicia did not feel that everything in the quote was necessary, here's the breakdown of what they know they need.
Advantech flooring (subfloor) $1,140
Insulation $465
Drywall $420
Mud $150
Tape $160
Interior doors $1,190
Side door $382
Plastic & Vapor barrier $356
Baseboards $747
Flooring $4,776
Quarter round toe kick $216
Door knobs $250
Closet shelves $280
Kitchen cabinets $1,954
Knobs/pulls $80
Oven $1,649
Flooring kitchen $1,440
Backerboard $80
Faucet/sink $239
Bathtub & fittings $970
Wall covering $279
Flooring bath $1,080
Backerboard $88
A/C unit $4,500
Ductwork $2,700
Front deck $975
Front rail $1,344
Back door $668
Total for building materials alone = $28,678.
9.25% sales tax = $2,752.72
Grand total = $31,330.72
They did not add in toilets, vanities, electrical work or other kitchen appliances. Their dishwasher and clothes washer/drier are toast, these are $600 and about $2000 respectively. They lost virtually all their furniture, the bed alone will cost around $1,000. To replace the car that was submerged to the windows will cost $3000 at a minimum. Also, the few belongings they have left are in storage out of the generosity of FedEx - but they have no clue if they suffered damage, and won't know until they can get them home.
The *absolute minimum* of materials & taxes, and lost items they can attach a price tag to, is $37,930 (assuming my math is right, never a safe assumption - please feel free to double-check). We should also note that Amy and Dave are leaving today, Jim and Jen tomorrow, and Ellie on Friday. At that point labor is no longer free. Clint has to keep his day job, and while he can be a weekend warrior they don't want the repairs to drag on for years.
Regarding the FEMA grant, Clint had been told by a FEMA employee when he filled out the application that they would not be getting any money because there are no children in their household. And due to our own past experience with FEMA in New Orleans, we thought it would take FEMA months to process the application before Clint and Alicia would even find out they'd been turned down. To get this $22,000 grant was a huge benefit!
Here's where we stand on the fund drive. Clint and Alicia have received $1,300 in direct donations of cash and eGift-cards. The total of money coming in through me, including all donations and the latest round of auctions, which have not been processed yet, is $3,390. That brings our total income from donations and auctions to $4,690. Hmm I'll check my math again later (every attempt gives me a different total, dammit!), we should have been just over $5,000 if my earlier totals were correct. I hate arithmetic!
Their expenses so far that are not included in the estimate above, at least the receipts that Alicia could find easily, are
Food/drinks/plasticware - $190
Fan/Dehumidifier rental - $455
Tools - $264
Blocks to build accessibility steps to the trailer - $120
Total = $1,029
So, we add $1,029 to $37,930 for the total actual and anticipated expenses of $38,959. Less our donations and the FEMA check total of $26,690 leaves them $12,269 in the hole just for materials, not any labor.
That's where we are, apologies for the delay but we needed a real estimate before we knew where we stood, and whether or not the fund drive would continue. I am still going to offer to refund *any* money that *anyone* may want to reclaim. If you donated cash or a gift card, or were high bidder in an auction, and you think we weren't transparent enough, you get your money back. It's that simple - request a refund for a cash donation, get one immediately. If you got an auction item/package, we will ask you to return your auction winnings first, of course. I don't want folks to think there was any funny business going on here. We are guilty only of immediately jumping in with both feet in order to help get Clint and Alicia (and Jack and Sasha) back into their home as soon as possible.
I'll start processing the donations that have come in since the FEMA grant, and the second group of auctions, this evening. Thanks everyone, for your patience as well as your generosity!
---
Amy Hopkins - 05/26/2010.12:45:59
MIMForum Staff and Poet Laureate
Dave and I are on the long drive home (just two miles under eight hundred to Clint and Alicia's doorway) He is drinking a Rock Star and driving, we used up a lot of energy this past several days.I have to say that this was a fantastic crew, everyone who pitched in was amazing. We got more done on the house than I would have believed possible and it was done cheerfully and with a huge element of fun and love. High points were Dave and Clint dancing in the freshly drywalled front room, Alicia taking her first bath in weeks, and just being with Ellie for a little while. Jim and Jen looked like a couple of miners as they foraged for ductwork in the tiny crawlspace, they took a job we were dreading and whipped it out like the pro cavers they are!! Ryan showed up, told me that his experience in construction consisted of "Watching a couple of episodes of This Old House" and proceeded to do the best job I have ever seen of insulating the entire place. Cory and Brent, ran a whole lot of drywall and I had to kick Brent out or he would have stayed all night working. The little camper that Mike hauled down from Ohio is just perfect for helpers to stay in. I am really proud of everyone, what a nice bunch of folks to be with for a project like this!
---
Alan Carruth - 05/26/2010.13:10:26

Deb wrote: We are guilty only of immediately jumping in with both feet in order to help get Clint and Alicia (and Jack and Sasha) back into their home as soon as possible.
Would that there was more of that sort of 'guilt' around in the world, instead of the other kind.
Alan Carruth
---
Ellie Erickson - 05/26/2010.13:31:53

Since Amy and Dave bugged out early this morning, Jim and Jen and I are hanging the last of the sheet rock and I've slathered 5 five gallon buckets of drywall mud n the last day and a half. We busted ass yesterday, slowed down only to eat.
It's a mess down here in Ashland City, there's mud and weeds all over marking the high water line on fences, and everything has the smell of river bottoms and fishy seaweed.
I took a break today to take Clint's bass amp apart, it was nasty, filled with water and green mold. We're hoping we can salvage the amp and maybe the box, but the speakers look trashed, I hope it fires up ok, it's a 400 dollar plus amp.
Jim's heading out Tommorow, I think I'm going home Friday very early. I'm grooving on all the stuff we got done, but my wrists are starting to feel numb from all the mud slinging.
It's also been a freakin' sauna down here, with temperatures in the mid 90's and the air's so thick I can slice chunks out with my drywall knife and stack them. I'm not looking forward to the drive home with a busted air conditioner, I'm hoping it's not as hot as the drive down was. I hope Clint and Alicia get their cooling system fixed soon, or it's gonna be miserable.
Why is it people live in the south again? It's TOO MUGGY!
All in all we've kicked ass and taken names on this mess, although Clint and Alicia are going have a long haul ahead. There's still no kitchen, a crap load of drywall sanding and painting to do, and the floors are all still bare plywood.
---
Clint Searcy - 05/26/2010.14:06:04
MIMForum Staff, Nashville
Wow, Amy, you make it sound like I smelled so bad nobody could get near me ;-P
Just kidding. I think Ellie did a good job of paraphrasing current activities. What she only glossed over is how amazing she, the other DamCrew volunteers, and you folks have been. Amy and Dave may have come to rebuild a house but they left having set a solid foundation for a great friendship with me.
More later. They're moving my stuff - again, so Ellie can spackle! - Alicia
---
Clint Searcy - 05/26/2010.20:37:09
MIMForum Staff, Nashville
We are winding down for today. Except for Jim, who has made it his mission to widen the door to the half bath so it's accessible. He and Jen have worked so very hard the entire time they've been here. They even let me hang out with Zooey for a bit today. We're going to pool our photos later so I can post more for you in the coming days. In the meantime here's my favorite pic so far...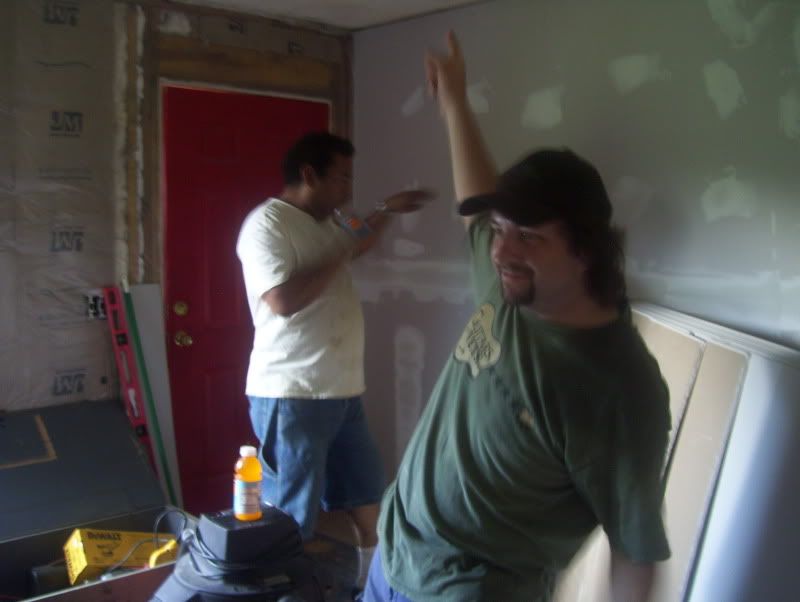 Clint and Dave "Slave for Life" doing the happy little drywall dance. As you can see they ain't real bright, but we love them anyway :-).
I do love you, Clint. I'm proud to be with you even during all of this. I like you, too, Fozzy. - Alicia
---
Jim McConkey - 05/26/2010.22:42:03
MIMForum Staff, Baltimore
The DamCrew has been kicking some serious butt the last few days. The Searcys have gone from homeless to having a habitable abode in only a few days. In less than a week the industrious MIMFers have:
replaced all the soaked subflooring
insulated all outer walls and installed the vapor barrier
completely replumbed one bathroom, fitted it with a new bathtub, and reinstalled the toilet and vanity
hung new drywall throughout the entire house
taped and mudded all the new drywall
replaced one awkward angled door and widened another narrow door to better accommodate Alicia's wheelchair
removed the soggy HVAC ductwork, still half filled with stagnant river water (a contractor replaced the ductwork today)
replaced the "black hole" where the laundry used to be and Alicia got to do her first laundry in weeks
cleaned the green cotten candy mold from inside one of Clint's waterlogged amps, and it is well on its way to restoration
We have been working 12-14 hour days and are all exhausted, but we have also had a lot of fun. Amy and Dave should be home soon, and Ellie, Jen, and I will leave tomorrow. Many thanks to all the volunteers, as well as the donors who have provided the DamCrew with the materials we needed to get all this done! It's been a blast!
---
Clint Searcy - 05/27/2010.06:21:35
MIMForum Staff, Nashville
Wow.... I'm overwhelmed... Never did I expect to have this much progress in just 7 days. We have gone from the pictures on May 21st to this...
I was hoping we would get the floor damage fixed and most of the dry wall hung. But I didn't fully understand who was coming. These were not humans that showed up. These were super heroes with fantastic powers. Jim and Jen tackled the nasty job of puling out the old duct work while I was on a 1.5 hour Lowes run. I had planned to do that job myself that day but they beat me to it just like Ryan did with the insulation. I guess that's just what happens when you have spelunkers around.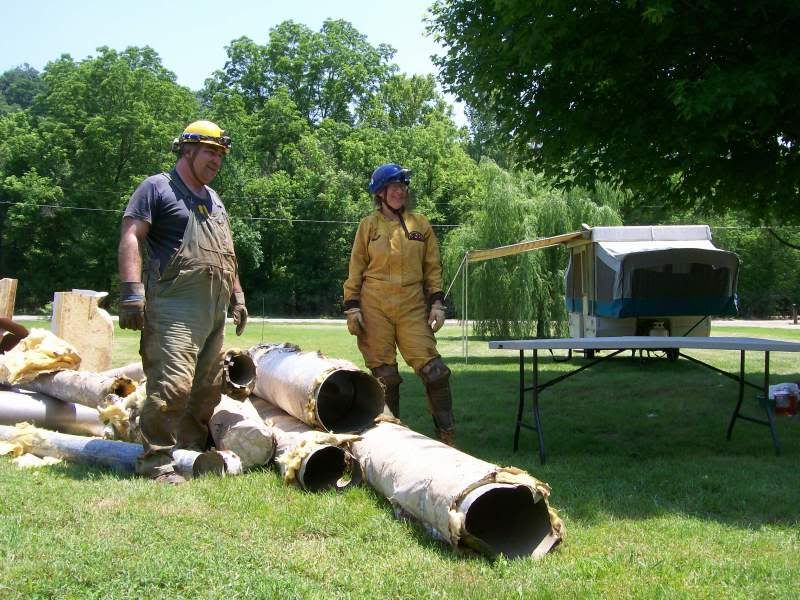 It was a bit tricky keeping Jim from venturing into all the holes he found to admire the natural wonders growing there.
I've taken a lot of pictures and I will post more later but for now I want to go see Jim and Jen and Ellie off properly.
---
Amy Hopkins - 05/27/2010.07:10:47
MIMForum Staff and Poet Laureate
We pulled in here a bit before midnight last night, a bit stiff and sore but pretty well pleased with what got done!! A lot more to go, but it truly is a livable space now, less like camping except for the lack of a kitchen! We sure ate a lot of hot dogs and pulled pork BBQ, Ellie brought along some pork, home-made BBQ sauce and home-made baked beans that were so good I knoshed them down cold making loud grunting noises the whole time (I was pretty hungry!) You guys all rock, I had a really good time. Safe travels!
---
Ellie Erickson - 05/27/2010.17:40:29

I am still here, decided to stick around an extra day and put a second and some third coats of mud on and to get started sanding the dry mud and do some clean up in the house and yard.
Alicia and I are going off soon to eat a salad somewhere, Clint left for work around two thirty, dude's been pulling a double shift here at home and working a full time job.
A team of sled dogs pulling a cement truck loaded with lead and plutonium out of a swamp wouldn't be working as hard as he's been.
The weather's cooling down, I'm gonna head out in the morning, make a stop up near Ft. Campbell and see if I can find a kick ass pair of mildly used combat boots in one of the surplus stores, then put a brick on the gas pedal of my little truck and stare at the not much that is most of Illinois while listening to a Bernard Cornwell book.
But I go home knowing I broke a record, I slathered six and a half five gallon buckets of drywall mud in two and half days. I'm getting some seriously tone arm muscles.
Sure is quieter around here without all the pounding, shouting, drilling, sawing, demolition debris tossing and swearing and belching and farting our crew did.
---
Jim McConkey - 05/27/2010.22:04:37
MIMForum Staff, Baltimore
Well, we only made it as far as Gatlinburg (huge backup on eastbound I-40) before we had a tire blow out on us. The shoulder wasn't really wide, and I feared for my life while switching to the spare. We decided to camp in a motel tonight, replace the spare in the morning, and hopefully make to West Virginia for a lovely weekend of well deserved relaxation in the mountains.
Alicia and Clint, it was our pleasure to finally meet you and get your home livable again. Thanks for the wonderful hospitality under such adverse conditions!
---
Clint Searcy - 05/27/2010.22:21:50
MIMForum Staff, Nashville
Oh, no! That's the last thing you needed after working so hard during your entire time with us.
The pleasure was entirely ours, Jim. I am forever changed by this experience in that it has restored my faith in other people. That's something I'd lost ages ago. Hug Jen and pet Zooey for me - and take a hug for yourself as well. - Alicia
---
Jim McConkey - 05/28/2010.08:32:39
MIMForum Staff, Baltimore
One of the few good things about tourist trap towns is that they have lots of services. We got a new tire before I even had breakfast. Off to Almost Heaven, West Virginia...
Safe travels, Ellie!
---
Clint Searcy - 05/28/2010.13:07:19
MIMForum Staff, Nashville
No heat, no fans, no meatball sandwiches, no hammering, no stereo blasting, no singing, no drilling, no holes in the floor, no vacuuming, no barking dogs, no sawing, no yelling, no humidity, no half walls, no laughing, no musty stink, no one walking in on you in the bathroom, no fiberglass itch, no sawdust in the bed....
I'm exhausted.... I'm enjoying the silence and the chance to step back and assess for a moment... I miss them all already...
---
Amy Hopkins - 05/28/2010.14:32:38
MIMForum Staff and Poet Laureate
Yeah baby!! I am the walking zombie today, too pooped to do a thing but curl up with a book. I miss you guys too, my cows don't dance with spackle knives......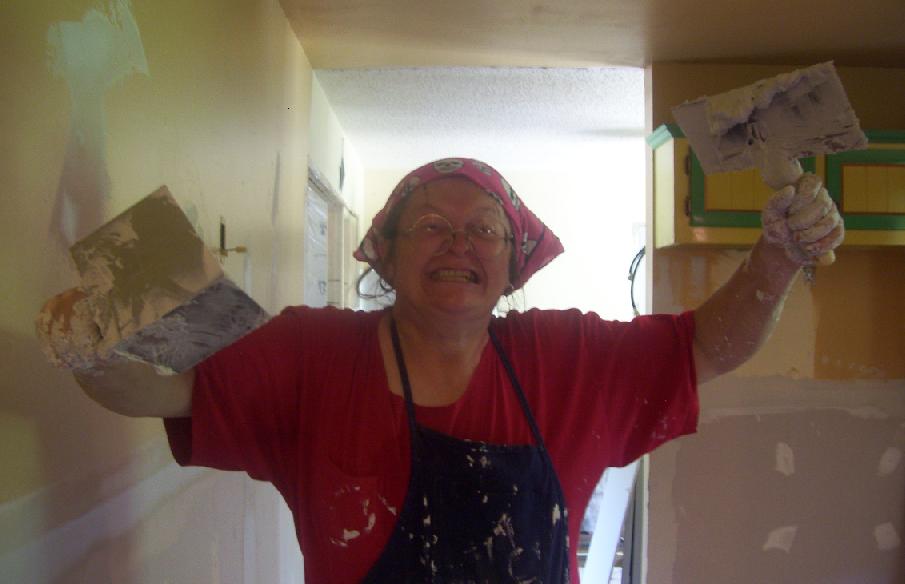 ---
Ellie Erickson - 05/28/2010.22:17:35

That's more of an angry primate mudslinger action figure than somebody dancing, Amy. Note the same teeth bared hostile grimace that a chimp does that is often mistaken for a smile, in this case caused by another primate being in between me and my mud craving drywall.
Eleven hours in the truck on a very hot day with no AC or cruise control in Memorial Day traffic is a wretched way to spend a day, one step above being forced to eat pig manure popsicles, although I cannot verify it for sure, since the aforementioned popsicles have never been on my menu.
It's been an intense but seriously rewarding week, and I am glad to be home safe with a chilled ethanol beverage and a moderate sized TV and a season of Bones to veg out on tonight.
---
Clint Searcy - 05/29/2010.06:37:57
MIMForum Staff, Nashville
Sorry about the tire Jim. I'm glad you all made it home safe and sound! I worked last night at the day job and then drove to Lebanon Tennessee to pick up the 97 Honda I bought from Brent. I got home about 2AM.
I gave him $900 and my Epiphone acoustic for the 206000 mile car that I think needs a break booster and maybe a CV joint. It's a decent car that will buy us some time to find something just a bit nicer.
We did get a chance to play a little music one night. Everyone was sore and tired but we still played a few tunes.
I played the ABG that I got from Al Dodson a few years back. Everyone dig it.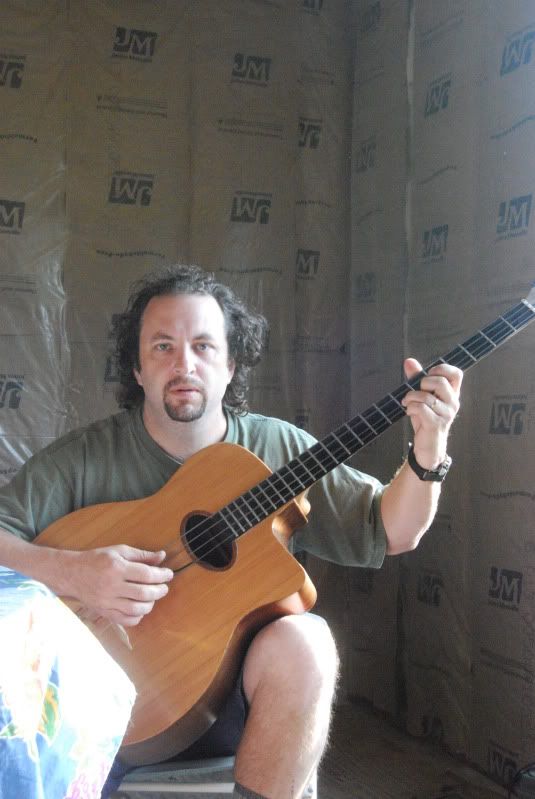 Amy played some on her old fiddle. I could have listened to that all night.
---
Clint Searcy - 05/29/2010.07:04:22
MIMForum Staff, Nashville
At one point Ellie decided to take a crack at cleaning up my favorite bass amp. Like that Crate guitar amp from before it was sunk in the water. Unlike the Crate it's a sealed cabinet with carpet upholstery and sound dampers inside.
The inside was still holding some water and there was some interesting green funk growing in there.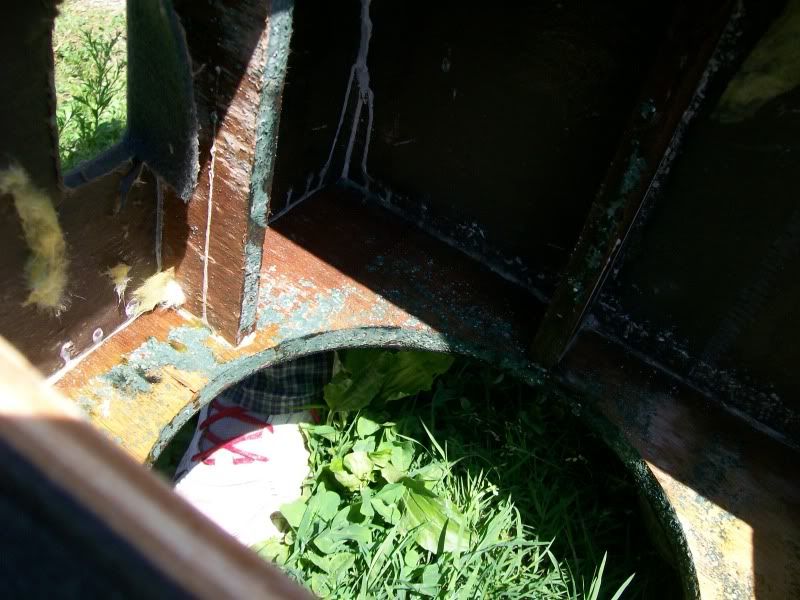 Once it was bleached out and about dry we hooked everything back up and let Jen rip through a few Weather Report tunes before declaring it revived.
I'm so glad to get this amp back. Thank you Ellie!
---
Clint Searcy - 05/29/2010.07:11:15
MIMForum Staff, Nashville
Speaking of Jen, she was more willing to bleed for this project than any of the rest of us. A nasty blow to the head administered by a kitchen cabinet didn't keep her down long.
A slashed finger was just an opportunity to put her mark on this home forever.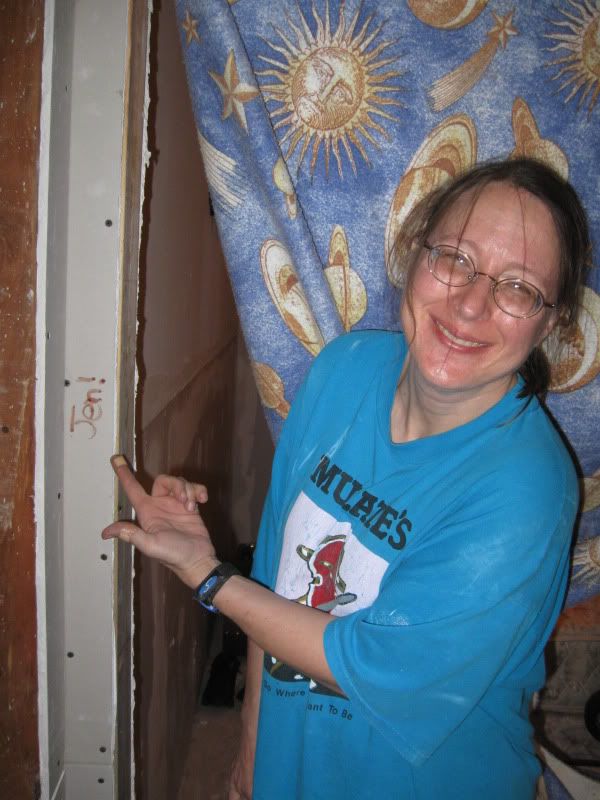 ---
Clint Searcy - 05/29/2010.07:31:49
MIMForum Staff, Nashville
The Black Hole!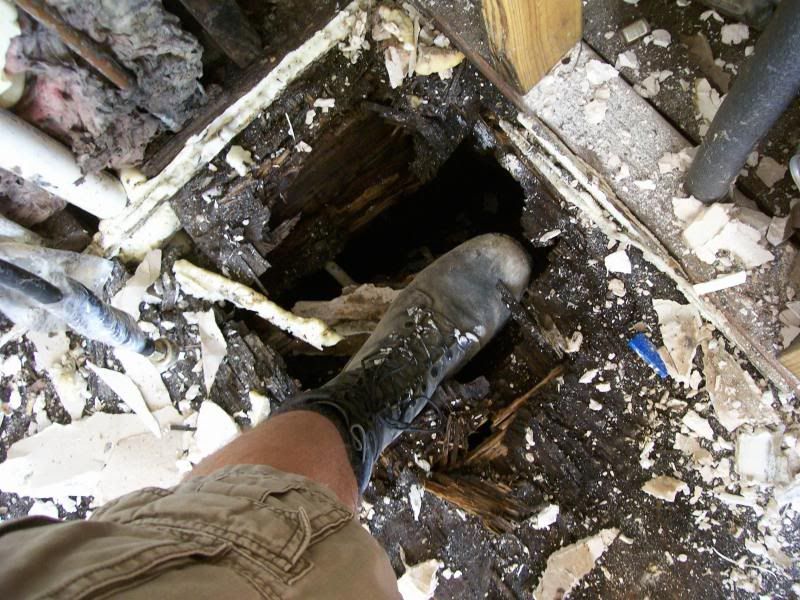 No one wanted to tackle the black hole. It was dark and rotten and full of mushrooms.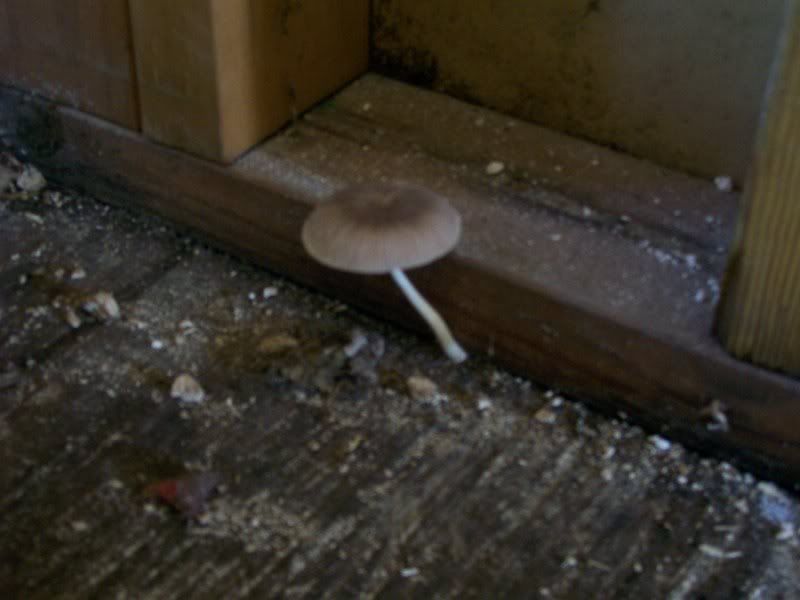 Some say it was protected by magical wards to keep outsiders away from the colony of gnomes that spent their days under the floor mining Skittles from fertile deposits beneath the house.
Finally, it could be avoided no more. Amy jumped in to tackle the task and I played gopher. This damage was very old. When we were ripping out the old drywall and flooring we found that at some point the floor had started to rot in the utility closet that holds the washer and dryer. Instead of fixing it the previous owners cut a patch for it out of 1" plywood and just scabbed that over the top of the damage allowing it to stay out of sight and rot to its hearts content. The floor had actually sagged almost 2" and Amy had to cut out all the damage and jack up the floor with a bottle jack. Then we made some temporary braces for it out of blocks. We will make some more permanent ones later when the rest of the house work is done.
---
Amy Hopkins - 05/29/2010.17:57:02
MIMForum Staff and Poet Laureate
keeping the gnomies at bay,,,,keeping the gnomies at bay,,,,slaying the mushrooms, quelling the fungus, and keeping the gnomies at bay......
(to the tune of "Follow the Yellow Brick Road" my brain does strange things on too tired and one bottle of Hunter Thompson Flying Dog Imperial Porter)
---
Clint Searcy - 05/30/2010.08:03:44
MIMForum Staff, Nashville
Crazy Bobby
Bobby is my next door neighbor. He's a strange cat. Maybe crazy. He's part Cherokee and has severely disfigured hands from an accident he suffered 20 years ago. He spends his time doing chainsaw art. He's pretty good too! He has a knack for exaggeration and embellishment that gets on a lot of folks nerves. While we were all camped out in the back yard I would talk to him some.
"Bobby, I think the water has crested... Maybe it will go down soon."
"No...It's still going up. I called my friend at the state and he said it was going to go up another 8 feet tonight so don't go to sleep in your tent cause you might drown!"
Total BS...
He has also convinced his wife who was not here when the houses flooded that instead of the water slowly rising to fill the houses it came crashing down the street like a tsunami and we all barely got out with our lives. But that's just Bobby. I can ignore the silly stuff and tolerate him most of the time.
A week after the flood started I had the big crew over here doing the tear out of all the dry wall and insulation. Getting the wet stuff out and getting air circulation under the floor fast is key to preventing mold. I took a second to go ask Bobby if he wanted us to do his house next. He was sleeping in a hammock in his back yard and hadn't been in his house since the flood. He was insured for flood and disaster so his plan was to do nothing to the house. When the insurance companies paid off he was going to knock the house down and build a log cabin in its place. So while the flurry of activity was going on at our house Bobby's house just sat there wet and filling up with mold. His insurance man came and told him there would be a big pay off. Enough to pay for Bobby's plan of building a new house. So Bobby slept in his hammock. Once in a while I would see his wife Janet in a haz mat suit pulling things out of the house one at a time and cleaning them and putting them in boxes. I would ask if she wanted any help but she seemed uninterested in talking and eager to get to the next item that needed her attention. But she seemed to have no help and I had so much that I kept offering.
Last Thursday I finally asked Jan when the demolition work would start on their house. She broke down... She said the the insurance adjuster who had told them they would get almost 200K for their claim had file paperwork with his company asking for only $20K to cover their losses. Instead of replacing their home they would have to rebuild it. She felt like a fool. Their house had now been sitting almost a month with water in it and the amount and variety of mold growing up the walls and across the ceiling was amazing. Bobby and Jan are Jehovah Witnesses and were offered help from the Kingdom Hall but they refused it because they were insured and others needed the help more. They had also not filed with FEMA because they were insured. I told Jan we would help do the demolition work on their house if she wanted but still she refused. I got her the name and number of the Tennessee Insurance Commissioner and told her to call them and file a fraud claim. She did and now the insurance company is sending out the adjusters boss to re-evaluate the claim as well as some FEMA folks to see what can be done. I also told her to talk to her Church again and explain the new situation.
Alicia and I had planed to take Saturday off. We have been all about the house since May 1st and a break would be nice. We would go price a few things like some door knobs and a bed and take the day at a slow pace. No heavy work. But at about 9AM an army pulled up in front of Bobby's. Their must have been 50 people in 20 cars. I talked to one guy who looked and sounded just like Vince Vaughn. They were a disaster recovery team run by the JWs. Members were from all over the country. Many of them had worked NOLA and Baton Rouge and some recent tornado areas. Everyone was dressed in white haz mat suits and breathing masks. They were remarkably well organized. They pulled everything from the house that needed to go and placed it out by the road for easy removal. They bleached everything that was staying. I pitched in a little and let them borrow the flat bed trailer I have here to move the debris faster. They repaid me by hauling our trash pile from the front of the house to the road.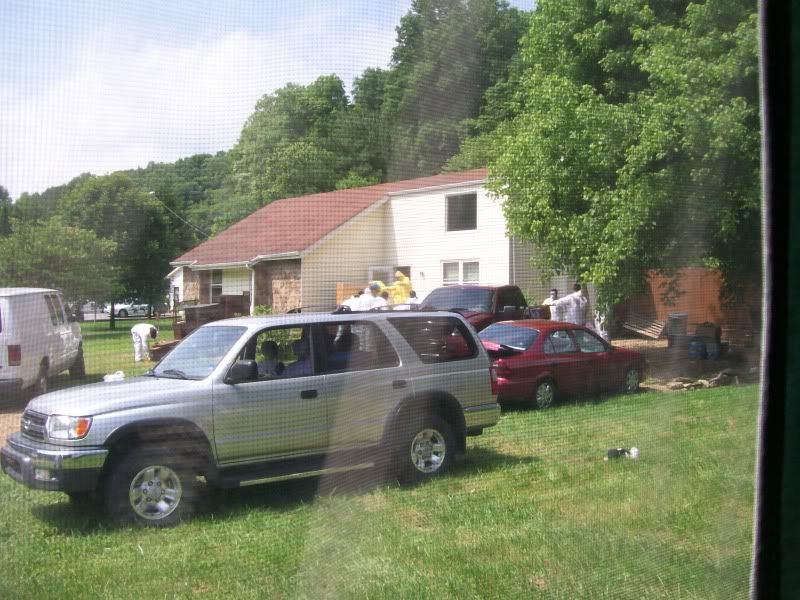 I almost feel lucky that I didn't have flood insurance and armies of little bureaucrats giving me bad advice and information. Because we knew we would have to do this ourselves and count on the kindness of others we are moving at lightning speed. Bobby and Janet just got their flood soaked carpet out of their home and we already have new walls and a new floor.
Once they were gone Alicia and I went and bought a new king size bed at Sears. It was $750. It is badly needed. It will be here next Sunday and the MIMF paid for it.
Thank you all!
---
sysop - 05/30/2010.20:01:13
Deb Suran
OK, I'm back with all math errors and omissions corrected. Alicia lost track of a few donations and totally forgot to include the e-cards. Her total on direct donations is $2,055. I tracked down my errors to some donations I counted twice. Our actual total of all donations as of today is $5,530! WOO HOO! I'll be sending off a check for $2,365 to Clint and Alicia on Tuesday.
---
Clint Searcy - 05/31/2010.07:09:12
MIMForum Staff, Nashville
There is no way I can say thank you enough! You would think that a situation like this might be too depressing to over come. It's true there have been a few hard days but to be honest we have never been without hope. The DamCrew that now includes dozens of people has provided labor that would have costs a fortune and your donations have made sure that they had exactly what they needed to do this job right.
We are a long way from done but we are a long way from homeless now. The car seems to be running fine and will last until we have time to do a proper search for something better. Alicia is planning out a kitchen and I'm going to buy all the new doors we need today. We're gonna make it and while not a mansion, our little home will be better than it was.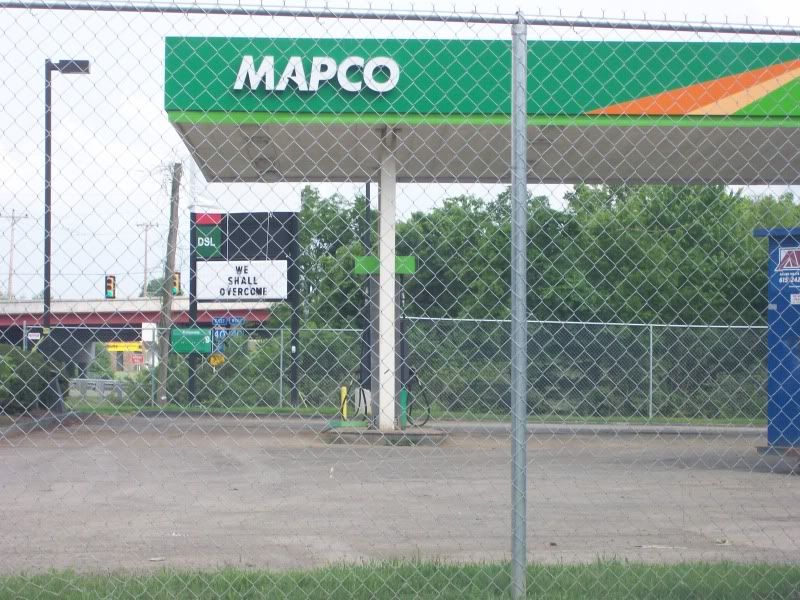 ---
Clint Searcy - 05/31/2010.07:15:22
MIMForum Staff, Nashville
Here's Bobby's house after the JW's got done with it.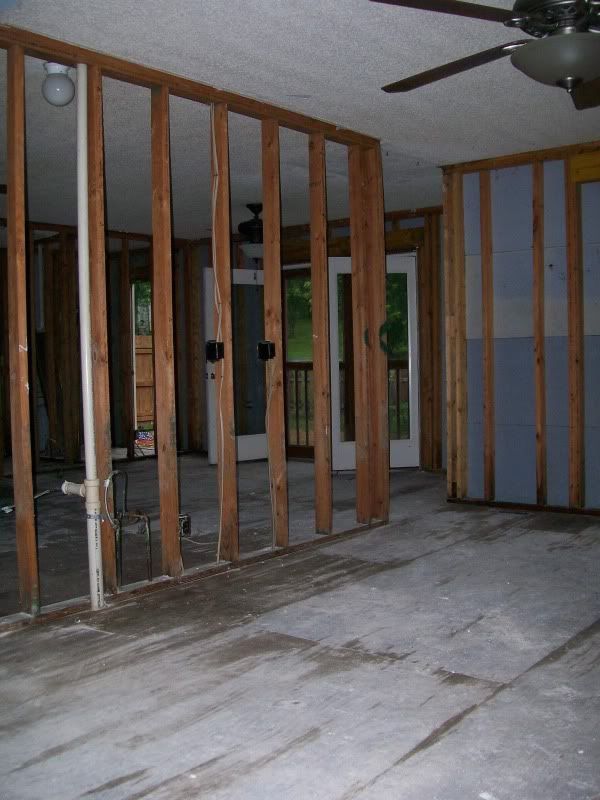 They had to take all the dry wall because it wicked up to the ceiling. They need to cut some holes in the floor though. I'll mention that to Bobby next time I see him.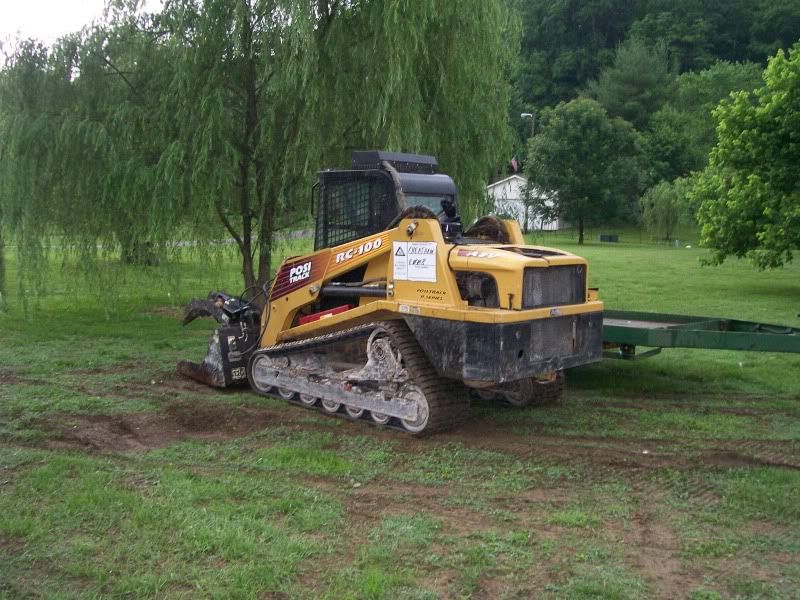 They hauled off a lot of the trash today using this thing. I want one!
---
Jim McConkey - 06/01/2010.21:18:36
MIMForum Staff, Baltimore
After only 3 blown tires we finally made it home. I'm glad to report that Jen's head wound is healing nicely and her finger is slowly reattaching itself. I also have to point out that that was her first-ever foray into bass playing!
---
Clint Searcy - 06/02/2010.07:58:19
MIMForum Staff, Nashville
Beat the heat!
The plan for the AC unit changed so many times in the last week that it's been hard to keep track of. At first we thought about fixing the old unit and trying to clean, re insulate and reinstall all the duct work. I had a friend of mine look at the unit. He said it could be fixed for just under $1000 but it was old and might not last long after that. Also it seemed to me that cleaning and reinstalling the old ducts was more work than it was worth. So we decided to get a quote for having the entire system replaced.
I called a large and very reputable local HVAC company to come out and give me a quote. I was stunned! $10,000 for the job. He wanted five thousand for the duct work and another five for the AC unit... This meant that 1/3rd of our total budget would go to AC. We still have to do the floors, the porch ramp and the entire kitchen including replacing the oven and I think the dish washer and perhaps the water heater and refrigerator I'm now told. I decided to see if we could salvage at least part of the AC system.
I grabed my meter and started checking out the 2 ton American Standard central unit. It would cool and ice up the coils but the blower wouldn't come on. Now, I'm no HVAC guy but after about an hour all I could find was a bad blower motor and a few caps. I pulled all the parts I thought were bad and ran to Grainger with them. They helped me cross reference the parts from the 15 year old unit and find new ones. I took them home and installed them....
Presto! It worked! All the parts for the unit cost about $120.
Next I got out the bleach and the shop vac and cleaned out the entire unit so it looked like new inside.
My friend Jody's brother Jason does HVAC work. Jody asked him to come by and give me a price on reworking the ducts. He said he could do it for $2000... He would have it done in one day and if we pulled the old duct work he would knock $500 of the price. Jim and Jen took care of that task on short order. Jason and his helper showed up at about noon and were done by 6pm. Every one enjoyed a break from the southern heat and humidity. It had been almost a month since Alicia and I had been out of the muggy, armpit like atmosphere that lingers over this swamp.
So we got the job done for just over $1600. I wanted to wait a few days to make sure the AC didn't blow more parts but she's been running fine for almost a week now. I'm not sure how much life it has in it but at least we have bought some time. The money that was saved will be used for other jobs in the house.
---
Clint Searcy - 06/02/2010.16:12:50
MIMForum Staff, Nashville
It's official; the dryer c'est morte. It was sputtering and I was praying for one more load, but I think it objected to all the tape and agitation from the washer (it's a stacked unit). Of course, I wish I'd checked it before I did a full load of wash!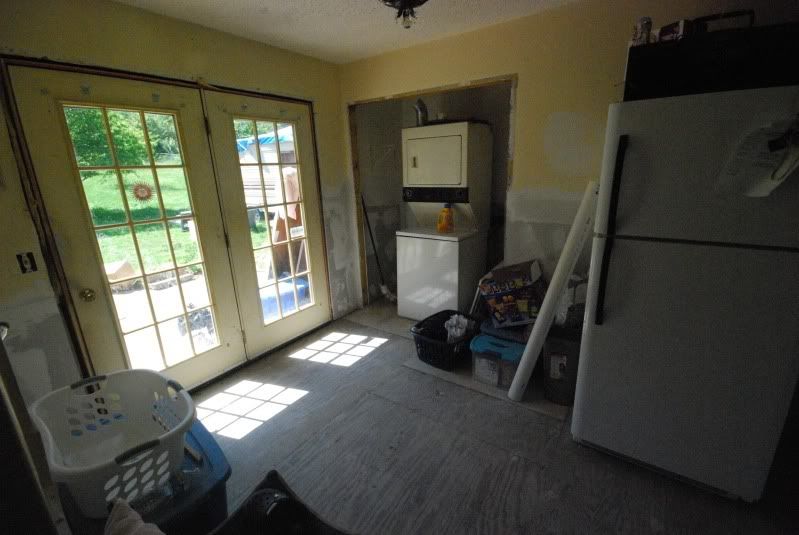 It is worth mentioning that this unit is almost 20 years old so I guess I've gotten my money's worth out of it. Guess what we'll be buying this weekend? - Alicia
---
Clint Searcy - 06/03/2010.07:37:04
MIMForum Staff, Nashville
What a difference a month makes. This picture was taken one month ago today..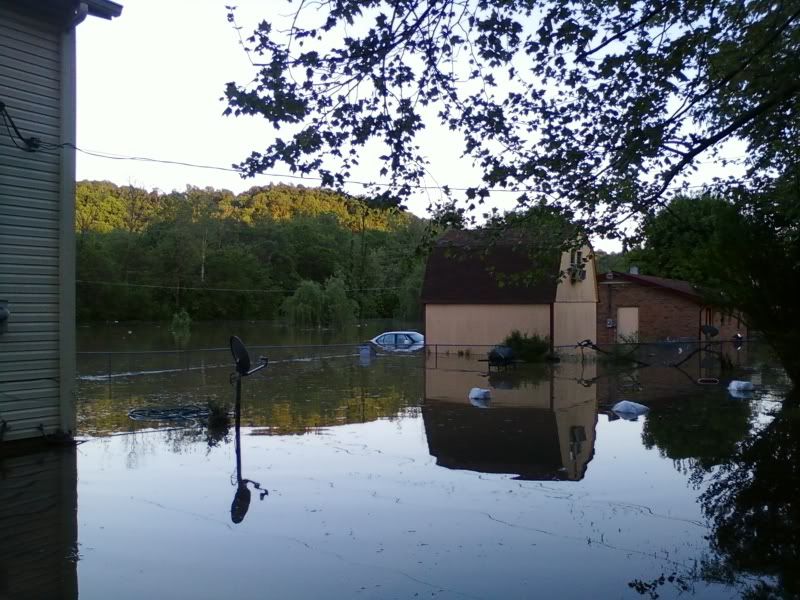 This picture was taken one month ago tomorrow . We had just spent the night setting up a tent in the dark and sleeping on some borrowed sleeping bags.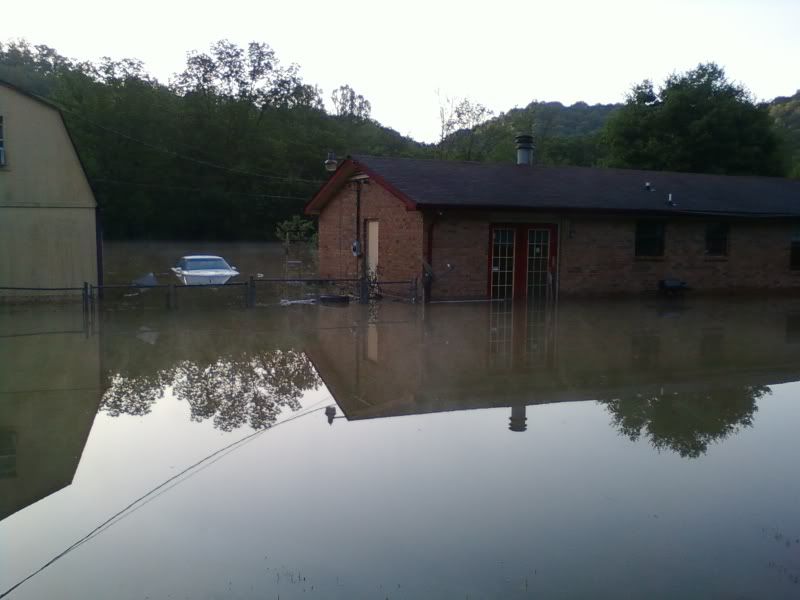 I took a look a the dryer last night to see if I could fix it. Its problem wasn't obvious. I could probably patch it back together if I spent enough time and money on it but I just don't need another project right now. Besides, It's time for a new one I think. We will be using some of the money we saved from the AC job on this one.
---
Clint Searcy - 06/03/2010.07:53:13
MIMForum Staff, Nashville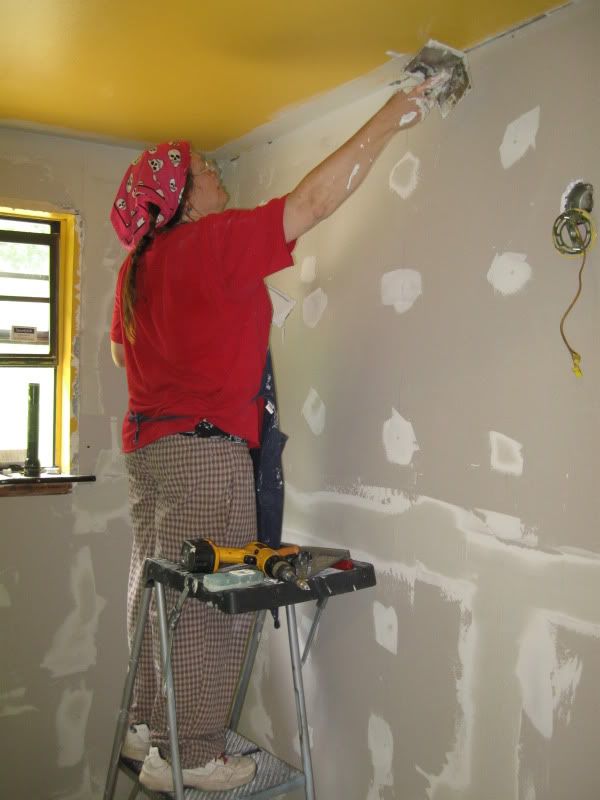 Time to brag on Ellie a bit. Ellie went through 5.5 buckets of dry wall mud in about a day and and a half. Every time I went back to Lowe's for more materials Ellie would yell "Get a few more buckets of mud!"
We were working till 8 or 9 or 10 o-clock at night and many nights I had to go to work so it was rare that we were all resting up in the same place at the same time. Here is a picture of one of those rare breaks. Jim is holding the camera. I assure you that we are normally a very fetching looking group of fashion conscious attractive people with great bone structure and perfect hair. But this day we were tired, it was hot, the fans were screaming in the back ground, bugs were everywhere and we all smelled like ass.
---
Clint Searcy - 06/03/2010.08:02:51
MIMForum Staff, Nashville
When Sporty Dave finally got the tub working his status in the tribe was elevated and he was give the title of "Poseidon the Water Bringer". But then we got ascared that the real Poseidon might get pissed and flood the house again so we changed it to "Sporty Dave the Plumber Guy" Still a mighty deity and Sporty too!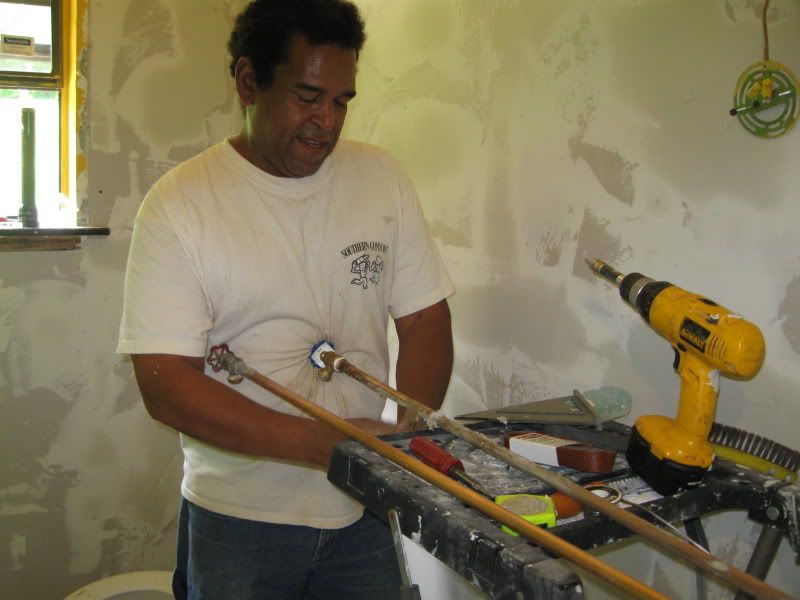 ---
Clint Searcy - 06/03/2010.08:13:32
MIMForum Staff, Nashville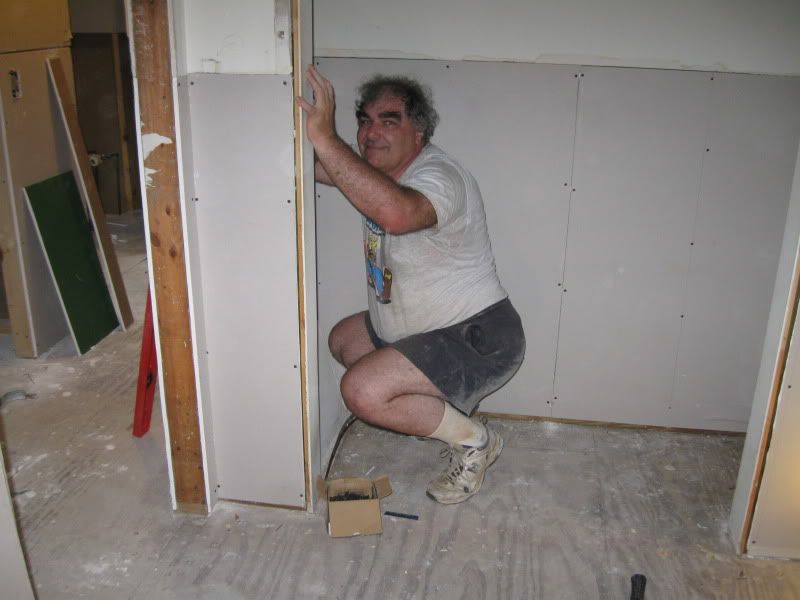 Jim is to dry wall what Ellie is to mud. Everyone got to hang a little dry wall but Jim quickly out ran everyone. Room after room were declared "Rocked" as Jim and Jen worked their way around the house. Jim also sacrificed 3 of the tires off his van for the cause making their trip down to help a lot more expensive than they planned.
---
Ellie Erickson - 06/03/2010.10:48:30

Actually, it was
6 1/3
buckets of mud. And Jim does have a fine knack for cutting out around outlets and switches.
---
Amy Hopkins - 06/03/2010.11:19:10
MIMForum Staff and Poet Laureate
I did not smell! My sweat is lovely and perfumed, and I smell like a field of wildflowers in the worst of situations!! The rest of you though.........I have to admit, that first bath was one of the better baths of my lifetime!
---
Clint Searcy - 06/04/2010.10:41:33
MIMForum Staff, Nashville
Hmmmm.... well I guess it was just me I was smelling then.
I thought I had done an impressive thing when I scored my big industrial dehumidifier. It really helped get things ready for the DamCrew to do their thing.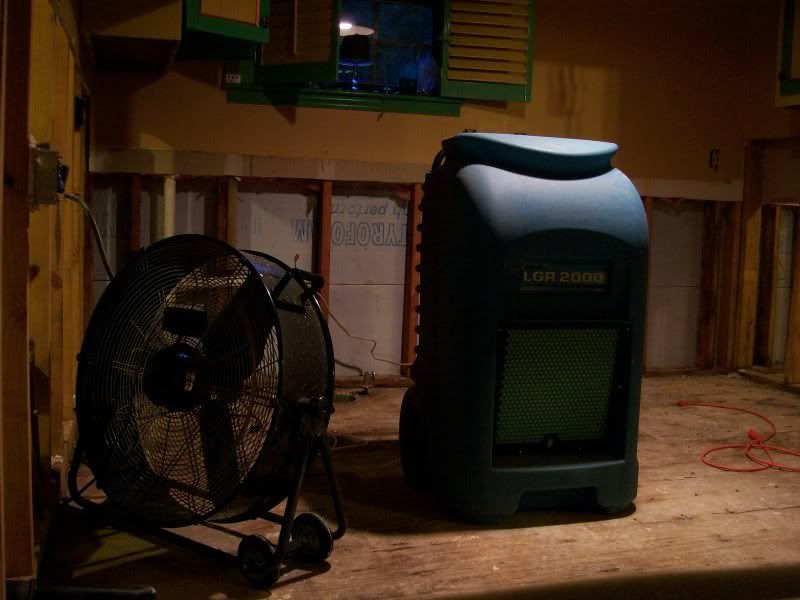 But... Bobby is never to be outdone. This is the dehumidifier that showed up at his place last night.
---
Amy Hopkins - 06/04/2010.11:47:21
MIMForum Staff and Poet Laureate
Whew, when that guy got out of his hammock he REALLY got out of his hammock!!!
---
Jim McConkey - 06/04/2010.12:18:22
MIMForum Staff, Baltimore
By the time all the volunteers left, Clint and Alicia had a habitable abode. Bobby had not even thought of starting yet. Their neighbors a few houses down the other way had started, but still had a ways to go before they could live in it.
---
Jim McConkey - 06/04/2010.12:21:25
MIMForum Staff, Baltimore
Evidence of the flood's damage could be seen all the way down the road Clint and Alicia live on.
---
Jim McConkey - 06/04/2010.12:25:49
MIMForum Staff, Baltimore
The DamCrew received a nod of approval from above when we were blessed with a rare double rainbow on the day we finished.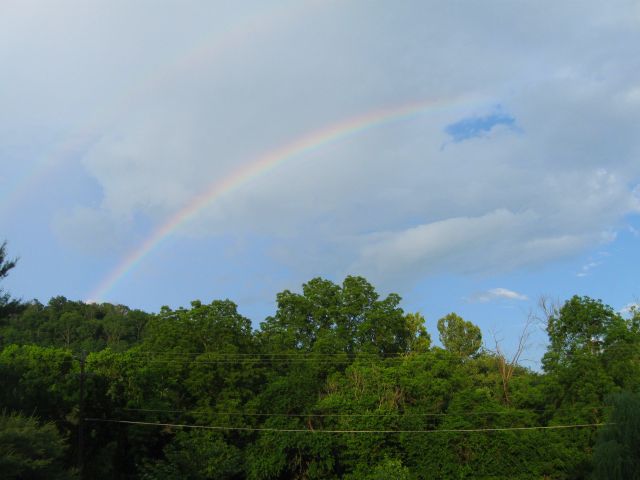 ---
Amy Hopkins - 06/04/2010.14:02:01
MIMForum Staff and Poet Laureate
"we all ran into the garden which was suffused with the grey-green end of the world light which comes after a storm, and we did the nine hops and the seven curtsies that are called for by a double rainbow"
---
Clint Searcy - 06/04/2010.17:44:10
MIMForum Staff, Nashville
I didn't do any of that - but I did enjoy the rainbow!
Great pictures, Jim. We saw Bobby today (I can't run away, you know LOL) and he said his insurance was going to pay out $40,000 for his damage. His house is bigger than mine, and sat underwater three times as long. There's no way he'll be able to cover his losses for that amount. I felt very badly for him, even though he irritates the crap out of me.
This is not Beverly Hills or anything but I find myself in mourning for my neighborhood; and for my house, too. It's completely ridiculous and just makes me feel guilty because we've had tons of help from you great people - and it could have been so much worse! I feel silly looking for the 30 year old kitchen cabinets that I painted because they were uglier than sin or bemoaning the loss of a 20 year old washer/dryer when I've been blessed with the good graces of so many of you. I guess I'm just not right in the head ;-P
- Alicia
---
Clint Searcy - 06/08/2010.08:02:08
MIMForum Staff, Nashville
I had a tiny moment of personal defeat yesterday. The junk man came and took my classic 1995 Olds 88 Royal (with cheese) to the scrapper. I was sure I could fix it if I had enough time and a few ignition parts from the junk yard. But Alica said "Really? Like you don't have enough to do around here right now?"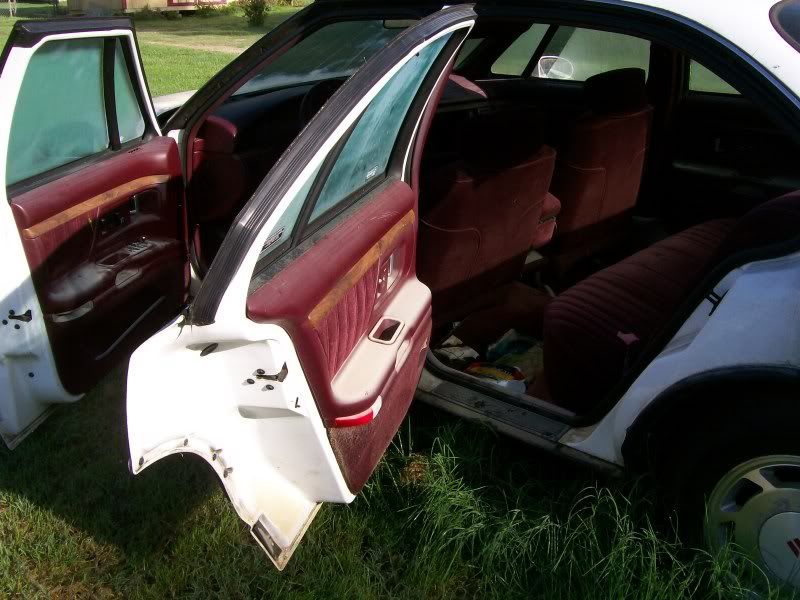 She was right and when the junk man offered me $250 for it I took it. Still a bit depressing.
---
Clint Searcy - 06/08/2010.08:05:22
MIMForum Staff, Nashville
I also went by our local hard-wear store and bought some new AC filters. You need a lot of filters when your sanding. This is Midway Mills and it has been around for a hundred years or so. This isn't the main building anymore. It's now just a storage room.
But before all that I hung 5 doors like a 3 armed baboon that knows how to hang doors!
---
Clint Searcy - 06/08/2010.08:13:15
MIMForum Staff, Nashville
Most of the old windows seem to be fogging up like this. The fog is on the inside, between the glass. There is also a big 5' wide window in the living room that has about a 1/4" gap all the way around it between the glass and the aluminum frame.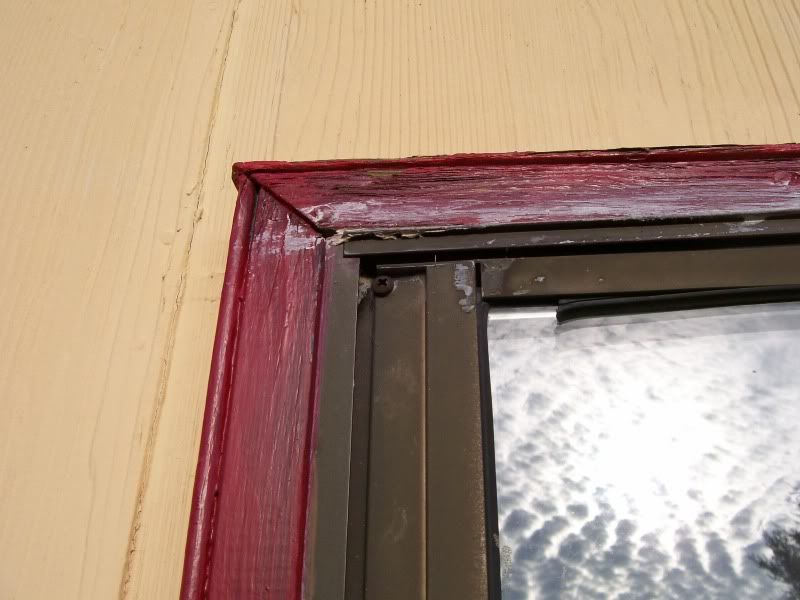 I have no idea what it will cost to replace these but I have a guy coming by today to give me a quote. If it's super high , and I'm betting it will be, I may look at installing them myself.
---
Clint Searcy - 06/09/2010.19:38:50
MIMForum Staff, Nashville
Let's do a bit of a status update, shall we?
I apologize for not posting more this week. It certainly isn't because we're done! Clint and I are alone for the time being so the progress has slowed considerably. Aside from the things he's mentioned, like hanging doors and sanding drywall, we had to buy a washer and dryer asap. In doing so we ran across a terrific deal on a conventional/convection oven so we bought it, too. We're also starting to look at some of the bigger projects that need to happen, like the kitchen cabinets, and trying to make the best choices possible. All of this is starting to get a little old, too. This is day 35 of post-flood activity and I am pretty worn out. I miss the DamCrew, too! I shudder to think where we would be now if it wasn't for the MIMF. Still sitting in a see-through house, no doubt.
On a positive note Sasha has been much less clingy for the past few days. She started to relax when the drywall went up and now that we have interior doors she seems ok to let me out of her sight. Dogs are so fond of schedules and structure; literally, it seems. Unfortunately, she's also figured out where we're keeping the trash in between trips to the dump.
---
Clint Searcy - 06/11/2010.09:15:04
MIMForum Staff, Nashville
Man, I'm dead tired... Yesterday out stuff came back from FedEx. I had to clear a spot in the shop for it all and then load it. When we loaded all this stuff we were in a hurry so some things that were not worth saving got loaded along with good stuff. There are a lot of things that are questionable as well like my unfinished pine desk. I love that thing but it's not too stable right now and there is some mold growing on it. We'll see what some glue, clamps and bleach do for it.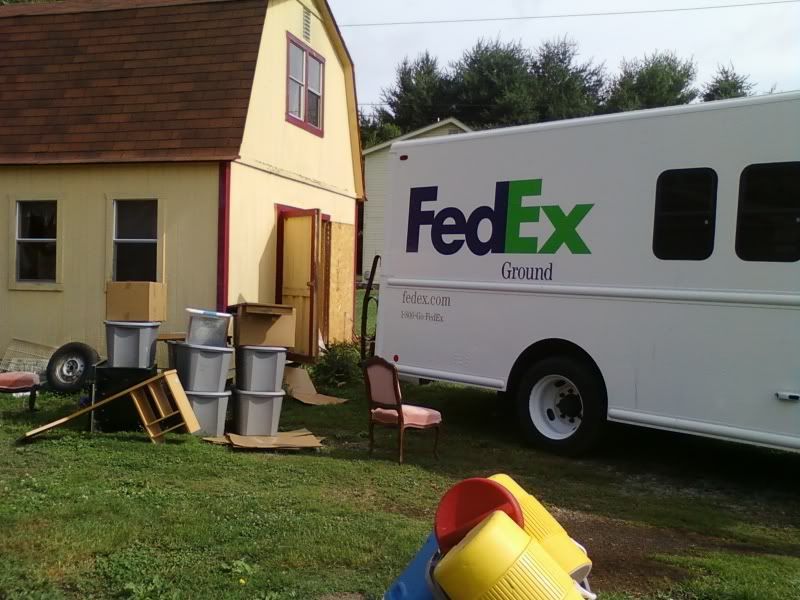 We also met with a guy about replacing the windows and the now warped back doors. That's going to be a lot more affordable then I was thinking it would and when we are done the electric bill should be much lower!
Then it was off to work. On the way in I stopped by the local post office to get some stamps and check on their progress. It's still a wreck but they have their drywall up.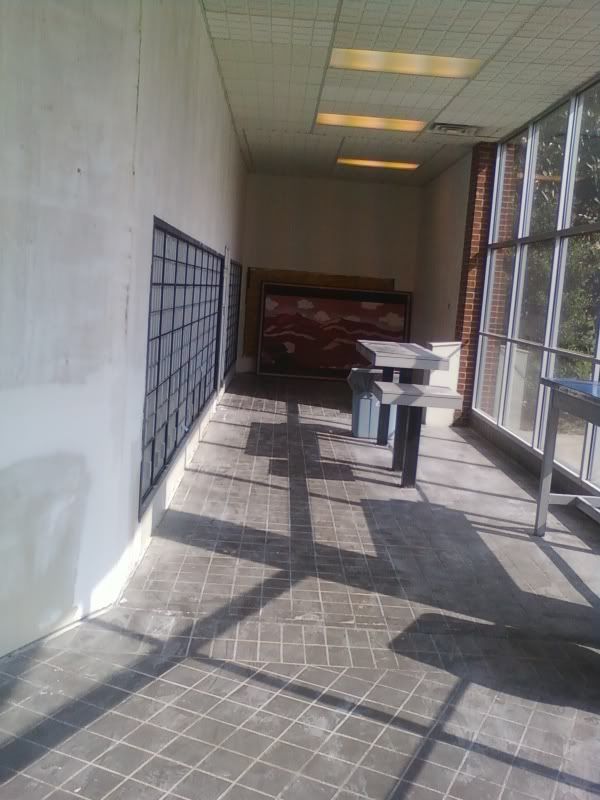 Tomorrow a guy is coming out to talk to us about the kitchen rebuild.
---
Clint Searcy - 06/12/2010.08:27:01
MIMForum Staff, Nashville
JAk here.
today i wak up and jump on bed. then i go outside to poop and bark at bobbeee. then i bark at truck till it goes away. then i patrole ywrd till mail man gets here. bark at mail man. i am a very good barker. it is hot. barking and hot are making me tired.
sorry for lowercase. I have no thumbs.
time for napp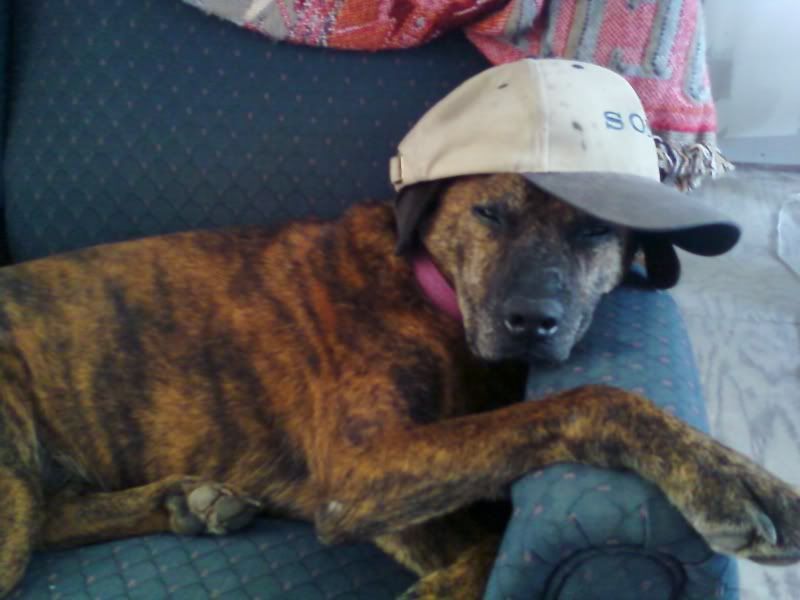 ---
sysop - 06/15/2010.06:25:12
Deb Suran
Here's the updated total. We took in $895 last week from auctions and donations, I'll be getting off a check for $910 to Clint and Alicia today that includes the $15 cash donation I lost track of. Our current overall total is a whopping $6,440!!
We still (rather desperately) need auction items for what I anticipate will be our last round of fundraising auctions, to be held during our birthday week next month. I only have ONE donated item. Surely some of you have a tool to donate, or some wood in your stash that you will never get around to using?
And if we don't get the Home Depot grant to build the new porch and wheelchair ramp, we may ask for a little support for that project in August, if needed. Here's the final porch design.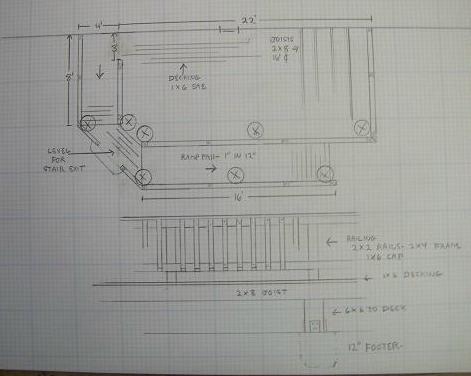 ---
Clint Searcy - 06/23/2010.07:42:52
MIMForum Staff, Nashville
Sorry for not updating this week. Things are getting a little frustrating here. My plan every day has been the same. Get up and sand, prime and paint the kitchen so it's ready for the cabinets when they get here. I planned to do that all week but things keep getting in the way.
Take today for example. I need to prime the kitchen top to bottom. However I got word last night that my buddy Kim needs her trailer back in a bad way. She has a furnished basement at her house that she rents out. Well, a pipe broke in it and flooded it..... no ....really.... So she needs the camper back so her renters can stay in it while she cleans up. So I have to clear out the camper and get it ready to roll today. We have been staying in the house but we have been using the camper as a big closet. We are keeping our clothes and stuff in there. Plus it's been nice to let people stay in there and enjoy a little privacy while they were here helping out.
It's hard to maintain a pace when every little thing requires your full attention.
On the up side I did deposit a check from Deb that you all raised.
Thank you all so much! And thank you Deb!! So far the money isn't something I've had to worry about and that's all because of you fine folks.
---
Clint Searcy - 06/30/2010.07:19:17
MIMForum Staff, Nashville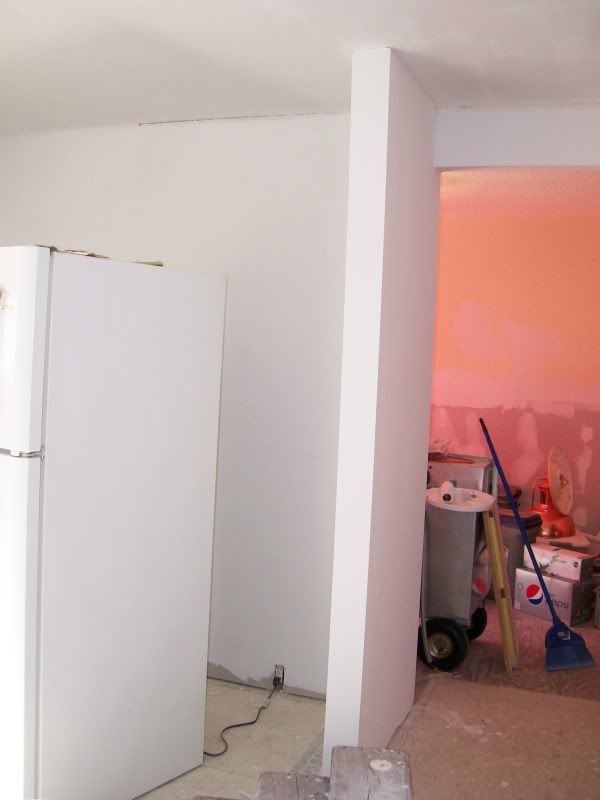 The cabinets are being delivered on the 8th of next month so I'm focusing on the kitchen at the moment. Alicia wanted me to build this little wall to hid the side of the refrigerator and add the little bit at the ceiling to better define the boundaries of the kitchen. I learned all I needed to know about the job by watching Amy build one in the living room. I'm pretty happy with that.
After lots of sanding I was ready to prime it. Now that it's all one color I can see a lot more little places to mud so I'll be doing that today.
Alicia sent me into the shed to see if I could find her back up hard drive for her computer. While I was searching I noticed that a lot of the clothes boxes were starting to deteriorate and some were getting moldy. With the help of her friend Lani and my mother Alicia is now resorting all the clothes and washing what needs it. Then they are being put into plastic boxes which will be stored in the closet in the house.
---
sysop - 06/30/2010.09:32:24
Deb Suran
I am pleased, and very relieved, to be able to report that we have submitted a Home Depot grant application for materials for the new porch and wheelchair ramp, and receipt has been acknowledged, just one day before the deadline. I want to thank the Bethesda Center, and Ronnie Anderson, their executive director, for partnering with us. Now we wait until August to find out if we actually get the $1,800 we requested. If we get the grant, and can raise another ~$1,800 through online auctions before the end of the summer, that could be a total of $10,000 through our efforts - quite a sum!
---
Clint Searcy - 07/04/2010.12:24:57
MIMForum Staff, Nashville
Hi all! Alicia here with an update.
The past 10 days around here have been proof that John Lennon's famous quote, "life is what happens to you while you're making other plans" is dead on.
We've had a pretty heavy infestation of spiders and one of them bit me. It must've been in my shoe because I didn't see it but it got me right between my toes. What started as a fairly innocuous looking blister made my foot swell up hours later and prompted a visit to the ER. Thankfully it wasn't bad enough to require a hospital stay, and they gave me something to put on it, but as of now it's far from being healed.
It took three days but we managed to get all of our clothes sorted, washed, and repacked into plastic containers which are now in the air-conditioned house. I did lose about half my shoes, which had developed mold past the point of saving. Originally we had hoped to keep as little in the house as possible in order to have as much space to work in as we could clear. We've had to compromise on this notion and will use the bedrooms for storage while we work on the other rooms and vice versa.
Needless to say all of these little distractions have made it difficult to make any significant progress on the actual house lately so we are very much looking forward to Amy's return next Friday. I'm sure the first thing she'll want to address is this...
This is what's left of the front porch LOL! It needs to be demolished before it collapses. I have my fingers crossed over the HD grant being approved and it will be nice to have a porch with an actual wheelchair ramp built into it.
Amy isn't going to be our only visitor next week. We have a friend and his son coming to us from England to help spackle, sand, paint, and whatever else needs doing that they can manage. To this effect we're putting the call out for volunteers the weekend of the 10th and 11th. This time we have an air conditioned house to work in and, even though I still don't have a kitchen, lots of great food to eat.
We have a lot left to do but we've already come a very long way thanks in no small part to the MIMF. It is no exaggeration for me to say that, without your help, we'd very likely still have no walls or floor and be stressing about how to make our money stretch beyond the costs of materials to hire people to do these jobs.
---
Clint Searcy - 07/05/2010.10:10:42
MIMForum Staff, Nashville
Let it be green! Finally there is some color going up.
---
Mario Proulx - 07/05/2010.10:59:06
Hear the colors....
Green's fine, but... whassup with the pink?
---
Clint Searcy - 07/05/2010.11:08:37
MIMForum Staff, Nashville
LOL... Well. it's not pink. It's sort of yellow with spots of plaster all over it. It looks pink because of my marvelous window treatment. Alicia was saying that the sun beating in through the windows was getting too hot in the afternoons with no blinds or curtains.
I fixed that problem with a rattle can of red Krylon. Now the dinning room looks alike St. Mary's.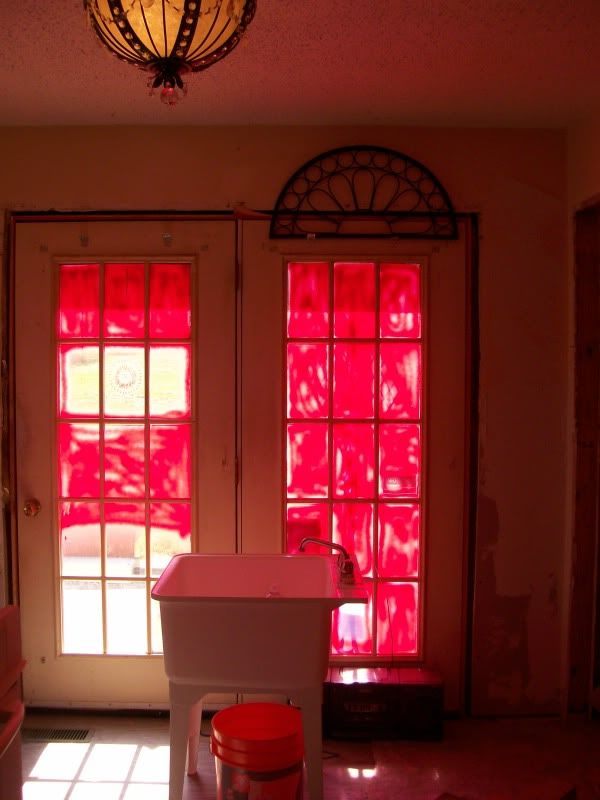 The new back door is being put in on Friday!
---
Clint Searcy - 07/06/2010.12:13:32
MIMForum Staff, Nashville
Last night I had to sit down and have a talk with my very old and dear friend. His name is Qualenster Creosote VonMorgansalad. but most just call him Toad. He is head of pest control here and lives and works on and under the deck on the front of the house.
Every night by the pale moon light he make his way to the bugs in flight. At the front porch light is joins the fight and with furious blows he displays his might. His buzzing foes quiver with fear and fright as Qualenster Creosote VonMorgansalad transforms wrong into right.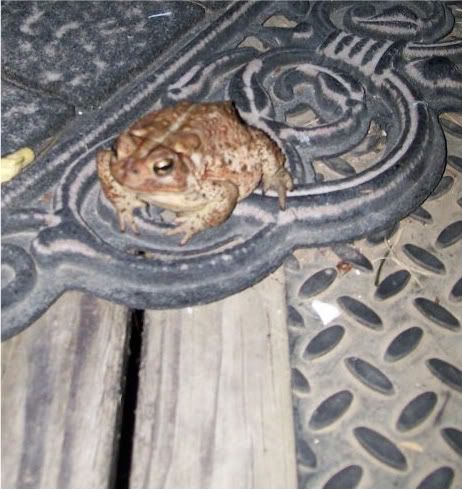 Last night I broke the news to him that his home was being torn down this week. He was not happy. I explained that a new one would soon be erected in its place. A vast expanse that he could patrol. He tried to smile... but you can see the disappointment in his eyes. I think he'll feel better when the new deck is finished. Sometimes change is painful though.
---
Mark Swanson - 07/06/2010.12:57:37
MIMForum Staff, Michigan
Well, it's nice to see he weathered the flood!
---
Amy Hopkins - 07/06/2010.18:57:07
MIMForum Staff and Poet Laureate
We will treat him with respect and dignity whilst we remodel his abode.
---
Clint Searcy - 07/09/2010.07:51:23
MIMForum Staff, Nashville
Our help from the U.K. and our new kitchen cabinets got here yesterday. Amy gets here tonight. Windows and back door go in today. Kitchen cabinets and deck footers go in tomorrow.
Monday will look very different. Gotta go!
---
Clint Searcy - 07/10/2010.10:42:07
MIMForum Staff, Nashville
Amy arrived safe and sound last night. She, Clint, and our British friends already have the deck demolished and are marking off for the posts that will hold the new one. It's going to be a busy weekend! - Alicia
---
Clint Searcy - 07/11/2010.11:04:59
MIMForum Staff, Nashville
Since a picture is worth a thousand words let's post some, shall we? DamCrew 2.0, the international team, is working on the new deck.
Here's our favorite local MIMF'er Ryan Foust along with our friend from Merseyside, UK Dave MacLeod pouring footers and setting posts.
MIMF builder extraordinaire Amy Hopkins assessing the big picture, so to speak.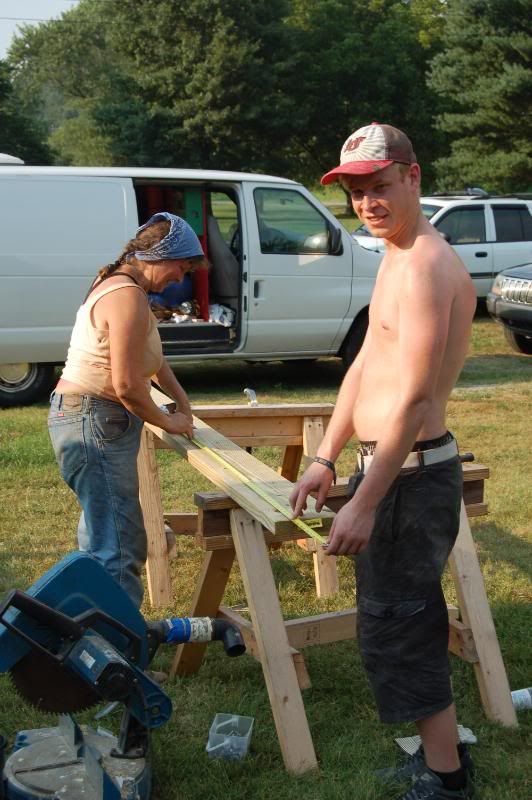 Here's Amy with Dave Mac's son Callum, who is so thoroughly adorable, mature, and hard working that I'm considering adopting him!
The windows and kitchen cabinets went in Thursday and Friday respectively. We'll post photos of those later.
Thank you MIMF! To all of you that donated, whether directly or through items to be auctioned; to all of you that worked in the heat and dirt of this project to save us from having to pay labor; and to all of you that wish us well. We ARE getting there! - Alicia
---
Clint Searcy - 07/13/2010.07:37:14
MIMForum Staff, Nashville
We got a lot more done on the deck that we thought we would. We had planned on pouring footers and then moving inside to work on the walls but plans get altered. You see, the guy that was to install the new kitchen had to do it on Saturday or not do it for another month. This meant we didn't need to be in the house kicking up dry wall dust and being in his way so we decided to just roll on with the deck.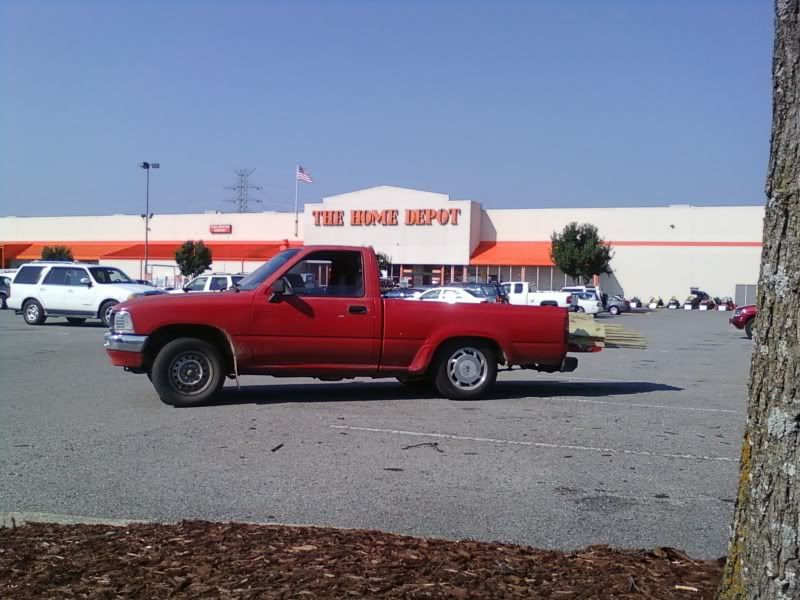 The guys at Home Depot didn't think I could haul the entire wood load home in one run. My Yoda laughs at all those huge trucks the contractors like to park in front of the store!
---
Clint Searcy - 07/13/2010.07:48:47
MIMForum Staff, Nashville
Alicia is really happy with the new kitchen cabinets. The counter top will still be another week or two but we're gonna make due with scraps from the floor till then. One bit of bad news is that the oven we got such a great deal on is too big to use so we will see about returning it and getting something else.
---
Clint Searcy - 07/13/2010.07:52:14
MIMForum Staff, Nashville
The new windows are already making a difference you can feel in the house. They have only been in for 2 days and already you can notice that the temp in the house is much more stable through out the day. The front isn't hot in the morning and the back isn't hot in the evenings. That was money well spent!
---
Clint Searcy - 07/13/2010.07:58:24
MIMForum Staff, Nashville
We are getting down to the final few things. We still haven't settled on a floor type. We keep switching from cork to bamboo ect... We have two more small structural floor issues to tackle. We have to finishing the walls out. Then painting and trim work. At that point it will become a long list of very small things to do.
I'm so happy with all this progress. We couldn't have done the work or paid for it all with out the MIMF!
---
sysop - 07/14/2010.12:31:10
Deb Suran
Here's an update on our fundraising. Our total before this week was $6,440. The auctions, sales, and direct donations this week brought in $1,224.5, bringing our total to an absolutely amazing $7,664.50! Plus we still have the HD grant request for $1,811.37 floating out in the aether, which could bring us up to $9,475.87. I would consider that extremely respectable total a job very well done.
Clint and Alicia got $200 in direct donations so I'll be sending off a check for $1,024.50 this week. Thank you to *everyone* who has contributed in *any* way!
---
Clint Searcy - 07/15/2010.17:03:04
MIMForum Staff, Nashville
I'd like to thank everyone as well, including Deb, who has worked to help make this shell of a house into a home. We aren't there yet, but I'm not lying when I tell you without the MIMF's help we wouldn't have had a clue how to begin to fix this or the funds with which to do it. It sounds so cliche, I know, but thank you all!
Amy, our British friends put up a temporary handrail and cinderblock steps on the deck and did a few other things. I finally made them stop Monday afternoon.
We showed them the town on Tuesday (at that point we all needed a break from this place!) and they were on their way Wednesday morning. How many other people can say their house was rebuilt in part by folks that crossed an ocean to do so?
We have miles to go here but I think we're gonna make it :-) - Alicia
---
Amy Hopkins - 07/16/2010.13:24:48
MIMForum Staff and Poet Laureate
I can't wait to finish that dang thang!
---
Clint Searcy - 07/17/2010.07:39:40
MIMForum Staff, Nashville
I know! We'll work some scheduling out in the next week or two.
Finally, some of my neighbors are starting to rebuild. Our house had 16 inches of water in it. The house in this picture is about 6 houses down from us and had 7 feet of water in it. Thankfully they had flood insurance but they have to raise the house up with blocks before they can get insurance again.
---
Clint Searcy - 07/19/2010.14:20:56
MIMForum Staff, Nashville
I'm Back!
---
Clint Searcy - 07/28/2010.13:00:05
MIMForum Staff, Nashville
Even though we have been quiet on the MIMF board we haven't been still! The push is on to get Alicias new kitchen finished by next Monday. After checking around and researching we decided that a tile floor would help us regain some of our lost equity and if you do the work yourself it's not that expensive.
The only problem is that I have no idea how to lay tile. Luck for me I have a wife that's done it before and was more than willing to do it again.
First we needed to lay a backer board.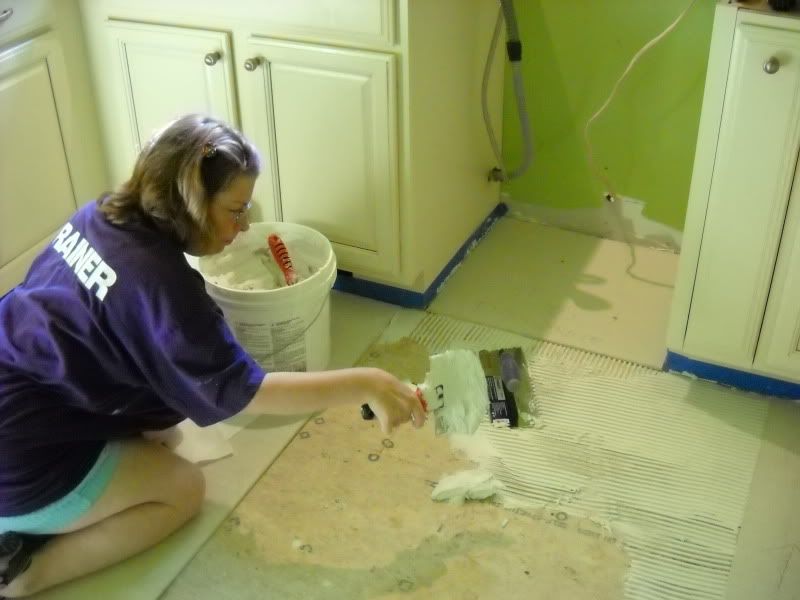 Then the tile...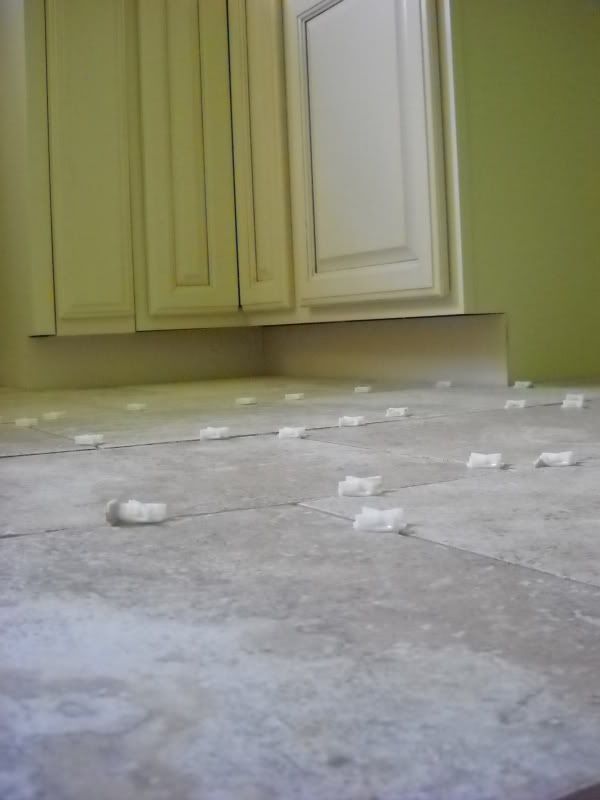 Then you wait...
The guy is coming tomorrow to put in the new counter tops. After that It's grout and install appliances. My baby will be able to cook on a stove in her own kitchen for the first time in 3 months.
Thank you all!
---
Clint Searcy - 07/30/2010.18:46:55
MIMForum Staff, Nashville
After the flood I bought a 1997 Honda Accord from my friend Brent. It had 200,000 miles on it but I know Brent and he's crazy about taking care of his stuff. I figured it would get us around while I looked for something a bit better to replace the 1995 Olds 88 that washed away during the flood. While "Sporty" Dave and Amy were here I got to drive Dave's 1997 Honda Accord Wagon. I liked it! So I started looking for one.
It took me a while to find one that I liked on craigslist and when I did it was only about 10 miles away from my house. So this week I went and talked to the guy about it and we drove the car and talked about the flood. Eventually he started talking about his dog. Turns out his dog is a rare breed known as a brindle Catahoula. When I drove over to his house to get the title for the car we were met by his dog who has the spitting image of Jack. I had always thought Jack was just some sort of Pit Mix Mut but maybe he's bonafide.
---
Clint Searcy - 08/04/2010.08:04:33
MIMForum Staff, Nashville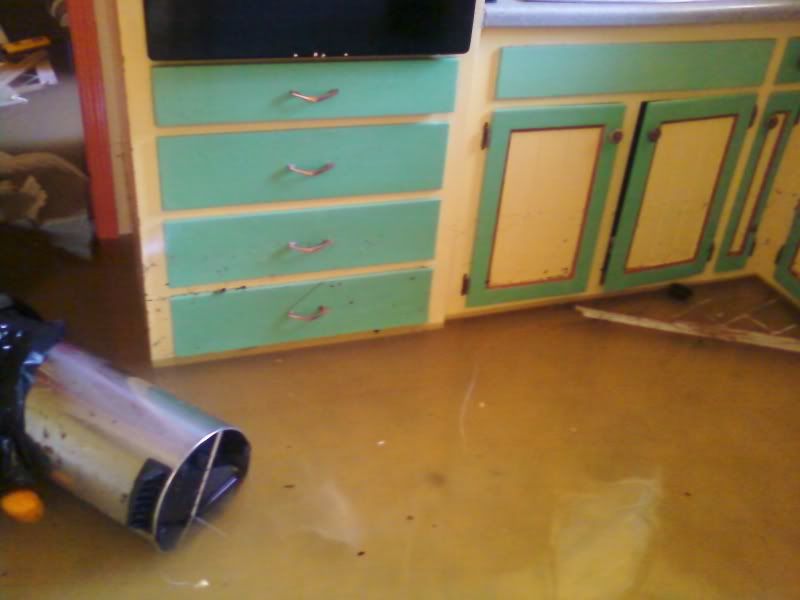 3 months ago today our kitchen looked something like this. The crazy paint job on the cabinets are Alicia's work. We didn't have enough money at the time to build the kitchen she wanted so she reworked the 1979 aesthetic into something that more reflected her personality.
Alicia couldn't cook at all when we got married. But over the years she taught herself to be a very good cook and even something of a foodie. She made her own pizza dough from scratch. Baked every type of bread you can think of. Cuban cooking became something of a specialty.
While she never really loved that kitchen she was heart broken to see something she had put so much into tossed out on the lawn.
---
Clint Searcy - 08/04/2010.08:31:00
MIMForum Staff, Nashville
But a lot has happened in the last week or so.
New counter tops went in...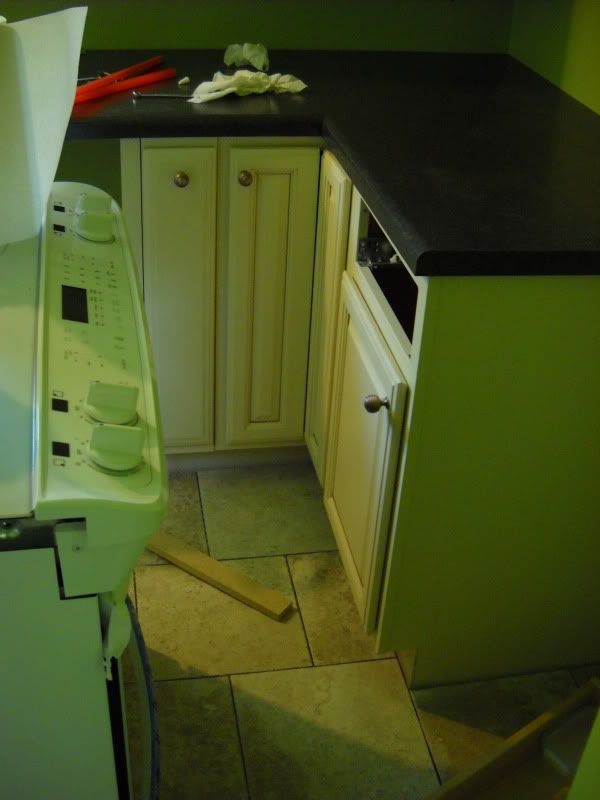 ---
Clint Searcy - 08/04/2010.11:01:31
MIMForum Staff, Nashville
The grout was filled and sealed.
---
Clint Searcy - 08/04/2010.11:43:40
MIMForum Staff, Nashville
And finally we arrive at this point.
---
Clint Searcy - 08/05/2010.08:52:00
MIMForum Staff, Nashville
Yea, It's gonna be a lot nicer around here with a working kitchen.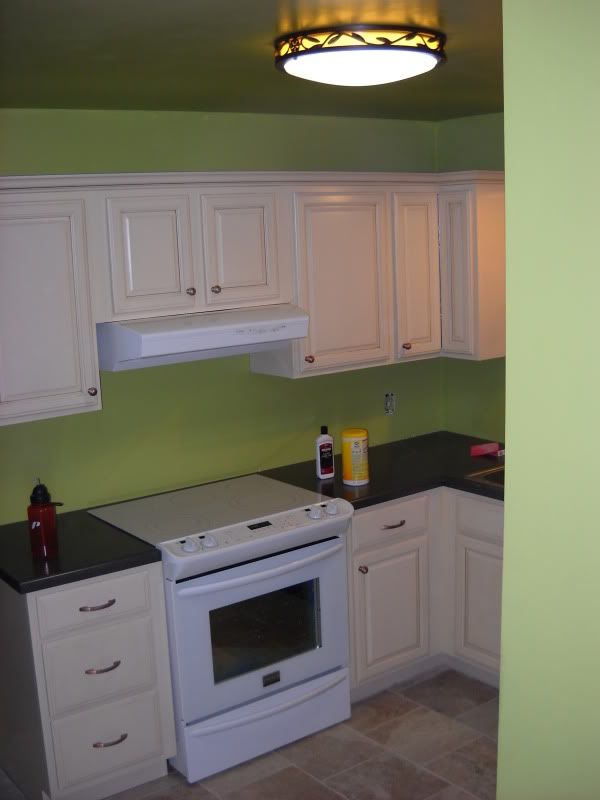 I can't thank you all too many times. The money raised by the MIMF auctions and donated by member paid for almost all of this kitchen.
Thank you! I hate to think where we would be with out all the MIMF help.
---
sysop - 08/09/2010.14:43:10
Deb Suran
WE GOT THE GRANT!!!!!!!
Thank you, Home Depot!!! For the second time they've come through for us! Ronnie at the Bethesda Center was out of town, he just returned and forwarded this e-mail to me, it was sent to him on the 4th.
On behalf of The Home Depot, I am pleased to inform you that your organization and project was selected as a 2010 Building Healthy Communities grant recipient. Congratulations! A grant for $1,900 has been approved for your community volunteer project with The Bethesda Center. A gift card for this amount will be sent to your organization once I receive the signed agreement from your organization. Attached is our standard grant agreement that your should review, sign and fax back to my attention at 770.384.2345 by Friday, August 13, 2010. Once received, it takes approximately 10 business days to receive the gift card. It will arrive at your physical address, to your attention, via UPS.
We do have some issues to work out as the grant agreement limits us to the itemized list we sent them, and as you know, by now the porch is mostly built. We knew this might be an issue, we'll see what we can work out with Home Depot.
---
sysop - 08/11/2010.11:22:43
Deb Suran
WOO HOO!!!WE GET TO USE ALL THE GRANT MONEY ON THE HOUSE!!!!!!!
I just spoke to Ty Hodge, Community Affairs Specialist at The Home Depot Foundation. A thousand thanks to them for allowing us to use 100% of the $1,900 grant as long as we use it for materials in Clint and Alicia's house. They were only concerned that we not direct it to anyone else's home. YAY!!
---
sysop - 08/11/2010.13:33:48
Deb Suran
Here's our total including the grant which HD rounded up to $1,900: $9,564.50! I would love to see us bring that up to a round $10,000. So I'm putting out one last call for direct donations before we move on to the next $100 electric challenge, and get back to raising money for the MIMForum. We're counting down from $435.50.
They still have a lot of work left to do, and a lot of expenses ahead of them, so please be as generous as you can. Thank you!
---
sysop - 08/19/2010.11:11:54
Deb Suran
Clint and Alicia are now in possession of the Home Depot gift card for $1,900. I have run their proposed purchases by Ty and he has approved them all. Just in time for this weekend's rebuilding push to finish the porch and wheelchair ramp. Yay!!!!
---
Clint Searcy - 08/23/2010.12:19:23
MIMForum Staff, Nashville
My dad came over for a few days last week and helped sand, prime and paint the living room and dining room.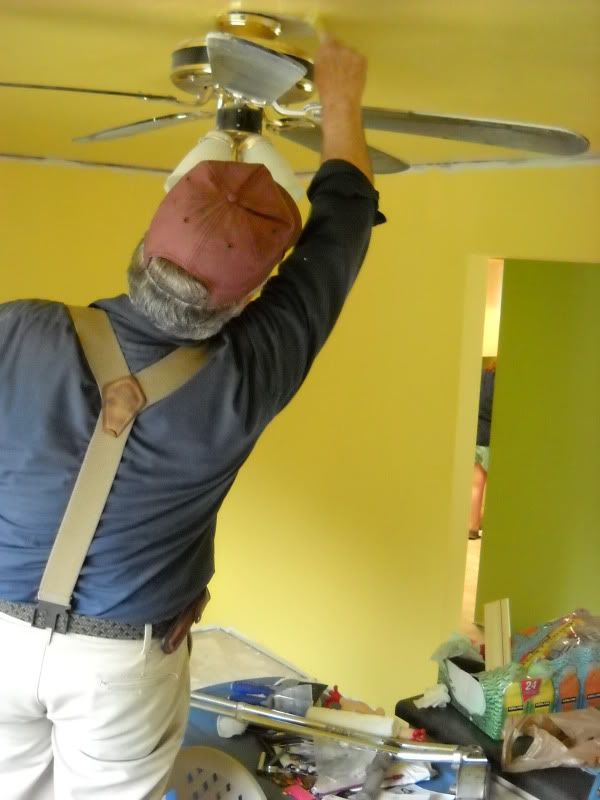 He retired from the FAA this year and is driving my mom nuts so we put him to work!
---
Clint Searcy - 08/23/2010.12:21:50
MIMForum Staff, Nashville
Amy Hopkins and Sporty Dave showed up on Thursday to finish up the deck. Here they are taking a break from the heat. All those trucks in the back ground are the JW's. They showed up at Bobby's and are close to being done with his rebuild.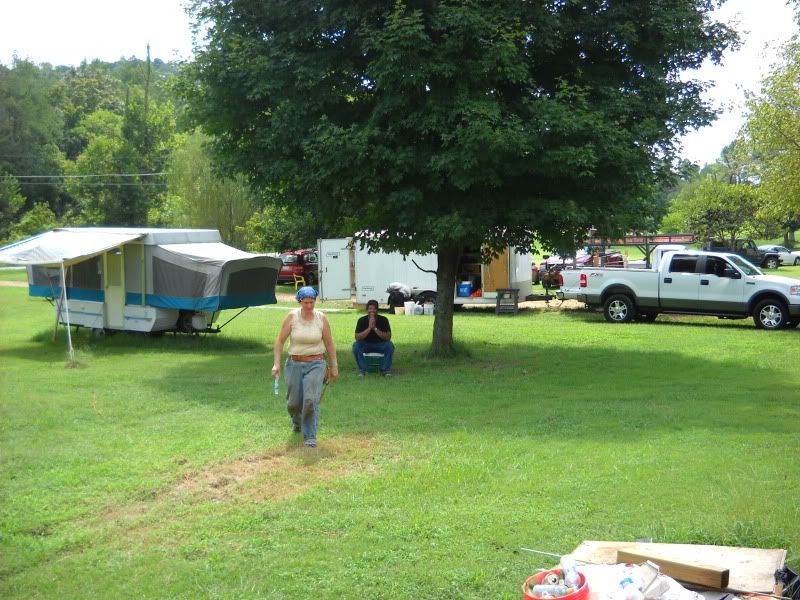 More later!
---
Clint Searcy - 08/23/2010.12:31:04
MIMForum Staff, Nashville
Once Amy started to see the home stretch she couldn't help but get creative so she and Alicia sat down and worked out a few details to the design. They came up with a cool modification.
---
Clint Searcy - 08/23/2010.20:34:43
MIMForum Staff, Nashville
MIMF Super Hero Ryan showed up again to help. It's a good thing too because Clint and Dave cut out early to go down to "Lower Broad".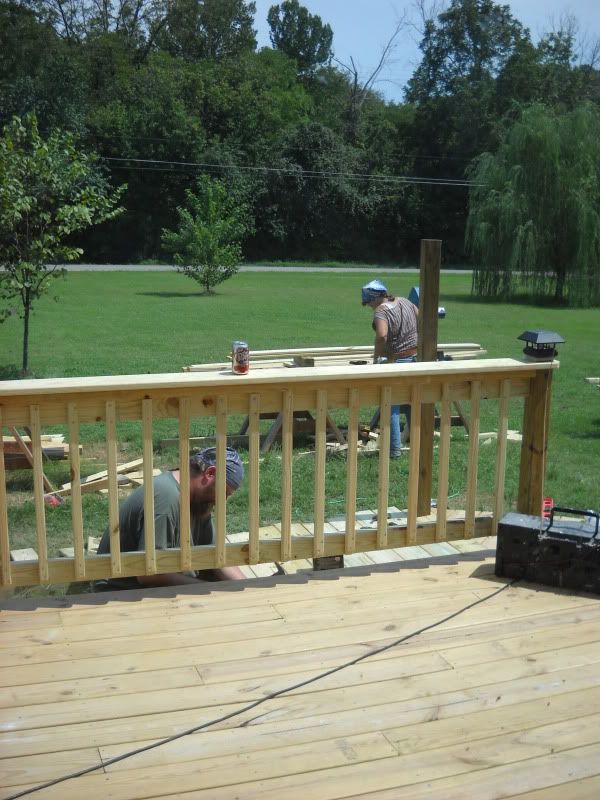 You see Dave is just about the biggest Hank Williams fan on Earth. He does amazing impersonations of him and he wanted to see all the old places that Hank used to hang out at. We saw the Ryman and Ernest Tubbs record shop. He jumped up on stage at two different bars in Nashville and sang "Hey Good Lookin'" with two different bands. The second of those two honky-tonks was "Tootsies". The legendary hang out of all the country royalty. Dave was pretty stoked about that and the crowd loved him.
---
Clint Searcy - 08/23/2010.20:39:49
MIMForum Staff, Nashville
Ryan and Amy got a lot done while Dave and I were goofing off. The next day we pulled it together and finished the job.
A cool feature that Amy worked into the design of the deck was to add a few gates so the dogs could come out on the deck with Alicia when she collects her herbs. Next year this thing will be covered in Basil and thyme and mint and just about anything else you can think of.
---
sysop - 08/24/2010.09:48:05
Deb Suran
This morning I e-mailed the last two pictures above, of the completed porch, to Ty at HD Grant HQ, he e-mailed back, "Beautiful work, Deb. Thanks for sharing!"
---
Clint Searcy - 08/24/2010.12:45:10
MIMForum Staff, Nashville
I did a little video of the deck today. I'll show you all as soon as it's uploaded. In the meantime I would like to thank everyone who worked on the deck.
Thank you Amy for the design, know-how, scary work ethic and inexhaustible energy.
Thank you Sporty Dave for helping with the cement.
Thank you Dave Mac and Callum. Our friends from the U.K. who working long hours in the hot sun and all they had to say at the end of each day was "What do you want us to do next?"
Thank you MIMF'er Ryan Foust! Ryan is a man of few words but there seems to be nothing he can't or wont do. He has shown up to work every time we have asked him too and mastered any job he was asked to do in seconds.
I want to say thanks to Ty and Home Depot for the $1900 grant. It's nice to see such a huge company trying to be a part of the smaller community.
Thank you for Ronnie and the Bethesda Center for helping us by sponsoring the project. I finally got to meet him in person the other day when I picked up the HD card.Ronnie looks and sound just like Robert Duvall. Before we left he told us if we needed any other help to let him know.
Finally I want to thank Deb personally. The MIMF has done a lot to help us with this disaster but this $1900 Home Depot grant was all Deb. You all don't know this but the Ronnie and the Bethesda center was not the first local charity asked to help out on this project. I talked to a few others and for various reasons they didn't work out. Finally I gave up out of frustration and told Deb to forget the grant. But Deb took over the effort, filed all the forms, made all the phone calls, at times while away from home on vacation and salvaged the grant. Having Deb volunteer to help with your project is a powerful thing. Thank you Deb
And thank you all. We are coming up on 4 months of living in a construction zone and to be honest the dust and dirt, the splintery floors and the chaos is starting to get a bit old. But we are in the final stretch and will soon have 3 finished rooms. The end is within sight.
Thank you all!
---
Clint Searcy - 08/24/2010.13:42:52
MIMForum Staff, Nashville
Tour anyone?
---
Clint Searcy - 09/12/2010.07:55:24
MIMForum Staff, Nashville
Ok, after Amy left last time Alicia and I took a week off from working on the house just to relax. This past week we were back on it though. The dining room and living room are now painted and ready to go. I pulled the washer and dryer out of the utility closet and tiled the floor in there with some tile left over from the kitchen. I also pulled up two lose tiles from the kitchen and redid them. Hung a new front door and took the old one down and moved it to the outside utility closet that had an old hallow core door on it which was coming apart.
I also spent two days cleaning up and hauling stuff to the dump and just cleaning up outside. Every cabinet for the kitchen and the washer and dryer and the stove and everything else it seems came in huge cardboard boxes. I had just been piling them up beside the house until there was a mountain of cardboard. It took 5 trips to the dump to haul all of it plus the scraps from the deck Amy built and the house hold trash that had been building up for a few weeks. Once all that was hauled I moved all the tools and supplies to the back of the house so things can start looking normal from the road.
It's been four months now since the flood and today we are putting down our floor in the living room and dining room. We have decided to try to totally finish the kitchen, living room and dining room 100%. That way we have half a house that's done that we can escape too. We can do the other rooms as we wish without making too big a mess by taping up the doors and putting a fan in the window.
I'll get some pictures of the floor today.
---
Clint Searcy - 09/13/2010.09:00:59
MIMForum Staff, Nashville
I have an idea for an MIMF challenge. What can you make from 3/4" Brazilian Chery flood boards? I'm thinking a lap steel.
---
Clint Searcy - 09/13/2010.09:04:39
MIMForum Staff, Nashville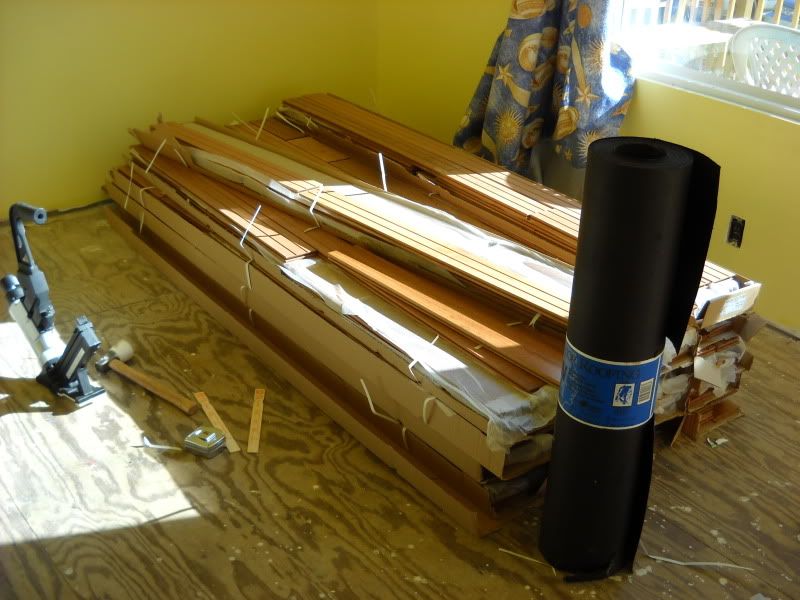 This stuff is heavy! It's not really too tricky to put down though. You roll out the felt roofing paper, pick your straight line and start nailing. I got the pneumatic floor nailer off Ebay for $60! Its design prevents you from using it up close to the walls so you have to drill and nail the first run but once you get going it really make the job easy.
---
Clint Searcy - 09/13/2010.09:09:08
MIMForum Staff, Nashville
My friend Brent... the same guy who sold me the Honda for $900.... the same guy who wouldn't go home the day we started installing dry wall.... he came over again to help out with the floor. Neither of us had really done this before but it's helpful just to have someone there when you start a new job just to check your ideas. He did tell me about a little pry bar made just for scooting wood floor planks away front he wall and closing gaps that ended up being a life saver.
---
Clint Searcy - 09/13/2010.09:11:44
MIMForum Staff, Nashville
Got done about 8 last night with the dinning room. My back is killing me. I'm going out today for a few odds and ends and to give my back a break then tonight and tomorrow I'll finish up the job. This is really starting to look like a house again.
---
sysop - 09/13/2010.09:24:52
Deb Suran
Pre-finished?! What a time-saver - it looks terrific! Are the edges relieved a bit?
---
Clint Searcy - 09/13/2010.10:04:40
MIMForum Staff, Nashville
It doesn't really have any bevel to it Deb. We got a hell of a deal on this stuff from a friend that works for a wholesaler.
---
Clint Searcy - 09/18/2010.12:22:18
MIMForum Staff, Nashville
One more gratuitous shot of the floor.
This is what happens when you get your finger between the hammer and the plastic bloc used to whack the planks in place.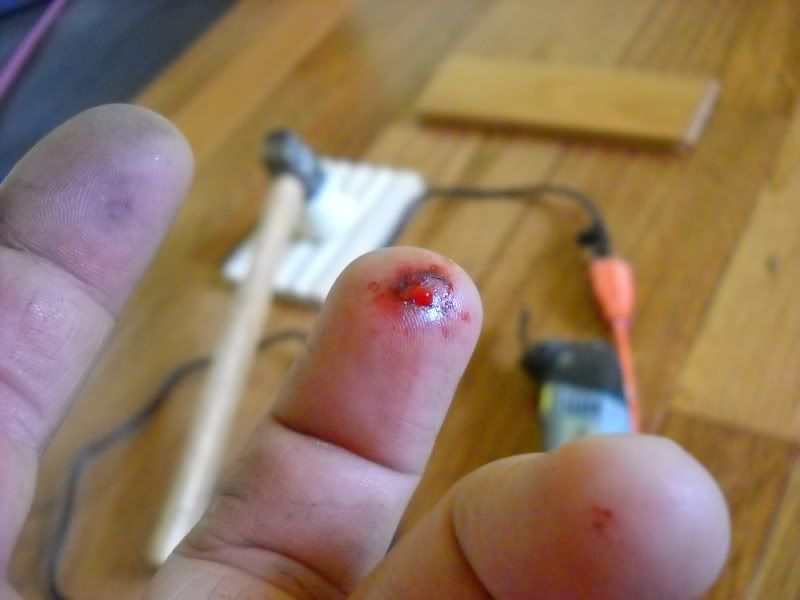 ---
Clint Searcy - 10/04/2010.18:46:19
MIMForum Staff, Nashville
MIMF Super Hero, bass builder and all around stand up guy, Mike Pearson, came all the way down from Ohio last Saturday to retrieve his super cool Colman Pop Up camper. When Deb put out the call for a camper for Alicia and I, Mike was fast on the draw. This little sucker was a life saver. I know Ellie loved it. Amy stayed in it last time she was here. My neighbor Bobby tried to buy it as did a few passers by.
I helped Mike break it down and wire the lights up to his truck for the long haul back home. Seeing it go was sort of a symbolic moment. It was a bit sad to see it leave but it also meant that we have reached a mile stone in our rebuild. Yesterday was 5 months since the house flooded and we are just inches away from having the North end of the house done.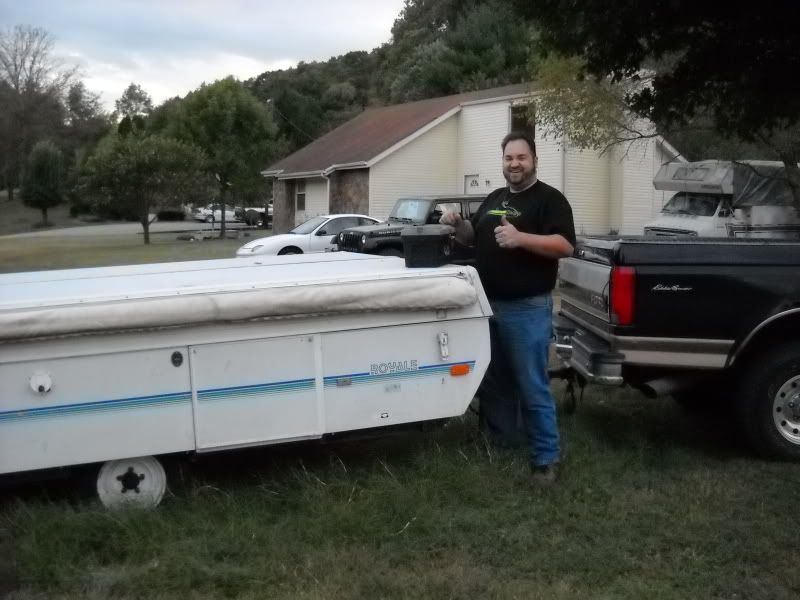 ---
Clint Searcy - 10/04/2010.18:56:15
MIMForum Staff, Nashville
The last few weeks have been a bit of a blur. There has been a lot of little, tedious jobs done in and around the house. One was the back splash for the kitchen. Alicia is a big fan of the Art Nouveau movement. About 6 years ago I bought her this tile mural to go in the kitchen but we never did put it up. Well... it's about damn time. Alicia and her friend Lani set all the tile and I did the grout. Tonight I'm trying to wrap up the sealer.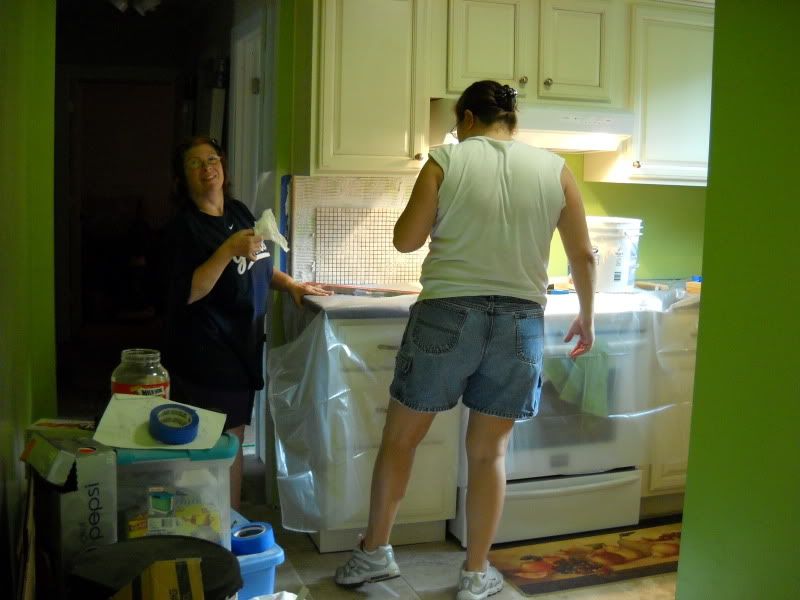 ---
Clint Searcy - 10/24/2010.18:44:40
MIMForum Staff, Nashville
Alicia and I have been trying to make up for all the Dr. and Dentists appointments we have put off this year. While getting our teeth cleaned Alicia started talking to Bonnie, our friend and dental hygienist. She commented that we hadn't been in like we were supposed to this year and Alicia mentioned that it was because we had been flooded. Bonnie was devastated that no one had told her.
Before we left Alicia and Bonnie had devised a plan. Bonnie would have her kids and grand kids come over and help paint the new deck that Amy built. Today was the day!
---
Clint Searcy - 12/10/2010.19:40:00
MIMForum Staff, Nashville
Alicia and I have been trying to catch up on some other odds and end for the last 2 months. We have also been working on small items in the kitchen, living room and dinning room like outlets, vents and other less exiting things. It also went from being really hot to really cold...strange huh? So we had to go through a bunch of our stored cloths and dig out some warm weather stuff.
I shot a video for you this morning that might help show things.
---
Clint Searcy - 12/10/2010.21:11:07
MIMForum Staff, Nashville
Thank you everyone!
---
MacLeod, Dave - 03/07/2011.08:02:45

I've just dug out a couple of pictures from when Calum, my son, and I visited Clint and Alicia last July. Here are Ryan, Clint, Amy and Calum working on the deck footings.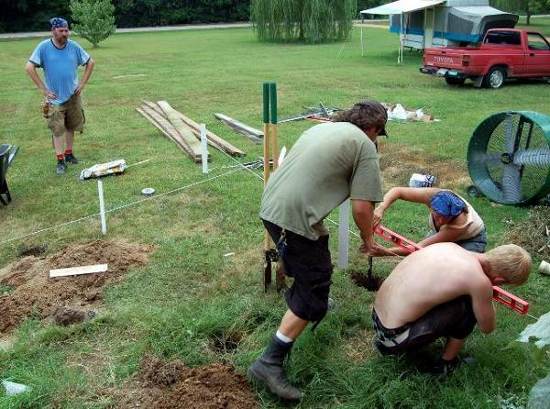 ---
MacLeod, Dave - 03/07/2011.08:03:49

...Calum and Amy enjoying a brief rest. I particularly liked Calum's duct tape repairs to his shorts.
---
MacLeod, Dave - 03/07/2011.08:04:45

...and Calum after a session of sanding the dry wall. That white dust is plaster... honest!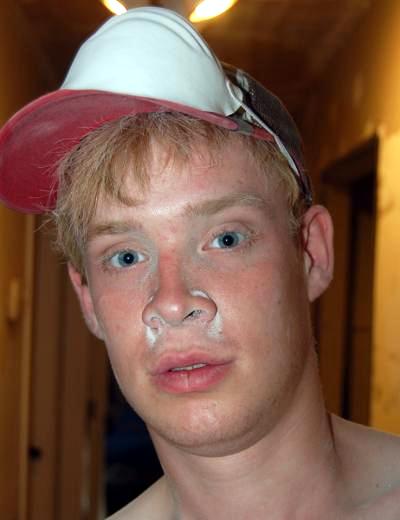 ---
Clint Searcy - 03/23/2011.10:03:46
MIMForum Staff, Nashville
I thought you guys might like to see some of what we got done this winter.
I just got the bed room together yesterday.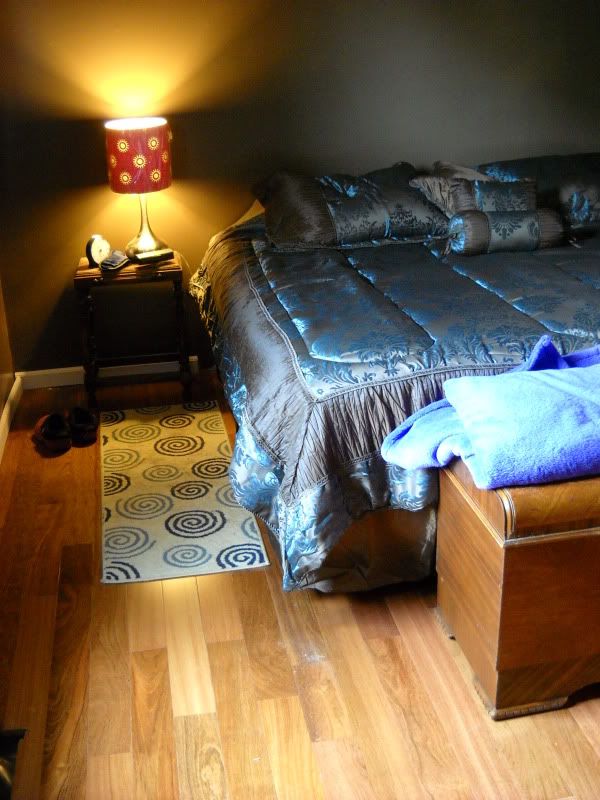 I'm gonna do another little walk around video in the next week or so.
---
Clint Searcy - 04/22/2011.06:24:59
MIMForum Staff, Nashville
Here's a new video to show where we are with the rebuild.
THANK YOU Again to everyone who helped. It's all coming together now.
---
Clint Searcy - 05/03/2011.06:13:06
MIMForum Staff, Nashville
It was one year ago today that our home flooded. In fact, it was right about now that the water started coming through the door. Since then the rebuild has taken up most of our lives. I'm going to post a few images and comments about this over the next few weeks and then I'm gonna be done talking about it because I'm sure you're as sick of hearing about flooring and drywall as I am of talking about it. After May is gone it's time to move on.
Here is part one of a 3 part video I have been working on that tried to document the last year.
---
Clint Searcy - 05/04/2011.07:13:29
MIMForum Staff, Nashville
Now that we have some places to start putting things Alicia decided to drag the still wet trash bags full of her DVDs into the house and see what could be saved. All the cases were trashed and everything was covered in wet, slimy mold. Most of the disks were OK but I was surprised at how many seem to have been destroyed by the water.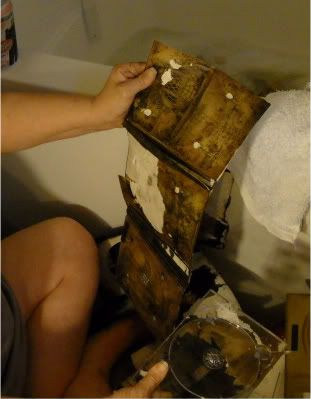 ---
Clint Searcy - 05/06/2011.07:00:56
MIMForum Staff, Nashville
Some of my neighbors don't seem to be doing well. Here is a picture from last year of a house about 4 houses down from us.
Here is that same house today...
I don't know the story there but there are about 3 houses at that location that seem to have been abandoned.
---
Clint Searcy - 09/03/2011.06:58:38
MIMForum Staff, Nashville
Still alive and still working on the house.
Here's part two of a video I have been working on in my spare time.
---
©The Musical Instrument Makers Forum, 2012, all rights reserved.
No portion of this document may be reproduced by any print, electronic, or broadcast media without the express written permission of every author quoted.