The MIMForum Bass Project
About the Project
The purpose of this project is to build a high-quality bass guitar that could be sold or auctioned off as a way to raise funds for the Musical Instrument Makers Forum. Some of the builders who feel that they have gained so much from the MIMForum wanted to give back somehow, seeing that the funds needed to keep things running are not always easy to come by. So it was decided to try something that we'd never tried before....a collaborative instrument building project! Much thought and conversation went into that idea and we came to our plan...
To build a high quality Electric Bass guitar.
We decided on a four-string fretted bass. It's proving to be quite a challenge for us all as we have to ship the parts all across the country as we each finish our jobs and the next person takes over. It went without a hitch! We've put up this webpage to give anyone who is interested in taking a look at how things went. Click on any of the images below to see more about the details.
We'd like to thank those members of the MIMForum who have contributed to the project so far- Barry Daniels, Amy Hopkins, Bill Machrone, Larry Davis, Dale Belcher, Ellie Erickson, Jason Lollar, Larry Clinton, Bill Moll and Mark Swanson...and more to come!
The finished product!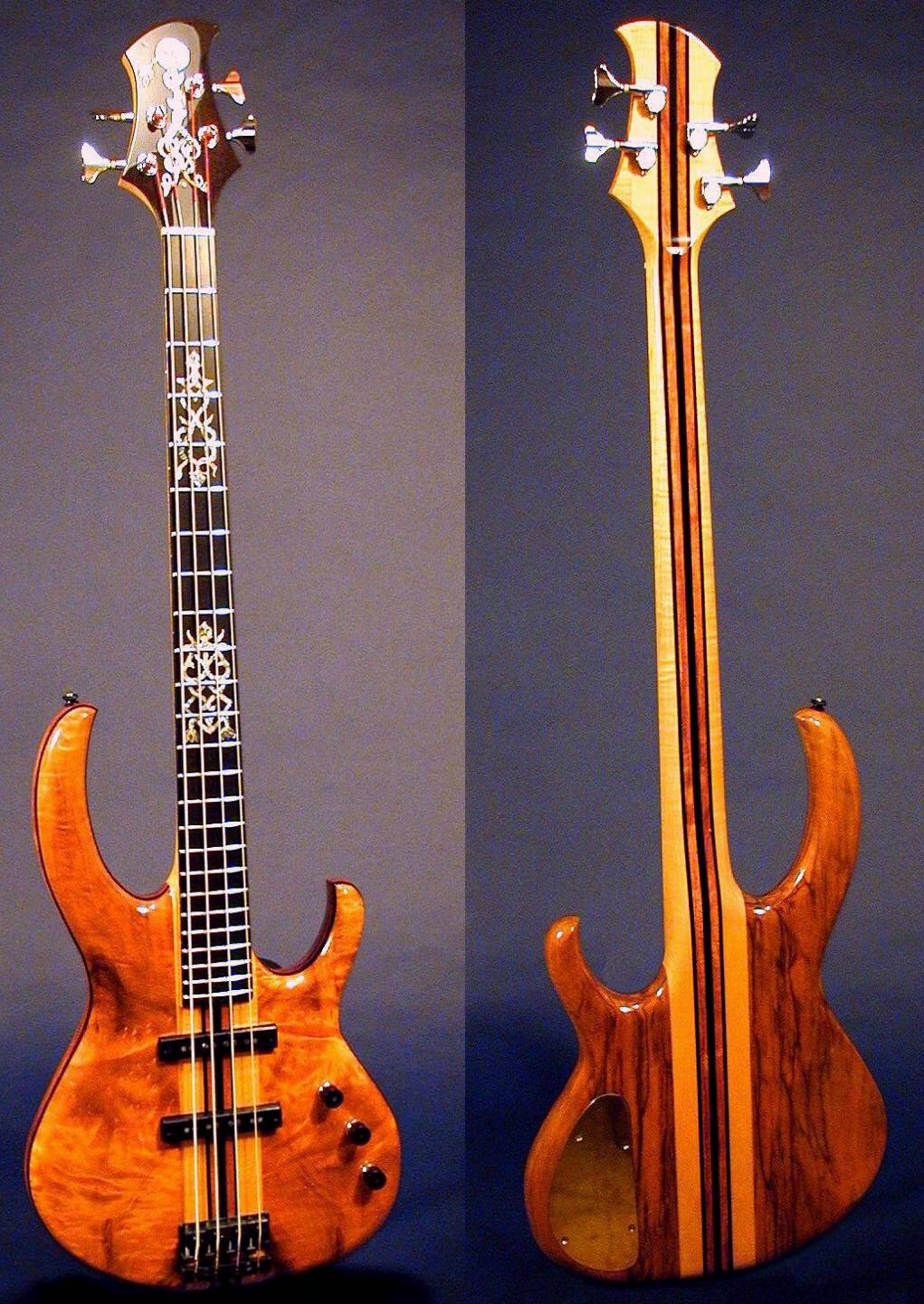 Please click on the images below to see more pictures of the process of building this bass. Clicking on the name of an individual will take you to their personal webpages, while clicking on an image of a part of the bass will take you to a page featuring that item!
The plans used for this bass were drawn by MIMForum member and teacher Bill Moll for our online bass-building course. We know a lot of our members have produced beautiful instruments from his plans, so we used them for our MIMForum Bass.

Bill is also doing the nitrocellulose lacquer finish on the bass, and though a first-quality lacquer finish takes a while he says he's almost done! We know it'll be first-rate.

Click on this picture to see the most recent pics of the Bass!

All the wood for this bass was donated by MIMForum member Larry Davis of Gallery Hardwoods, and the work on the body was done by Dale Belcher. Take a look at that beautiful figured myrtle top cap! The body is made up of layers of myrtle, ebony, bubinga and black limba, carefully chosen by Larry for the best match.
The neck was made by Barry Daniels of red maple, bubinga and ebony, in a neck-through body design.
MIMForum member Bill Machrone is a man of many hats. Here he's a machinist who made this great brass bass bridge. It works in a way that is totally new and different from anything else that's commercially available...take a look!
The inlay was designed by Amy Hopkins, who also donated the materials. Mark Swanson did the inlay work on the fretboard, while Amy did the fine work on the peghead. Take a look!
The Pickups were made by Jason Lollar, and they have handmade ebony covers. Click on the Bass Pickup to see more about Jason!
These ebony and brass knobs were made by Julian Barton, and they show a good example of the care and detail that went into this project. No instrument in the world has handmade knobs such as these beauties! Click on the picture to see how they were made.
Larry Clinton made this rear control plate cover out of brass. Click on the picture to learn more about Larry!