Luthier's friend [Pictures] - created 07-12-2006
schiaffella, enrico - 07/12/2006.01:03:06

How many of you use it? Do you think it is a must have tool? Following a post of mine asking how to arch braces, a nice member gave me the idea of building a jig where the luthier's friend might be useful.
Thanks,
Enrico
---
Unden, Jamie - 07/12/2006.09:21:31
Guitar Plans Unlimited - Subscriber
Luthier's friend... you mean Miss Tessmocker? What tool are you talking about?
---
Daniels, Barry - 07/12/2006.10:00:59
MIMForum Staff
It's a jig that uses a sanding drum mounted in a drill press as a small sanding thickness planer. I built a similar jig from MDF for my oscillating spindle sander about 5 years ago. The jig has a bolt to move the platten closer to the sanding drum so you can take off a little bit at a time. It was real easy to build. Let me know if you want a photo.
---
Blankenship, Eric - 07/12/2006.10:03:05

I would definitely be interested in seeing a picture, Barry.
---
Moisan, Alain - 07/12/2006.11:47:29
Acoustic and classical guitars
Hi Enrico.
I don't have the origial thing, but I managed to put together all necessary parts to have an equivalent; much cheaper! All in all, you need a sending drum (2" wide, approximatly), a drill press, some sort of 90 degree jig made of wood, and clamps. I admit I use it quite often.
---
schiaffella, enrico - 07/12/2006.16:09:31

I honestly thought the luthier's friend was more famous. It had very nice review from several sources.
Barry, of course a picture would be much appreciated.
Thanks,
Enrico
---
Mathis, Donl - 07/12/2006.18:01:18

I actually bought one a while back, and was rather disappointed. The first major problem was the drum I received was not true; the runout was on the order of 0.100 inch or so, I would guess -- really horrible. I found the adjustable fence rather difficult to work with, binding in its slot. The design didn't give me the confidence that the fence was square to the table.
I should have returned it, but never got around to it. The drum was definitely just "wrong." I was able to true it up well enough that I can use it for other low-precision purposes, but I don't use the table and fence. With a new drum, and a little work on the adjustment mechanism, it would probably be okay; maybe I'll get motivated to do that one of these days.
I think "make your own" is the right approach to this particular kind of tool. You can get the drums with the wheels on them, and the rest seems easy.
---
Gordon, Jay - 07/12/2006.18:38:55

Well, I sprung for one about a year ago and have nothing but praise for it. Yes, considered building my own version after seeing an early one at the GAL convention in 2004. But, nevertheless, I believe it is well worth the money. Great for sizing bindings, fabricating bridges, thicknessing bridges and saddles. Its a real timesaver. The 'default' setting for my drill press is to have the Luthiers Friend set up for use.
---
schiaffella, enrico - 07/13/2006.00:50:28

Your comments are the opposite one to the other. I considered building one myself. The only problem is that lately I found myself spending more time in building jigs that guitars. I would like to hear more comments.
Thanks,
Enrico
---
Noel, Nathan - 07/13/2006.08:44:12

Personally I think that my cheap-o Oscillating spindle sander and homeade clampable fence for it make for a more versatile tool. Once I get around to it (when I actually need it.) I'm going to make an adjustable hinged fence with a thumbscrew adjustment for adjusting the fence to the drum. Sanding with stationary drums leaves some very annoying sanding scratches that can be a bear to remove sometimes.
---
Schwab, David - 07/13/2006.09:32:31
SGD Lutherie
The thing I learned with these types of tools is usually you can either make one cheaper, or find something in a wood working catalog. I realize places like Stew-Mac are sponsors here, and I do buy a lot of stuff from them. But you can often find the exact same item in a wood working catalog for less money. This is true of things like vices, router bits, clamps, files, etc. I first leaned this when I saw the "Guitar Repair Vise" in a wood working catalog for half the price. Exact same vice, just painted a different color. But then there's the specialized tools you can't get anywhere else, like the fret tang nipper.
You can buy a drill press table, with a fence, for less than half what the luthier's friend goes for. The rest is not hard to make.
Having said all that.. sometimes it's easier to buy something ready made. I did this with the Schatten pickup winder. I could have made one for a lot less, but it was more convenient at the time to buy one ready made.
---
Gordon, Jay - 07/13/2006.15:27:25

I agree, making is cheaper than buying..in fact, I had a cobbled together version that I used with my Ridgid oscilating sander. Worked just fine although fine adjustment was not a feature of the homebuilt version. The tool is easy to copy so that's a good alternative. However, birthday money, easy (tempting) decision. Not the most economical choice..but now that I've got it, it's got pride of place in my shop. I find it highly useful.
---
Schwab, David - 07/13/2006.16:07:44
SGD Lutherie
Then pick up a Robo Sander and a drill press table... you will still have spend less for the same thing.
---
Johnson, Dwight - 07/14/2006.15:28:39
Sandpaper is my friend.
I had never heard of Luthier's friend until this discussion, but I have been doing something similar by clamping scrap to my drill press table next to a drum sander. If stew-mac sold it separately I'd like to buy that vacuum attachment.
---
Daniels, Barry - 07/16/2006.10:20:54
MIMForum Staff
Here's my jig. It is pretty basic. Glue two pieces of MDF at a right angle for the base. Then make a fence that is attached with hinges at one end and use a bolt at the other end for the adjustment. The bolt is just threaded into the MDF base portion and it pushes on the hinged fence.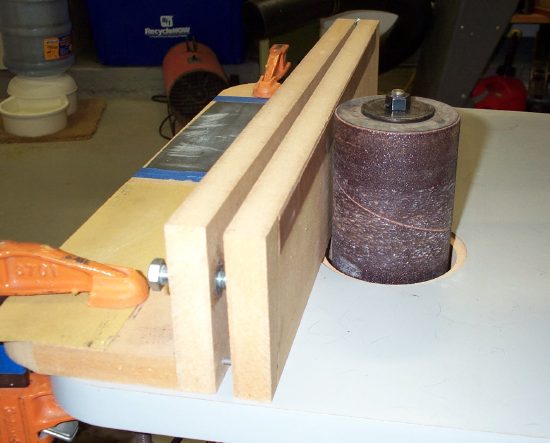 ---
Daniels, Barry - 07/16/2006.10:23:13
MIMForum Staff
Here is a photo of the other end showing the hinges. There is a little bit of flex in the fence so I should probably laminate another piece of MDF onto it and then maybe a piece of Formica to make it slippery.
I use this jig as a mini-thickness sander to do nuts, saddles, headstocks, etc.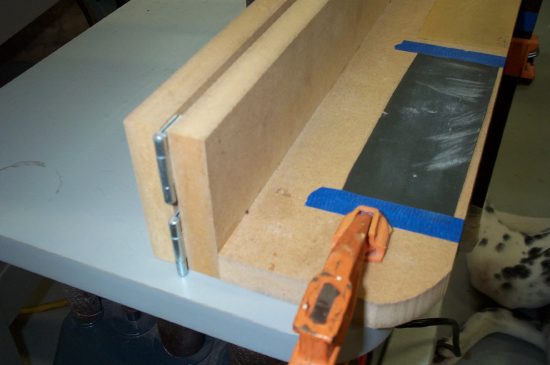 ---
Ball, Dave - 07/16/2006.18:55:49

I've used a very similar jig on my oscillating sander for years. It works great. I now have two oscillating sanders in my shop--the Ryobi that I bought when they first came out quite a few years ago (still running strong, though I need to replace a belt sometime soon) and a newer Clayton with the long drums. I use the Ryobi exclusively for fitting banjo neck heels to rims, using a a swivel jig. I use the Clayton for all kinds of stuff--it's probably one of the two or three most used tools in my shop. The longer drum on the Clayton, along with the industrial strength motor (an industrial strength price to match, but it was worth it) makes it great for shaping heels, use as a thickness sander, I use it with another jig as a pattern sander (kind of like the RoboSander, but won't burn the wood and is much more aggressive), and all kinds of other tasks.
I buy a lot of stuff from Stew Mac too, and really appreciate what they do for the forum (not to mention instrument makers in general). But, for about the same price as a Luthiers Friend, you can pick up a Ryobi or Delta oscillating sander. I know the Ryobi holds up well, and I imagine the Delta would too. My vote would go for getting one of these--they're super versatile and will do everything the Luthiers Friend will do and much more.
Dave
---
schiaffella, enrico - 07/17/2006.03:54:09

Nice shots Barry, very well done. Thanks, Enrico
---
Smith, Steven - 07/17/2006.07:50:20

I've looked at the luthiers friend but thought it a bit pricey. I like Barry's jig, especially since I recently received a Ridgid oscillating sander as a gift. I was surprised at how well it works since I'm not a big fan of Ridgid tools. I use this one all the time.
Barry, how do you run small parts through your sander? Do you tape/glue them to a larger board or ??
---
Senseney, Steve - 07/17/2006.07:57:06

The hardest parts for me to process were bone. I started using hot hide glue and gluing these to small pieces of wood. I primarily process this with my thickness sander.
---
Daniels, Barry - 07/17/2006.08:43:15
MIMForum Staff
To sand small parts, such as a nut, I make a slave board with a little slot that is slightly wider than the nut. Then I lock the nut in the slot with a tiny wooden wedge.
---
Wallace, Mark - 07/18/2006.08:53:14
Indiana
I bought one about a month ago and have been happy with it so far. I also purchased the sliding vise accessory and have used it to thickness sand nut and saddle blanks as well as small veneer pieces. It got tired of sanding my finger tips on the belt sander. I have made quite a few tools over the years (and still do) but have found that, in a repair shop environment, they tend to pay for themselves quickly.
---
Smith, Steven - 07/18/2006.08:59:05

Barry, that's a good idea. That would save time over glueing the small parts to a board.
---
Noel, Nathan - 07/18/2006.15:23:06

That's exactly it Barry... Thanks for desgining my fence for me. Personally I can't see the Lutiher's Friend touching the combination of that and a good drill press table w/ fence.
---
Mathis, Donl - 07/18/2006.20:25:37

Since I'm apparently the only one who has actually bought a Luthier's Friend and had an unhappy experience with it, I think it's only fair to point out that someone from the company saw my post, and has offered to replace my un-round drum. This speaks well, I think.
---
Clift, Tom - 07/20/2006.01:09:32
Subscriber from the Inland Empire
StewMac has great customer service. I'm sure they would have done the same thing if you'd have contacted them directly. They seem to actually care about their customers.
---
Moisan, Alain - 07/20/2006.08:27:22
Acoustic and classical guitars
I agree with Tom. The few times something was wrong with my StewMac order, a simple phone call resolved everything with no charge for me.
---
Mudd, chris - 07/20/2006.10:36:21

There was a link I couldn't find this morning that came about this from a different angle.
There was a jig that had a sanding drum mounted on a motor laying on its side. The drum had a small table mounted underneath that was hinged so that you could adjust the height in relation to the drum. kinda like a minii drum sander for binding and small parts. Not very complicated. I think it was on the Roberto Venn site or the Benedetto site.
Has anyone else seen this?
Chris
---
Daniels, Barry - 07/20/2006.10:47:01
MIMForum Staff
Benedetto's book had a sander sort of like that. It used the larger wheel of a strip sander as the sanding drum.
---
Lucas, Adrian - 07/26/2006.04:42:25

I bought a Luthier's Friend from Stew Mac a few weeks ago after reading the review in AL and have found it very useful for all sorts of jobs. The most impressive was that I made some 0.6mm half-herringbone purfling veneer. I found the thicknessing fairly constant across the width, but not perfect.
I have had a problem with the drum though. I think the bearing on the bottom is supposed to spin independently of the drum and I found after some minutes continuous use this was getting very hot and melting the rubber that forms the core of the the drum. I disassembled it and turned the rubber core round so that the formerly top face was at the bottom, and greased the two washers between the core and the wheel. The wheel is still pretty stiff and I don't think it turns, but it works OK if I don't run it for too long.